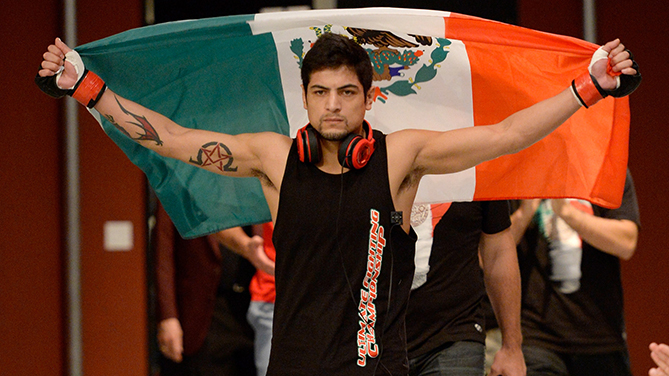 We open in the TUF house. Team Mexico has won two fights in a row and the Team Latin America is looking for some momentum. Fredy, a former Olympic wrestler in Colombia, hopes to provide that spark. Being a leader is something that comes natural to him. After a life punctuated by drug addictions and rolling with the wrong crowd, Fredy turned his life around through sports. Now he teaches other at-risk children in Bogota. As for his strategy for the fight, Fredy wants to lull his opponent into false sense of security and then hit the takedown late in the round.
Despite being considered the underdog, Alejandro Dominguez feels that he's in the perfect spot to continue the Team Mexico's undefeated streak. Coach Velasquez knows that Alejandro has to watch out for Fredy's wrestling, so he wants Alejandro to stick and move. The young fighter has a history of deftly avoiding things (one of those being age requirements). After having his first fight at 15, Alejandro made his pro debut at 16 by lying about his age to officials.
Back at the house, Mexican actor Salvador Zerboni stops by to hang out with the fighters. With the type of familiarity that would make you think he was everyone's big brother, Salvador even gets one of the guys to teach him how to execute a double leg takedown. The soap star isn't there just to hang out, though, he reveals that he has passes for the entire house to go to a live UFC event. Not just any event, it's UFC 173! As they witness T.J. Dillashaw pull off one of the greatest upsets in history, many of the housemates become emotional. After feeling the energy of a UFC event in the stands, they can't wait to actually be inside the Octagon. Some of them are finally realizing the stakes. We'll see if the extra motivation helps, because it's fight time!
ROUND ONE
Fredy pumps his jab. After getting a read on Alejandro's timing, he throws a hard cress and shoots for the takedown. Alejandro fights it off and they return to the middle of the cage. Alejandro avoids taking damage, but he doesn't show a lot of aggression during the round. After two minutes of Fredy dictating the striking exchanges, the Olympic wrestler shows off his skill and finishes the takedown. He tries to attack from half guard, but Alejandro has him locked up. After a stall in the action, there's a scramble and Fredy transitions to back mount. He attempts a rear naked choke, but can't finish. With less than a minute remaining, the two are back on the feet. Fredy tries to close out with another takedown, but he gets a couple nasty elbows for his trouble as the first round ends.
ROUND TWO
Alejandro opens up a bit more with his hands. Fredy tries a double leg, but can't get it done. Despite success in the first round, Fredy spends most of his time backing away. Alejandro backs him down and lands a blistering hook that brings Team Mexico back to life. Fredy scores a couple ineffective kicks and heads right back to his wrestling base. Alejandro shoves him off and starts to get into a groove. He's attacking more and gaining confidence with every second. Fredy finally lands a takedown with 1:30 left in the round, but doesn't advance. He uses it more for a chance to rest. His lack of urgency costs him the second round and we're heading to sudden victory!
ROUND THREE
Fredy appeared gassed in the second and he's even worse for wear in the third. He continues to backtrack and Alejandro chases him. Coach Velasquez begs him to attack more, but he doesn't listen. Once Alejandro finally shows some initiative, he loses his footing and gives Fredy the opening to bring him to the mat. They wind up in referee's position and Alejandro tries to counter with an omaplata. He can't score the submission, but he does create an opening to return to his feet. Alejandro stings Fredy with some more punches, but can't string together extended combinations. Part of that is lack of aggression, but a large part can be attributed to the fact that Fredy is doing his best Kalib Starnes impression. With less than 10 seconds to go, Fredy jumps in for one final takedown and lands it. Will it be enough to get Team Latin America its first win?
No. No it will not. The judges' scorecards come back and all three of them give the round to Alejandro. Team Mexico is jubilant and Coach Werdum just can't believe it. He even asks to see the scorecards because he thinks there must have been some type of error. Unfortunately for him, there was no mistake and his TUF record extends to 0-3.
We move to the fight announcement and next week's match will be between Yair and Panamanian standout Humberto. Will Team Mexico's dominance continue? What measures will Coach Werdum take to win? Does Dana White call in Angela Lansbury to solve the great refrigerator theft? Find out this and more next week on The Ultimate Fighter!
Watch Past Episodes

Episode 1 | Episode 2 | Episode 3 | Episode 4 | Episode 5