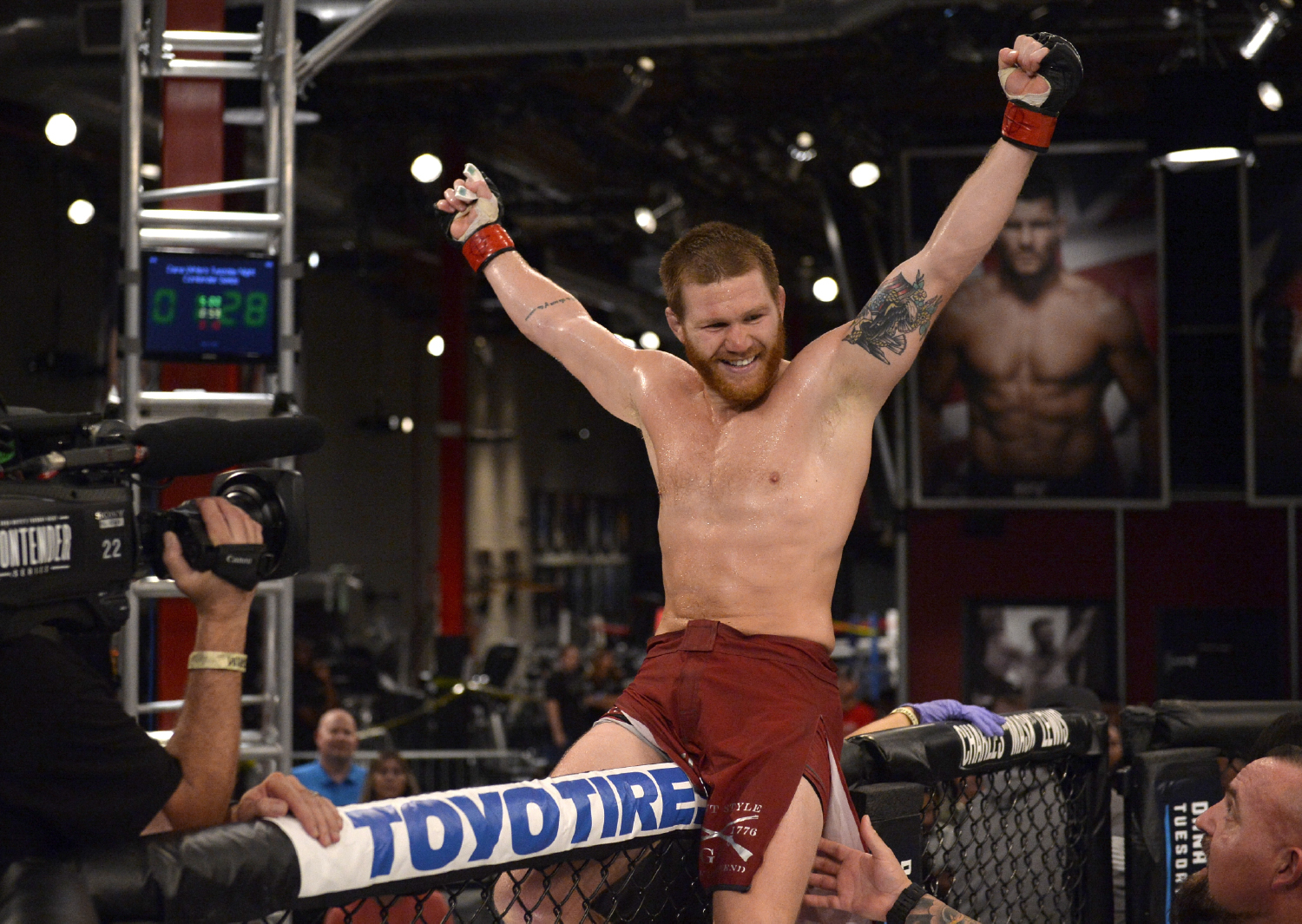 Matt Frevola knew he had a UFC contract as soon as he submitted Jose Flores in the second round of their fight on the eighth edition of Dana White's Tuesday Night Contender Series on Aug. 29.
All he needed was to get the official word from the UFC President.
"It was pretty unreal," Frevola said. "Right after the fight, they rushed me over to do an interview and then rushed me over from the interview to that room where we were all sitting down. I was still on that high after finishing the fight and I knew that I was gonna get a contract."
Then the wait began as White recapped the action with interviewer Laura Sanko.
Allen Crowder got a contract. So did Lauren Mueller. Now Frevola was a little nervous.
"They never gave three contracts before, so then I was like, 'Huh.' And then they finally called me."
And all was well in the world of the lightweight prospect, who lifted his record to 6-0 with the win. But if it sounds like the Long Islander has zoomed down the fast track to the Octagon, it's not quite that simple.
Sure, Frevola has been perfect on fight night, finishing four of his six pro bouts after a lengthy amateur career that began in Florida after he graduated from the University of Tampa and started training with UFC vet Matt Arroyo. Yet after a January bout with Raush Manfio, he left with a win, but also a broken ankle and a broken hand, the same hand he had broken twice previously.
"This F-Bomb's definitely has a lot of power behind it," he laughs, and the hand was the least of his problems. It was the ankle that needed work.
"I had to get surgery on my ankle," Frevola said. "They put two pins in my ankle and I was down in Tampa and doing physical therapy, but I just wasn't getting better."
It was a scary time for the 27-year-old, who saw his career flash before his eyes as he prepared to return home to New York to see if something could be done for his ankle.

"It crossed my mind, definitely," he said. "I was just moving back home, I was hurt, I couldn't fight. But I knew I was gonna fight again. I was 5-0 and if I never fought again, I would have regretted it for the rest of my life. Thank God I had that drive to keep going."

Once back in Long Island, Frevola found hope again.

"When I came up to New York, I found a real good physical therapy spot, Xceleration Sports Training, and they fixed me up," he said. "I was light on my feet again, I started running again, and I was talking with (coach) Ray (Longo) and told him I wanted to fight in September. He wanted to get me on the Ring of Combat card, and I was about to sign the contract when Matt told me about this Contender Series. It was too big of an opportunity to pass up and I had to take it."

He did, and even though his ankle wasn't a hundred percent, he wasn't about to let this chance get away from him.

"I knew that once I got to the Octagon that I was able to fight this guy for 15 minutes," said Frevola, who didn't have to, as he halted Flores at 3:32 of the second round. Now he's a UFC fighter and ready for the 155-pound shark tank.

"I've been watching the UFC lightweight division for a while," he said. "Even three years ago, I would watch a fight and be like, 'That's a possible opponent right there.' (Laughs) I have confidence that it doesn't matter who's in that Octagon with me, I'm gonna fight my fight and I'm gonna go in there and look to take people's head off. That's how I fight."