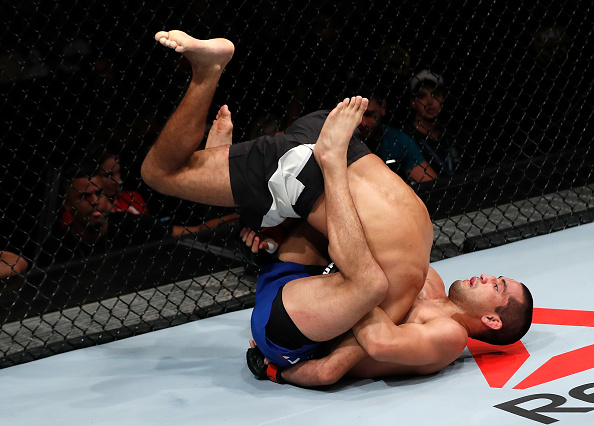 It was the opportunity of a lifetime, and Joe Soto didn't think twice about facing UFC bantamweight champion TJ Dillashaw on one day's notice back in 2014. He would lose that fight after putting in the gutsy kind of effort that has become his trademark, and he admits that he thinks about that night in Sacramento sometimes.
"I was close, I could have won that, but it didn't happen," said Soto, who was scheduled to face Anthony Birchak at UFC 177 before Renan Barao was forced from the main event, opening the door for Soto's "Rocky" moment. "I look back on it and it was a crazy experience and a tough fight. I've had some crazy experiences in my life, and that was definitely an interesting one."
The loss to Dillashaw in his UFC debut was followed by a pair of losses to Birchak and Michinori Tanaka before he righted his ship with a trio of wins over Chris Beal, Marco Beltran and Rani Yahya. Then in December, he lost in 30 seconds to Brett Johns.
"When you've been fighting for so long, eventually it's just one of those things," said Soto, who turned pro in 2006. "I don't get caught often, especially in a submission. That's one thing I do all the time and I train with some of the best guys in the world. So especially on the ground, I know how to respond. Fighting is different, obviously, there are punches going around you, but 30 seconds, you can't really take much away from that. There are some positional things I did wrong and if I would have done a couple things right, I would have taken his back and finished him. It's a risky move he did, but it paid off. He hit it with perfect timing and I got caught. What can you do?"
The calf slicer finish earned Wales' Johns a Performance of the Night bonus and the 30-year-old Soto a trip back to the drawing board. But first, it was a phone call after the Johns fight to request a return to action as soon as possible.
"That was my mindset, to get back in there and kind of erase this loss," he said. "I wanted the toughest guy I could get, because if I get a good win, it can erase that. Brett Johns is a good fighter too, but I definitely needed to get back on track. I felt like I was on a good little streak and working my way back and I got caught in a good move."
Soto got his wish for a quick return, but it was one of those good news / bad news scenarios. The good news is, he got a fight two months after his last one. The bad news, he's fighting a Brazilian in Brazil. Luckily, in Iuri Alcantara, he's facing a veteran who Soto can easily team up with in a Fight of the Night type of battle. But being in his opponent's backyard, the Californian would prefer a finish.
"You definitely want to get the finish, and I always try to get it," he said. "I hate decisions and it's definitely a concern (fighting the hometown guy), so the best way to handle that is to try to finish. But fighting the top guys in the world, sometimes you don't get those finishes."
Soto is a realist, and as such, he knows that even at 3-1 in his last four bouts, the road to the top is a treacherous one.
"It's a hard road to get back there," he said. "There's a bunch of killers in the division. Everybody's so good and they bring different problems. It's all about matchups too."
One matchup that Soto loves is one against Dillashaw, who regained the title last November. What a storyline that would be four years later. Soto agrees.
"I think I match up good against him and it would be an interesting fight, but it's just getting back there that's the hard part," he said.
Soto knows what taking the hard road is, though, and he's willing to put the time in to get there. But what if one day, the phone happens to ring…
"Hell yeah, I would," he laughs about the possibility of a short notice Dillashaw rematch. "You don't even have to finish. I'd fight TJ Dillashaw right now."