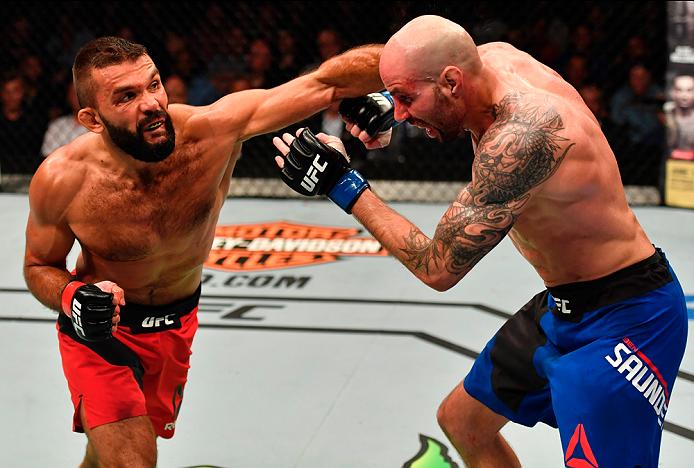 One hour before he was set to step into the cage for the first time, Peter Sobotta witnessed his first live MMA fight when his coach stepped under the lights before him.
"I was 16 years old and, back then, my coach was unbeatable, in my eyes," Sobotta recalls, a week away from his main card appearance at UFC Fight Night London. Sobotta will meet fellow welterweight prospect Leon Edwards on the March 17 show.
Fourteen years earlier, the path to get there suddenly didn't seem like such a good idea anymore.
"[My coach] got knocked out, and viciously. First round. He took one on the chin, went down on all fours and then the other guy just soccer kicked him right in the head. And that was it. It probably took him a few hours to really get everything back together.
"I was just (expletive) my pants at that point."
Sobotta would go on to win fight after fight, mostly contested under Vale Tudo rules. By 2009, when the UFC needed a promising German prospect for their debut show in Cologne, Sobotta was one of the country's best MMA fighters – but not yet good enough for the biggest of stages.
The 22-year-old was completing an apprenticeship at Deutsche Telekom, when the Octagon first arrived in his home country.
"Those months leading into UFC 99 were just crazy," Sobotta said. "I trained in the morning, went to work, got back to the gym and did that Monday to Friday. Then more practice on Saturday, sleeping through Sunday and starting all over on Monday."
When Sobotta made his entrance in front of 12,000 fans in Cologne to face veteran British Thai boxer Paul Taylor, he had just passed his written exams with flying colors. A week after fight night, he passed his practical tests, as well. The one he flunked was the big one inside the cage.
***
Sobotta fits almost no cliché that is commonly attached to fighters. Growing up sheltered by a well-functioning family, his sister would go on to study theology and German philology, and his uncle works as a pastor. Young Peter volunteered at a labor union.
"I'm from the Swabian backwoods," he laughs. "Out here, a normal life consists of working, buying a house, buying a car and maybe enjoying an all-inclusive vacation once a year."
Sobotta's path, on the other hand, led him into East-German warehouses on the weekends, where he mixed it up with soccer hooligans as more hooligans screamed at him from the stands. His success got him girls' attention as well as the UFC's. But when he was cut after three consecutive defeats, it hurt. And when a controversial decision loss followed a year-long break to reassess his career choice, it was enough.
"That was the lowest point of my career", Sobotta said. "That was the only time for me to say (expletive) it, I don't want to do this anymore." Sobotta lazed around, wondering what all the sacrifices were for. He also knew that he had the potential to achieve more.
When he found his fire again, he won five fights in a row, among them three bouts on the same night as part of an eight-man-tournament. No judges, no rounds, just how Sobotta liked it. It took him a combined four minutes, twelve seconds to derail his three opponents.
***
Then his body failed him. While in Brazil, Sobotta threw up on the mats in Rio de Janeiro.
"I had to take a one-and-a-half-hour bus ride to get back home. I just felt horrible."
Sobotta flew back to Germany, recovered a bit and drove to Holland to train. He collapsed, was rushed to a hospital and underwent surgery immediately.
An extremely rare germ had lodged itself in Sobotta's gut. Tedious training had allowed the bacteria to unfold all of its destructive powers. It took Sobotta one month to get out of his hospital bed, and when he finally left, doctors waved him goodbye while reminding him that the illness could come back anytime.
"That moment, I considered my career to be over."
After months of recovery, Sobotta felt his strength coming back. The itch to fight was still there. Just a few months before the UFC's first show in Berlin, officials reached out to Sobotta, inviting him back in. He has won four of his five fights since then.
"I've just gotten so much better in every aspect," Sobotta explains his newfound success. "Physically, technically, mentally. I'm 20 pounds heavier than before and I'm fighting in the same weight class."
The last opponent to experience that difference was Ben Saunders. The renowned veteran has been gracing Sobotta's highlight reels since last May when the German-Polish grappling specialist sent him reeling to the floor with furious punches and a well-placed knee strike.
Sobotta is aiming for a similar result when he meets Edwards in London, hoping to crack the Top 15 with another win.
***
"Edwards is a good fighter and his position in the rankings is justified," Sobotta acknowledges. "He's had a solid streak in the UFC. His biggest strength is that he gets the win."
"Rocky" has accumulated one impressive win after the other recently. Next to victories against names such as Albert Tumenov, Vicente Luque and Bryan Barberena, many UFC fans still remember Edwards knocking out Seth Baczynski in eight seconds back in 2015.
Sobotta remains rather unimpressed.
"I feel like – and I've studied him excessively – he's not a knockout puncher and also not someone who submits his opponents. He's not really dangerous on the ground or standing up and yet he manages to win his fights. That means that he's fighting tactically, intelligently. He's got a high fight IQ and he knows how to win a fight."
Sobotta knows that, too. And nowadays, he's finding ways to apply that knowledge on the highest level.
"In my mind – and I've not always been correct with that, but a lot of times I have – I see him falling down. I do a lot of visualization and I see me hitting him and him falling over. So, I predict a knockout in the first or second round."
Sobotta has been to London's O2 Arena before, watching UFC 95 as a fan in 2009. He didn't visualize what would follow that night, and yet he's here now, finally ready to fulfill his potential.
Free Fight | Arman Tsarukyan vs Joaquim Silva
Megan Olivi Catches Up With Dustin Poirier