In mixed martial arts, leaving home is the usual route for those ambitious souls who don't live in the usual hubs for the sport. Charlotte's Jordan Rinaldi was one of those fighters, and he took that usual route, making the trip out west to train in Las Vegas for two years.
But even in the "Fight Capital of the World," something was missing.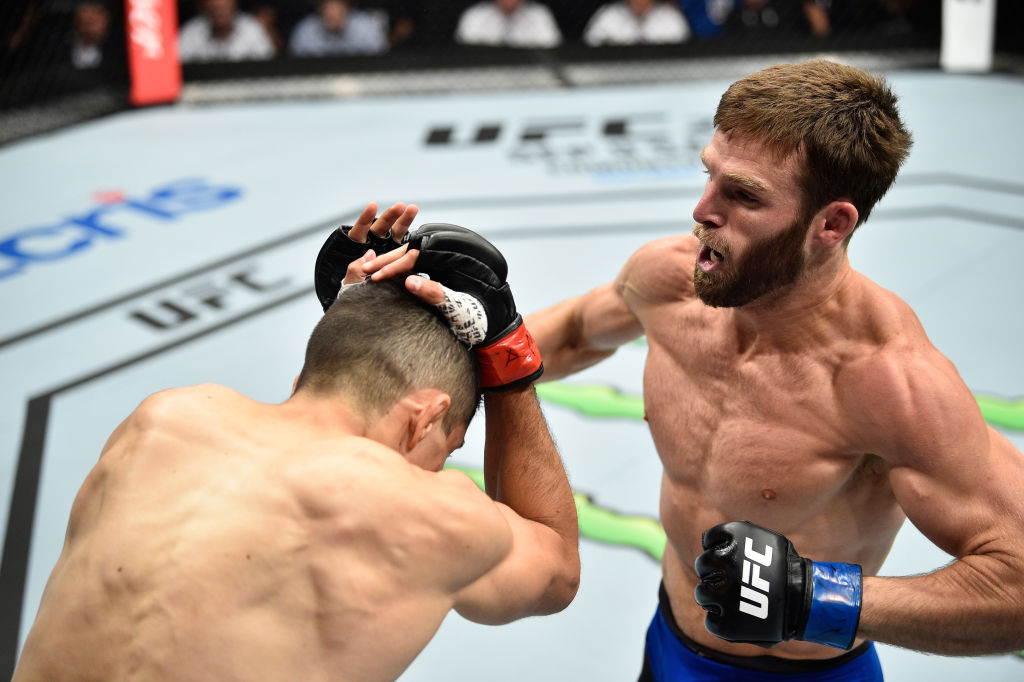 "When I went to Vegas to train, I went there for two years and I got a lot better technically, but there was something with my emotional state of being where I didn't perform as well," he said.
So he came home. Today, he's a UFC fighter, one day away from fighting in Charlotte on a FOX main card against Gregor Gillespie. Good call, Mr. Rinaldi.
"Just the energy that I have around my family and friends and being able to still live a normal life where I'm not halfway across the country training and not able to see them, it really helps a lot. I also have a set foundation in my church and with my wife, and when I got back home and was with my wife and my family and friends, it really honed in that I'm meant to be more than just a local legend. I'm meant to be one of the best in the world, and that's my job. It really revitalized me. There's something about this city that I love. It's a beautiful, wonderful city, I grew up here and it gives me a great energy being around here."
Those stories are among the best in any sport - the local kid does good and gets to perform in front of his family and friends in the city he calls home. But if Rinaldi has learned anything in a pro career that began in 2010, it's that one fight can't be given more weight than another. They're all important, and if you lose sight of that, you're a sitting duck for a hungry opponent. So while it's nice to fight in North Carolina, where he holds a 4-1 record, it could be anywhere once the Octagon gate shuts.
RELATED: Gillespie Won't Feel Settled | Joe Rogan's Charlotte Preview
"This is my job and this is what I do for a living, so if I look past it (this fight) or look at it differently than anything else, then I'm gonna be setting myself up for failure," he said. "So it is just my next fight and that way I'm always approaching the fights the same way, with the same amount of intensity, the same amount of energy, without putting any kind of emotion into it because once you inject emotion into work or anything like that, that's when problems start happening. So I actually like looking at it much more surgically. I need to be as detached from it emotionally as possible."
But beyond the setting, this fight is a pivotal one for the 30-year-old lightweight, who has seen a lot while building a 13-5 pro slate. Already the owner of wins over UFC vets Dennis Bermudez, Diego Saraiva and Clay Harvison, Rinaldi – who lost to Joe Proctor in the elimination round of The Ultimate Fighter 15 – has split his two UFC bouts thus far, losing to Abel Trujillo before submitting Alvaro Herrera, and if he can take the "0" from Gillespie's record, that's a statement, one that could alter his career trajectory in a positive way.
"This is a huge profile fight, not because of me, but honestly because of Gregor, so the opportunity is huge for me, of course, and I like the fight," he said. "But my media coverage hasn't been that big because I'm only 1-1 in the UFC. I beat somebody I was supposed to beat in my last fight, and now, I expect after I win this fight that my profile might be blown up a little bit bigger."
That's just fine with him.
"That's something you have to embrace in this job," Rinaldi said. "That's what we're paid to do. (UFC President) Dana (White) was talking about us building a brand and that's something I want to do. It's just something I haven't had the opportunity to do because I'm only 1-1 in the UFC. But with this win, I really believe it's going to catapult me."
Sounds like everything worked out the way Rinaldi wanted it to after all. UFC contract. FOX main card fight. And a home game.
"I've been put in a blessed situation," he said. "I've been fighting a long time, trying to get to the UFC, and now that it's finally happened, a year and a half after signing a contract with the UFC, I'm fighting in my hometown on the main card. It's almost divine timing for me, and I think it's great. I'm just very lucky, honestly."
:
State Of The Welterweight Division | August 2022
Dana White | The UFC vs The Media
: