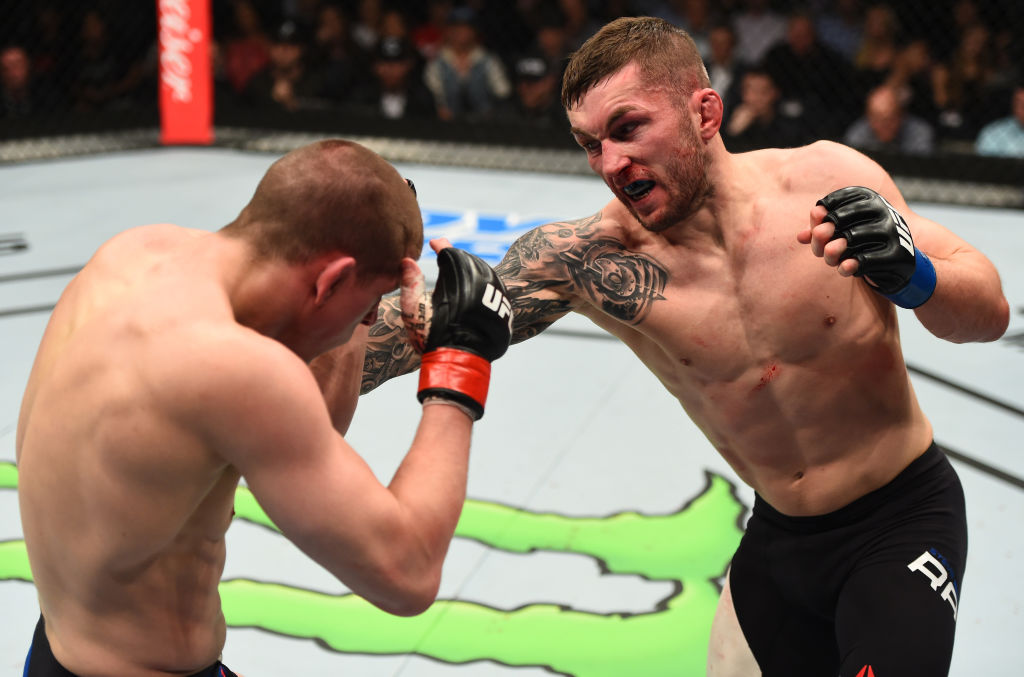 For a brief moment, Stevie Ray thought that his July 2017 bout against Paul Felder was going to be his last one, as he had come to the end of his contract with the UFC and really had no desire to be anywhere but in the Octagon.
"I did initially think about it (retirement) because I'm in this to be the best," he said. "I had some offers elsewhere, so I don't think I would have retired, but it took a long time to get to the UFC and I feel I deserve to be in the UFC."
The 27-year-old Scotland native did earn his stripes to be among the best in the game, compiling a 5-2 UFC record since his debut in April 2015, a slate that saw him defeat Ross Pearson and Joe Lauzon in succession before he was stopped by fellow rising star Felder. So there was really no question in the mind of anyone in the fight game that "Braveheart" would ultimately be re-signed, but the waiting didn't ease his mind any.
"To be honest, I wasn't sure," he said. "I started having my doubts."
That's usually the sign of a successful fighter. Always keep it as real as possible, and be prepared for the worst case scenario, not the best. Stevie Ray lost one fight, but he was not going to have to ply his wares on the regional circuit. Instead, he will break in his new UFC contract on March 17 in London when he faces Kajan Johnson. All's well that ends well.
"I think everybody's got doubts," he chuckles. "Yeah, the last fight I got clipped and it's one of those things in fighting. You can be on a tear and it just takes that one shot, and that's what happened in my last fight. I was at the wrong place at the wrong time and got clipped and I'm looking at getting back on a run and working my way back up to the top 15."
He hopes that run begins with a win against Johnson and then two more fights (and wins) before the year is out. He also wants to get back to the United States, preferably for July's International Fight Week in Las Vegas. That's not surprising, since I reminded him that he's unbeaten in the States.
"Yeah, that's right," he laughs. "1-0."
Hey, a streak has to start somewhere, and the fighting pride of Fife will try to get back to his overall winning ways against Canada's Johnson, who brings a three-fight winning streak into the O2 Arena.
"He's a tough guy, he's tricky, he likes to stick to a game plan," Ray said of the former TUF Nations competitor. "To be honest, I look at him like he's just another guy. The UFC has the highest-level athletes and everybody's gonna have different tricks. I'm training as hard as I can to make sure I go in there a hundred percent and I get the job done."
Then he can really start looking to the future.
"With this fight I want to start molding my brand," he said. "It's all on this next fight, starting the year off fresh."
He's earned that fresh start. And while Ray was undoubtedly the most excited party when the ink was dry on his new contract, a close second may be the legion of fans who called for him to continue his run in the Octagon. That support is not lost on him.
"It's overwhelming," Ray said. "Before and after fights, the amount of support I get from the fans just make me realize that I'm proud of what I've done for my country and for the small town that I live in, and for my family and my kids. I've worked hard the last eight years, so it obviously feels good to get that. And I'm looking to give the fans a treat a week from Saturday."
Alexandre Pantoja's Five Favorite Fights | UFC 296
Free Fight | Brandon Royval vs Matt Schnell