Undefeated @ErykAnders heads to #UFCBelem to face @LyotoMachidafw this Saturday!

Who You Got pic.twitter.com/LslAZcv4qQ
— UFC Europe (@UFCEurope) January 29, 2018
The UFC returns to Brazil this weekend with a middleweight main event pitting former champion Lyoto Machida against fast rising star Eryk Anders in the main event.
Anders has looked unstoppable since arriving in the UFC with an athletic background that includes a stint as a football player at the University of Alabama. Anders looks like a future middleweight contender, but to prove it he's going to have to go through one of the most experienced veterans on the roster.
Machida has definitely suffered through a tough stretch lately, but there's little doubt he still possesses the ability to go with any top 185-pound fighter in the world. He'll look to get back on the winning track this weekend by taking out one of the UFC's potential stars.
Also on the card, John Dodson will look to bounce back from a recent loss when he takes on submission specialist Pedro Munhoz, while former bantamweight title challenger Valentina Shevchenko makes her UFC flyweight debut with a showdown against Brazilian newcomer Priscila Cachoeira.
In today's fantasy preview, we'll examine those matchups and several more to see who has the edge going into Saturday night and if someone might be primed for the upset at UFC Fight Night: Machida vs. Anders from Brazil.
SPLIT DECISION
These are the fights that are just too close to call, but a few minor differences between favorite and underdog could lead one fighter to victory and the other to defeat.
Lyoto Machida vs Eryk Anders
Lyoto Machida has definitely suffered through the toughest period of his career lately with losses in four out of his last five fights, including three straight defeats in a row. To his credit, Machida has faced a murderers row of opponents, including two fighters — Luke Rockhold and Yoel Romero — who are about to square off for the interim middleweight title at UFC 221. Still, Machida knows this might be a must win situation as he looks to get back on track while facing a rising star in the UFC middleweight division.
UFC 98, 5/23/09 (Photo by Josh Hedges/Zuffa LLC)" align="left" />Eryk Anders has looked like a future contender through his first two fights in the UFC, including a win over veteran middleweight Rafael Natal in his debut. Anders is a powerful fighter at 185 pounds with long reach, volume striking and knockout power. Anders is actually averaging 5.7 seven significant strikes landed per minute with an incredible 60 percent accuracy on the feet. Perhaps the biggest hindrance to those numbers, however, are Anders' defensive statistics where he's blocking just under 47 percent of his opponents' strikes. That's a dangerous game to play with a precision based striker like Machida, who is not known as a power puncher but puts together finishing combinations quite often.
Machida has to know that Anders' best chance to win this fight is to overwhelm him on the feet with his sheer power. Anders hits like a truck so he'll be looking for the knockout blow and if Machida isn't careful, he might wake up staring at the lights in front of his home country crowd.
That being said, Machida is still an elite fighter in the UFC and his experience alone should give him a slight edge in this fight. He's a better overall striker with good takedown defense and, perhaps most importantly, Machida has been in this spot before. There's always added pressure in a main event and that's where Machida has lived and breathed for years, while Anders is about to step into the spotlight for the first time in his UFC career.
As long as Machida can avoid the big bomb coming from Anders early, he should be able to up his volume and eventually find a home for a combination that will put an end to this fight. While Machida is definitely in a rough patch in his career, it's still a stretch to believe he's going to drop a fourth straight fight to an admittedly great prospect in Anders.
Prediction: Lyoto Machida by TKO, Round 3
John Dodson vs Pedro Munhoz
A pair of fighters both looking to make a push up the rankings will meet in the co-main event, as John Dodson takes on Pedro Munhoz in a battle at 135 pounds.
Munhoz enters the fight after winning four in a row, including submissions over Justin Scoggins and Rob Font. Munhoz is a master at seizing the opportunity whenever an opponent makes a mistake, which is usually when he shows off his world-class Brazilian jiu-jitsu skills. Munhoz has arguably one of the best guillotine chokes in the sport, as he loves to wait for an opponent to take an ill-advised shot on his legs and he usually makes them pay by grabbing on the neck and not letting go until the fight is over. Munhoz has shown solid striking in the past as well, but that's one area where he'll need to be very careful in this fight.
Dodson may not be the biggest bantamweight on the roster, but he still packs a powerful punch. Dodson lands just under four significant strikes per minute with 41 percent accuracy, and he loves to feast on opponents willing to engage with him. Dodson has suffered a pair of tough losses to elite bantamweight contenders John Lineker and Marlon Moraes, but both fights ended via split decision and could have gone the other way. Dodson hopes to make sure the judges don't even get involved this weekend as he looks to make a statement against Munhoz in Brazil.
Perhaps the biggest factor in this co-main event will be the scrambles that will ensue off a big striking exchange or perhaps coming up from a ground battle. Munhoz has an incredible ability to capitalize on the smallest mistake, but what he's going to run into this weekend is perhaps the best scrambler in the 135-pound division. Dodson is lightning quick and his ability to win in those scrambles, whether it's on the feet or on the ground, have really defined his career. Dodson explodes out of takedown attempts and he feasts on fighters willing to get a little crazy with their striking. All it takes is one mistake from Munhoz and Dodson will jump on it.
It's tough to see Dodson getting a finish here but a win is most certainly possible.
Prediction: John Dodson by unanimous decision
Thiago Santos vs Anthony Smith
With six finishes between them in their last six appearances, Thiago Santos and Anthony Smith aren't looking for the judges to get involved in their middleweight battle on the main card.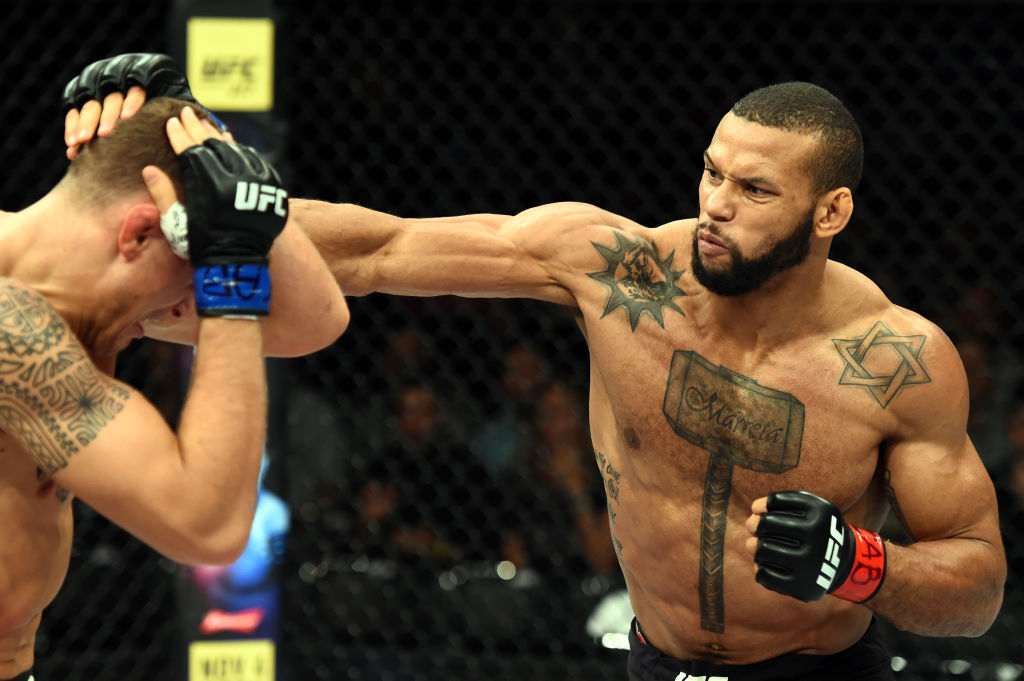 Santos has always been considered one of the most lethal strikers in the division with his powerful hands and devastating kicks. Santos hits hard but also lands with solid volume while his accuracy is at just over 45 percent, so he's not wasting many of the shots he throws. Santos is arguably one of the most explosive fighters on the entire roster, with his ability to spring to action from out of nowhere to land one of his devastating kicks on the feet. Santos is a pressure fighter, so he'll definitely come forward and make Smith fight his fight.
That being said, Smith is no slouch on the feet either, considering he's knocked out three opponents in a row as well. Smith isn't as high-level a striker as Santos, but he's gritty and determined whenever he gets into a big exchange with an opponent. Smith is also incredibly durable, which helps him survive an onslaught and then power back with his own weapons in the second or third round. Smith is an all-action fighter, and unless you put him away, he will keep coming and coming until the fight is over.
Where Smith may struggle in this matchup is defensively, where he's stopping just 48 percent of the shots against him while absorbing just under four significant strikes per minute. That's a dangerous game to play with someone as powerful as Santos, who will absolutely be gunning for the knockout. If Smith can hang around deep into the second or third round, the momentum could shift, but that's a tough bet to make considering Santos is ferocious and might not even allow the fight to make it that far.
Prediction: Thiago Santos by TKO, Round 2
RELATED: Machida Looks To Hit Reset Button | Munhoz Hoping To Extend Streak
KNOCKOUT PICKS
These are the fights that appear to be a little more one-sided, but remember that this is MMA, where anything can - and usually does - happen.
Valentina Shevchenko vs. Priscila Cachoeira
Former title contender Valentina Shevchenko will make her move down to 125 pounds for the first time in the UFC, as she faces newcomer Priscila Cachoeira.
Cachoeira is undefeated in her career, with four knockouts on her resume while also competing primarily at 135 pounds, so she won't be giving up much size while coming down to the flyweight division. Cachoeira is a very athletic fighter who grew up playing volleyball, so she definitely has the explosiveness and stamina to deal with many of the top fighters in the world in the UFC's flyweight division.
Unfortunately, Cachoeira drew the short straw with her debut as she takes on arguably the most highly touted flyweight on the roster in Shevchenko.
Shevchenko is a world-class Muay Thai kickboxer with incredible striking skills from every angle inside the Octagon. She's good at volume striking but also packs a serious punch, and that power will be more noticeable now that she's not fighting much larger opponents at 135 pounds. Shevchenko is powerful and accurate while also showcasing solid defense on the feet, and she has also shown great offense and defense on the mat against some elite grapplers, including her submission victory over Julianna Pena last year.
Shevchenko is an elite fighter in every sense of the word and it's tough to see her going anywhere but back to the top with her first fight in the flyweight division. Cachoeira may be a prospect to watch in the future, but she's fighting an uphill battle this weekend.
Prediction: Valentina Shevchenko by TKO, Round 3
Tim Johnson vs Marcelo Golm
There's always a cautionary tale attached to any heavyweight fight that might look like a lock, considering anything can and usually does happen in these matchups. That being said, Tim Johnson seems like a solid pick against second-time UFC fighter Marcelo Golm.
Daniel Omielanczuk, 3/18/17 (Photo by Josh Hedges/Zuffa LLC)" align="left" />Now make no mistake, Golm is a tough fighter who picked up a quick submission win in his UFC debut while rattling off some great striking technique as well. Golm has been absolutely dominant through the first six fights of his career, with all six ending by way of knockout or submission. Perhaps one downside of that dominance, however, is that Golm has never been out of the first round, so it's entirely possible this will be the first time he sees the second round.
Now Johnson isn't the heavyweight who will wow anybody with incredible technique on the feet or on the ground, but he's durable and tough to put away. Johnson is very much a "jack of all trades" who doesn't do any one thing great, but he does everything pretty well. Johnson just has to fight smart and not allow Golm to get off to a quick start, and that should allow him to weather the early storm and then begin picking away at the Brazilian.
It may not be pretty, but Johnson somehow always seems to find a way to win in these situations and this might be one more to add to his resume.
Prediction: Tim Johnson by unanimous decision
Alan Patrick vs. Damir Hadzovic
Alan Patrick has been a very solid addition to the UFC's lightweight roster, with a 4-1 record that includes back-to-back wins against Stevie Ray and Damien Brown. Patrick has solid striking, but his ground game is where he's most dangerous, as he's averaging nearly four takedowns per fight. If he does decide to keep the fight standing, Patrick will also enjoy a four-inch reach advantage over his opponent, Damir Hadzovic.
Now Hadzovic is no slouch after he showed off his skills with a knockout against veteran grappler Marcin Held in his last fight. Hadzovic knows what it's like to go up against a dominant submission specialist and still find a way to get the knockout. He'll likely try to employ that same kind of game plan this weekend while taking on another top-notch grappler in Patrick.
Still, Patrick is smart enough not to get caught up in any of those wild exchanges, and if he begins to land his takedowns, he could really slow down any chance Hadzovic has of catching him with that one big shot coming in. Patrick has faced very good competition during his UFC career, and his overall skill set and experience might just be too much for Hadzovic to overcome this time around.
Prediction: Alan Patrick by unanimous decision
UPSET SPECIAL
It's never an easy spot for anyone to step into Brazil and face a Brazilian, but Tim Means never shows fear facing off with any opponent and that won't change when he goes up against Sergio Moraes this weekend.
Moraes will definitely be a tough matchup for Means because he's got world-class Brazilian jiu-jitsu skills and that's been a problem for the New Mexico native in the past. In two of his most recent losses, Means has been submitted by Matt Brown by guillotine choke and then by rear naked choke against Alex Oliveira. It's not to say Means can't survive on the ground, but he's had some struggles with that in the past and Moraes is very dangerous if he can keep this fight on the mat.
That being said, Means has the ability to keep opponents on the end of his punches before moving inside, where he's a punishing force with elbows and knees. Means will enjoy a three-inch reach advantage in this fight, so he has to use that to keep Moraes away early to avoid those takedowns and a potential grappling battle. Once the fight bleeds into the second or third round, it becomes tougher for Moraes to lock up those submissions on the ground.
Means just has to stay active on his feet in the early going and make Moraes pay each and every time he tries to get inside for a takedown. As seconds tick away into minutes, Means should then look to up his volume and begin punishing Moraes with his heavy barrage of elbows and knees from the inside.
Over the course of three rounds, Means will either do enough damage to rack up a victory on the scorecards or potentially put Moraes away late when the strikes just become too much to take.
Prediction: Tim Means by TKO, Round 3
Free Fight | Leon Edwards vs Nate Diaz
The Journey Means More To Colby Covington