Dennis Bermudez doesn't dwell on the past.
Coming off a year where both of his Octagon appearances ended in losses, the veteran featherweight could be hanging his head or feeling a ton of pressure heading into the opening bout of his 2018 campaign, but instead, the former Ultimate Fighter finalist has already turned the page on 2017.
"I'm starting fresh, just another day," said Bermudez, who takes on Andre Fili in the co-main event of Saturday night's UFC on FOX event at Spectrum Center in Charlotte, North Carolina. "The past is the past and I'm just going out there and fighting.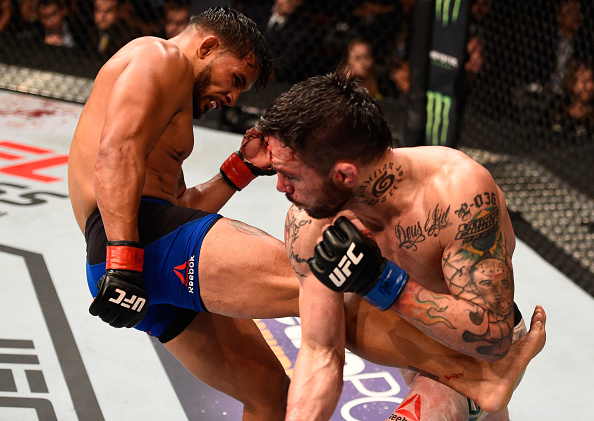 "I wrestled with a few buddies in college who seemed like they didn't care and they had success and it's just kind of a "F*** It!" attitude, you know?" he added. "Go out there and do your thing. Do everything in your ability to be prepared, but whatever happens happens and it is what it is. So f*** it."
Entering last year on a two-fight winning streak and once again on the cusp of contention in the stacked 145-pound weight class, the 31-year-old had a pair of noteworthy firsts go awry inside the cage.
His initial main event assignment opposite Chan Sung Jung on Super Bowl weekend in Houston ended less than three minutes into the fight when the returning "Korean Zombie" found a home for a right uppercut just as Bermudez ducked in for a possible takedown that put him on the deck.
Five months later, the Saugerties, New York native got the chance to compete at home for the first time in his career, stepping in against Darren Elkins in the co-main event of last summer's UFC on FOX event at Nassau County Coliseum in Long Island. Unfortunately, his homecoming didn't have a happy ending, as Bermudez came out on the wrong side of a split decision verdict.
"The thought of it was better than the actual experience," laughed Bermudez in regards to competing in his own backyard. "Fighting with four or five other Long Islanders, training together, being able to cook on my stove, sleep in my bed – I think sometimes when you show up at another destination there is a little bit of a trigger.
"When you're staying in a hotel, that's like, 'All right man, it's game time;' you're not as comfortable, whereas sleeping in my own bed, driving to the venue, it was different."
RELATED: Fight Night Charlotte: Road To The Octagon | On The Rise - Charlotte Edition
Needless to say, the Top 10 fixture is happy to have packed his bags and decamped for "The Queen City," where he sees this matchup with Fili being the kind of quality matchup that gets him excited.
"I think the name matters at this point in my career," admitted Bermudez, who has shared the cage with several of the top names in the division and holds a victory over current champion Max Holloway. "If you're fighting a nobody, it's hard to get amped up; it's hard to get pumped up; it's hard to get ready to prepare for someone that you're like, 'This guy sucks' versus 'This guy's got a little bit of a name or a certain style.'
"He brings a little edge and I'm cool punching this guy in the face," he added. "He's a standup kind of guy. He's an Alpha Male guy. He's tough. I can't look past him."
 
A post shared by Dennis Bermudez (@menacebermudez) on Jan 21, 2018 at 8:56am PST
Some may say that Bermudez' "what's done is done" take on things is a good approach to have when you're coming off consecutive losses and sporting a 2-4 record over your last six fights, but the reality is that Bermudez has maintained this approach through good times and bad.
Despite landing on the wrong side of the results more often than not over the last couple years, all of those contests have come against elite competition and there was never a point where the veteran featherweight was completely overmatched.
"All those losses were fights that I could have won, I thought I won or that I was winning," said Bermudez. "I've never been on the losing end of a 15-minute fight where I just got the s*** kicked out of me.
"I'm always right there or could have won or made a little mistake so, for me, all those guys I lost to were beatable. None of them are that much better than me where I don't feel like I belong in there with them."
And now, he's ready to get back to the style that brought him success at the outset of his UFC run and remind people that he's still one of the top featherweights in the business.
"My resolution is always the same: to go undefeated that year. 2017 didn't go the way I wanted – not due to lack of effort – so we changed things around like we always do and we're looking to get back to the old "Menace" with the pressure and getting in there, getting in a guy's face and getting a guy tired."
Free Fight | Leon Edwards vs Nate Diaz
The Journey Means More To Colby Covington