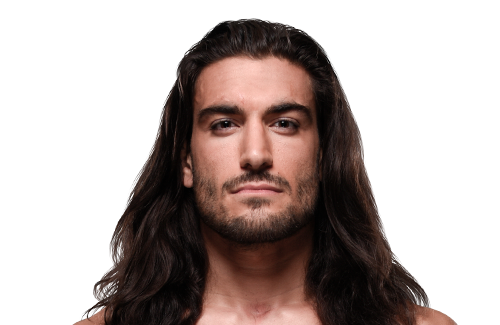 Elias
Theodorou
14-2-0

W-L-D
Fighter Info
| | |
| --- | --- |
| Nickname: | The Spartan |
| From: | Toronto, Ontario Canada |
| Fights Out Of: | Toronto, Ontario Canada |
| Age: | 29 |
| Height: | 6' 1" ( 185 cm ) |
| Weight: | 185 lb ( 84 kg ) |
Biography
TRAINING: A typical day is me embracing the grind. As mentioned, cardio is king for me. And that's what I've been focusing on this camp, improving on the last two wins, but with more and more output.
Thoughts on opponent, Brad Tavares? Brad is a very tough, durable fighter who has been in the UFC for quite some time. He has notable wins against the likes of Nate Marquardt and losses to only top tier fighters (Whittaker, Romero, Boetsch). I feel I match up very well against him. His notable win (Nate) and last win against Caio was the result of him being the volume fighter. I know there is no way he can match my pace beyond the second or going into the third round. That is where / when I'll look to the finish. He is a cookie cutter striker from the Ray Sefo lineage, where I am anything but traditional. I look to impress with my "out of the box" style to get my 15th professional win and third straight.
When and why did you start training for fighting? I started training MMA after my first year of University. I was already enlightening the mind, I decided the body should follow…I fell in love with the sport instantly.
What ranks and titles have you held? TUF Nations middleweight winner. NAAFS & ECC Middleweight Champion. Technically, I've been a purple belt in BJJ for 3 years. But the reality is, I don't train Gi. I am an MMA fighter and train in Vale Tudo...under Chute Boxe legend Sergio Cunha. (I have a dark blue belt in Muay Thai, which is two away from black). I am a mixed martial artist from Day One. I win by drowning my opponent in my pace and sprinkle violence.
Do you have any heroes? Outside of martial arts, my heroes are my parents. They have done so much for my brother and I, creating the people we are today. We are truly blessed to have their love and support.
What does it mean for you to fight in the UFC? Being in the UFC means everything to me, as it is where I have always dreamed to be since becoming a martial artist. I believe I am ready for the challenge.
Did you go to college and if so what degree did you earn? I have a B.A Degree in Creative Advertising at Humber College

What was your job before you started fighting? I model, act and do stunt work on the side…six Harlequin romance covers so far!

Specific accomplishments in pro competition? Greatest hair in MMA.

Favorite striking technique: Anything done by Anderson Silva
· Team Canada on TUF Nations
· Pro since 2011
· Six wins by KO, one by submission (RNC)
· Two first round finishes
· Won two of last three fights
· Origin of nickname: "I'm Greek, and the Spartan (Shoe) fits! The name was first given to me by my original coach, who was Greek as well, and he said I had the true Spartan spirit in my blood. Ah - oh!"