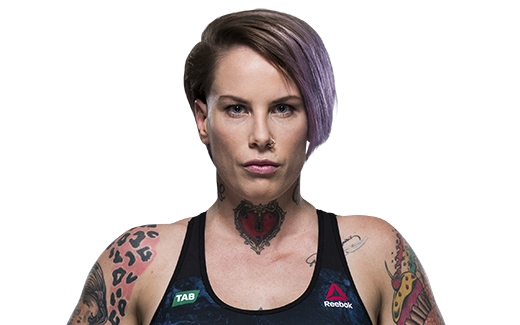 Fighter Info
| | |
| --- | --- |
| Nickname: | Rowdy |
| From: | Tasmania Australia |
| Fights Out Of: | Brisbane Australia |
| Age: | 28 |
| Height: | 5' 6" ( 167 cm ) |
| Weight: | 115 lb ( 52 kg ) |
Biography
TRAINING: I wake up early and run for an hour fast, then I refuel before morning practice with the Fight Team & then I have conditioning or pad work in the evenings with Physical Culture 101 or my coach Eric Del Fierro.

When and why did you start training for fighting? I started training in 2010 to lose weight and get fit. I fell pregnant not long after starting so I had a short break from training, but got back into as soon as I could. I had my first professional fight in 2011, nine months after giving birth to my youngest son Enson.
What ranks and titles have you held? I don't pay attention to rankings. I just like to fight.
Do you have any heroes? Not really.
What does it mean for you to fight in the UFC? It means a lot to me. To compete in the best promotion in the world among the best fighters in the world is amazing.
Did you go to college and if so what degree did you earn? No
What was your job before you started fighting? I have worked in hospitality and hairdressing before becoming a full-time mum. But now I'm a full-time mum and professional athlete.
Specific accomplishments in pro competition? I fought for the Invicta FC strawweight championship against Carla Esparza, losing via decision.
Favorite grappling technique: Armbar
Favorite striking technique: Boxing
One win by KO, four by submission (2 armbar, 2 RNC)
Four first round finishes
Has won two of her last three