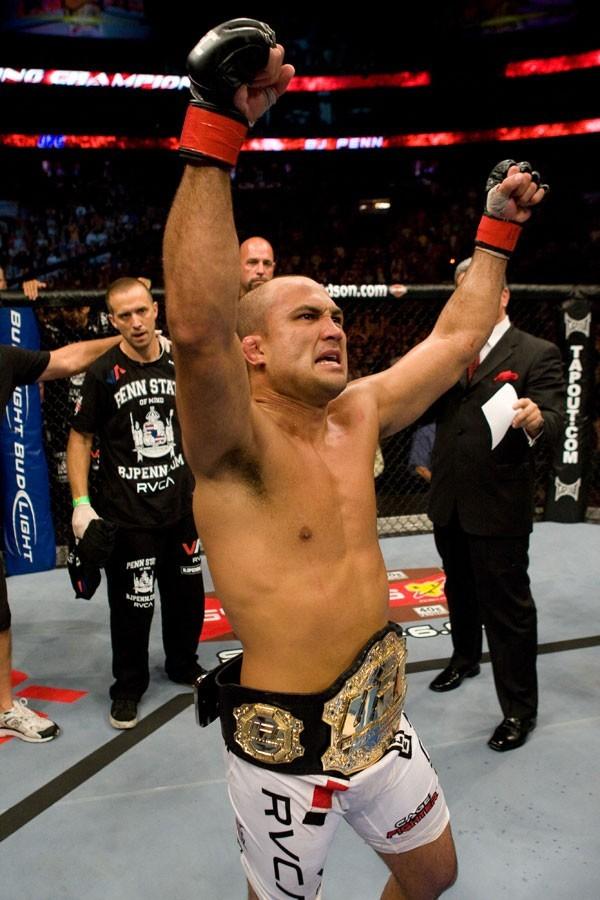 El evento principal será una pelea por el título de los pesos ligeros entre Nate Díaz y Ben Henderson, en la pelea coestelar se enfrentarán Mauricio Shogun Rua en contra de Alexander Gustafsson, y la pelea previa es precisamente la pelea entre el ex campeón tanto de los pesos ligeros como de los welter BJ Penn, que se medirá en contra del nuevo prospecto Rory MacDonald.
BJ Penn hace poco comentó con sobrada razón en una entrevista, se le hacía injusto que cuando hablaba la gente del mejor de todos los tiempos, no se le considerara. Ahora que es muy recurrente el tema de la pelea de GSP en contra de Anderson Silva , o Silva vs Jones, recordemos que Penn logró esa hazaña al subir de división y derrotar al entonces mejor peso welter Matt Huges y arrebatarle el título.
BJ es sin lugar a dudas uno de los mejores peleadores que han pisado el UFC, es ex campeón mundial de jiujitsu brasileño, posé una de las mejores defensas del derribe y un boxeo de lo mejor del UFC, dicho por el mismo Freddie Roach, entrenador de Manny Pacquiao.
BJ es un peleador todavía joven, con 33 años de edad (cumplirá 34 el próximo 13 de Diciembre), ha hecho cosas increíbles en este deporte, como ser campeón de 2 divisiones dentro del UFC, haber dominado por largo tiempo la categoría de los ligeros, o haber ido a la distancia en una pelea en contra el ex campeón de las 205 libras, Lyoto Machida.
Penn después de haber perdido de forma apabullante en contra de Nick Díaz, anunció su retiro, sin embargo reconsidero su postura y esta ahora de regreso, en quizá su último intento en recobrar el título de los pesos Welter.
Los altibajos en la carrera de Penn, se han debido más a la falta de motivación e interés, que a la falta de talento. Sin embargo es un peleador siempre está buscando nuevos retos, incluso retos que van en contra de su carrera y record, como la pelea con Machida, o el buscar coronarse en la división de arriba de peso cosa que otros peleadores como GSP, Anderson Silva y Jon Jones no han intentado.
Por lo anterior Bj Penn regresó al UFC con un gran reto enfrente, una pela en contra de uno de los mejores peleadores en acenso como lo es Rory MacDonald, quien ha estado impresionante desde su arribo al UFC, con un record de 13 ganadas y tan sólo una derrota, se posiciona cada vez más como un serio contendiente por el título.
MacDonald es compañero de entrenamiento de GSP, y posé un estilo muy similar al campeón, con excelentes derribes, y un ground and pound brutal. Rory sólo perdió en contra de Carlos Condit quién fuera campeón interino de la división, una pelea que MacDonald iba ganando 2 rounds a cero, y que mostró un impresionante regreso de Condit para ganar por TKO, en una pelea que parecía tener perdida.
Esto lo hace un combate digno de encabezar una cartelera, BJ Penn es un peleador que su peso natural es de 155 libras, y ha perdido algunos de sus combates en el peso welter, debido a que su oponente es físicamente superior, lo cual podría ser el caso en este combate. Sin embargo en esta división también ha sorprendido, como cuando empató con Jon Fitch en una pelea que pocos le daban oportunidad. Penn es el más experimentado de los dos y eso podría ser un factor, sin embargo Rory MacDonald es el estilo que más se le complica a Penn, alguien con derribos superiores, que castiga muy bien con el ground and Pound, BJ nunca ha sido noqueado o sometido, sólo ha sido detenido vía el TKO, y eso es en lo que MacDonald se especializa
¿Tu con quién vas? ¿Será el regreso del ex campeón Penn? ¿O se consolidará como contendiente, el nuevo talento Rory MacDonald?