Ben Henderson le arrebató el título a Frankie Edgar, en una pelea muy contendida, que empezó con Frankie dominando el combate, con su gran velocidad y excelente movilidad, mas fue conectado con una patada ascendente, desde la guardia, por Ben Henderson, la cual cambió por completo el rumbo del combate.
Aunque ambos tuvieron sus momentos durante el combate, fue Henderson quien pudo sacar una ligera ventaja en la apreciación de los jueces, para así arrebatarle el título a Edgar quien no logró mantener el dominio de su antecesor Bj Penn dentro de esta división, y tuvo un corto reinado como campeón.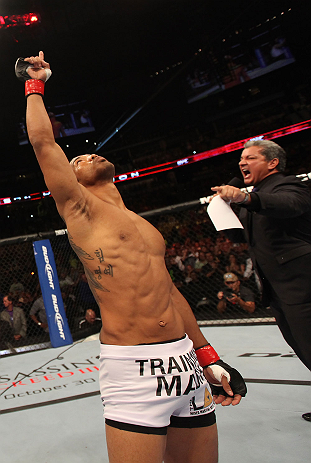 El combate por el título fue tan cerrado, que le ganó a Edgar una revancha directa. La segunda pelea fue igual o más contendida que la primera, para muchos Edgar con el mayor volumen de golpes debió de haberse llevado una decisión cerrada, sin embrago en la apreciación de los jueces fue Ben Henderson quien obtuvo su primera defensa exitosa vía decisión dividida .
Ben Henderson si bien viene de una racha perfecta dentro del UFC, con 5 victorias al hilo, no ha conseguido finalizar ninguno de esos combates, su estilo está basado principalmente en usar su base de lucha olímpica para poner en la lona a sus adversarios, controlarlos y utilizar el ground and pound, así como buscar las sumisiones para buscar finalizar el combate.
El estilo que emplea Henderson, le ha sido tan efectivo que lo convirtió primero en campeón de la WEC y ahora en campeón de peso ligero del UFC, se ha hecho acreedor a una reputación de ser casi imposible de someter, su base de jiujitsu brasileño, disciplina en la cual consiguió en 2011 el tercer lugar en el campeonato mundial de la IBJJF en la cinta marrón, le ha combinado muy bien con su base de lucha para poder derribar y controlar a sus oponentes.
Si bien no se ha caracterizado por ser un gran noqueador y tiene la mayor parte de sus victorias vía sumisión, en especial la guillotina, Henderson ha mejorado mucho en pie, sobre todo con el pateo. La clave para Ben Henderson será utilizar en pie su mejor pateo y aprovechar su lucha, para derribar y controlar desde encima a Nate Díaz.
Nate Díaz por su parte se ha ganado a pulso esta oportunidad al título, después de haber ganado la quinta temporada de The Ultimate Fighter y mostrar cierta inconsistencia, que le llevará incluso a hacer una incursión fallida en la categoría de los pesos welter, Díaz regreso mejor que nunca a la categoría de ligeros y obtuvo 3 triunfos impresionantes, contra grandes oponentes como Gomi, Cerrone y Miller.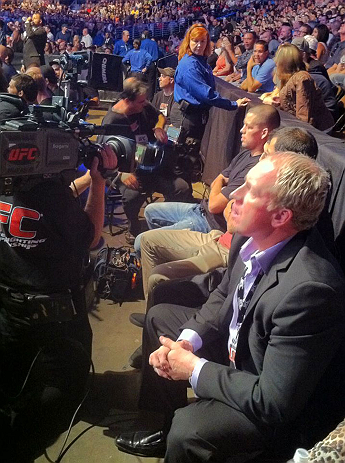 Díaz tiene uno de los mejores, si no el mejor boxeo dentro de esta división, aprovecha muy bien su mejor alcance y abruma con un gran volumen de golpes a sus adversarios, prueba de esto fue el dominio absoluto sobre Donald Cerrone a quien detuvo en lo que parecía ser un trayecto exitoso en busca de una pelea por el título.
Si bien Díaz tiene un boxeo impresionante, su mejor herramienta ha sido , su excelente manejo del jiujitsu brasileño, Díaz a sometido a once de sus oponentes, muy notablemente a Jim Miller ha quien nadie había sometido antes, el estilo de Nate, es lastimar con su boxeo en pie y forzar a sus oponentes a buscar de forma desesperada el derribe, ahí es cuanto este cinturón negro de jiujitsu brasileño, de Cesar Gracie, encuentra las sumisiones, en su mayoría guillotinas y triángulos lo que le ha permitido en cuatro ocasiones obtener el bono de Sumisión de la Noche.
Esta pelea será sin lugar a dudas épica, ambos son peleadores con un gran corazón, y sobre todo estilos que harán sin lugar a dudas un gran combate. Henderson buscará derribar y controlar por encima a Díaz, quien ha sufrido a lo largo de su carrera contra personas que ejecutan bien esa estrategia como Guida, Stevenson y Maynard. Sin embargo Henderson se tendrá que preocupar en todo momento de las sumisiones de Díaz, quien es el peleador con las mejores sumisiones a quien ha enfrentado, si se mantiene mucho tiempo la pelea en pie, será Díaz quien tendrá oportunidad de hacer el mayor daño. ¿Tú con quién vas para este interesante combate?