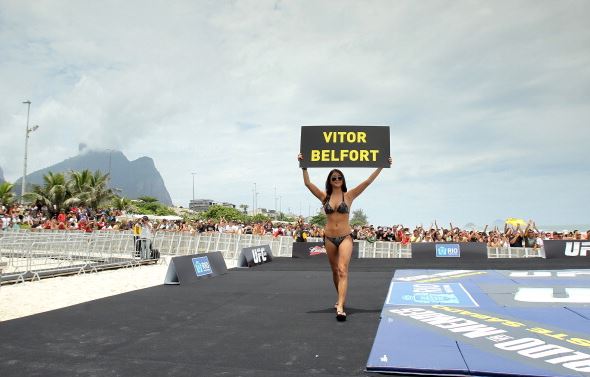 UFC 360: In our last interview, you were stoked about going to Brazil. What did you think?

Arianny Celeste: I really like Brazil. I love the culture, and people are very warm and kindhearted, and most of all I like being by the beach. I like the hot weather. I like the tiny little bikinis. I think they accentuate my body the best—the smaller the better.
What is the sexiest thing about Brazilian culture?
They are just very comfortable with their bodies. They don't mind sitting on the beach in tiny little thongs. Even the guys are wearing little…umm…little shorts. Though, they're very comfortable and I like that about them. You can tell that they take care of their bodies as well.
What's going through your mind when you are on stage at the weigh-ins?
When I am going out, I'm just thinking, obviously, "I hope I look good." The guys have some of the most amazing bodies ever, so you know, it's kind of interesting to watch. But when I am watching the promos, especially when it is a huge fight, I just get goosebumps just to wake up and go to the fight.
What is the most attractive muscle or body part on a guy?
The most attractive part are the hip flexors, right? 'Cause it is connected to everything else. [Laughs] What? I'm older now. I can talk about it! I'm not a virgin, so…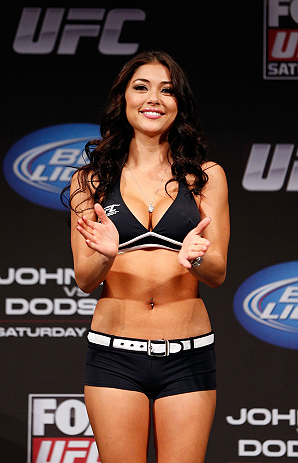 What body part of yours do you work out most in the gym?
Well, I'm very petite, so I have to work on my bum and my legs all the time. Probably every day. That is my main focus.
How do you stay motivated to stay in shape?
I guess, to be honest, I'm pretty vain. I'm not gonna lie, I like to look good. I like to feel good. I think the first part of looking good is getting in the gym every morning. Even if you eat a cheeseburger the night before, getting in the gym just clears your head and makes you feel okay about that cheeseburger.
What would you tell someone who has some athletic goals or fitness goals that they want to achieve and needs to push through a mental roadblock?
I would say, put up an image board of inspiration, body types that they like, goals that they have so they wake up and see that every day. If you are gonna ignore that every day, you are not working hard and you're not caring about yourself. The first thing you do when you wake up is look at that board and say, "I'm gonna do something good for myself today." Then you go and you do it and you feel amazing afterwards.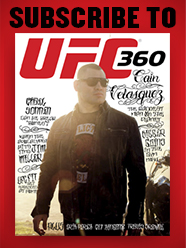 This interview originally appeared in issue 19 of UFC 360
Click here to subscribe to UFC 360, the official magazine of the Ultimate Fighting Championship, available now in print and digital editions.