UFC interim bantamweight champion Renan Barao has been injured and forced out of his headlining title defense against Eddie Wineland next month. A new main event for UFC 161, taking place June 15 in Winnipeg, will be confirmed soon.

updated: The three-round light heavyweight bout between former UFC champion Rashad Evans and former PRIDE and Strikeforce champion Dan Henderson, originally slated as the event's co-main event, now moves to the top of the card.

In addition, heavyweight contender Roy Nelson has been added to the card, as he will take on 9-1 Stipe Miocic. Miocic had originally been scheduled to face
Soa "The Hulk" Palelei
at the event. The news was first released via MMA Junkie/USA Today on Tuesday night.


Waldburger Out, Robertson In at UFC 161
updated May 3
With an injury forcing TJ Waldburger off the UFC 161 card, Kenny Robertson will step in to face Sean Pierson. The 12-2 Robertson most recently fought at UFC 157 in February, earning an impressive first-round submission over Brock Jardine.


Alexis Davis vs. Rosi Sexton Added to 161


Updated April 3

Canada will see its first women's bantamweight bout, as Strikeforce alum Alexis Davis takes on 13-2 Rosi Sexton in a battle of grappling phenoms.


UFC 161 Adds Jabouin vs. Pague

updated April 3

UFC 161 gets another exciting bantamweight bout, as Canadian striker Yves "Tiger" Jabouin squares off against submission specialist Dustin "The Disciple" Pague.
Stout, Jimmo, Clarke, Delorme Get Home-Turf Tilts
updated March 12
Four Canadian fighters have been added to the UFC's first-ever Winnipeg fight card.
Edmonton's Ryan "Big Deal" Jimmo will meet Igor "The Duke" Pokrajac in a battle of super-tough 205-pound sluggers at UFC 161 June 15.
At 155 pounds, London, Ontario fan favorite Sam "Hands of Stone" Stout fights 14-3 Isaac Vallie-Flagg, whose 12-fight unbeaten streak extended into his UFC debut last month.
Another Edmontonian, Mitch "Danger Zone" Clarke, will be Brit John "The One" Maguire's first test at lightweight, as the Englishman has announced a drop down from 170 pounds.
update:
Winnepeg's own Roland Delorme returns to the Octagon to face Edwin Figueroa in what promises to be an action-packed bantamweight fight.
Canada's 161 Fight Card Comes Together

updated March 6
update:
A Canadian welterweight will also go to work when Toronto's Sean "The Punisher" Pierson faces Texas' submission specialist TJ Waldburger.
previously: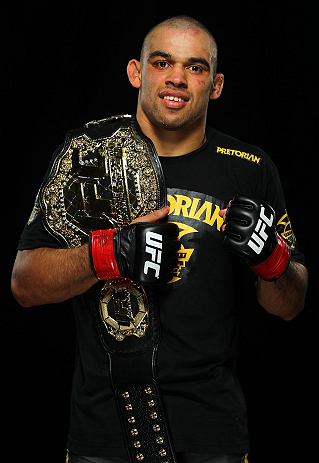 The Ultimate Fighting Championship has announced its first‐ever event in Winnipeg, Manitoba with UFC® 161. The event will take place on June 15, 2013, at the MTS Centre, a 15,000-seat venue that is home to the National Hockey League's Winnipeg Jets.
The main event will feature a title fight, the seventh championship bout held in Canada in the last six events there. Coming off of an amazing submission win over Michael McDonald, interim bantamweight champion Renan Barao will put his belt on the line against number-four ranked UFC contender Eddie Wineland. Wineland is coming off of impressive wins over Scott Jorgensen and Brad Pickett and looks forward to facing a man with one of the most impressive unbeaten streaks in MMA.
Two of Brazil's best, top-ten ranked light heavyweights Rogerio "Lil Nog" Nogueira and Mauricio "Shogun" Rua, will also fight in a rematch of their legendary 2005 PRIDE matchup.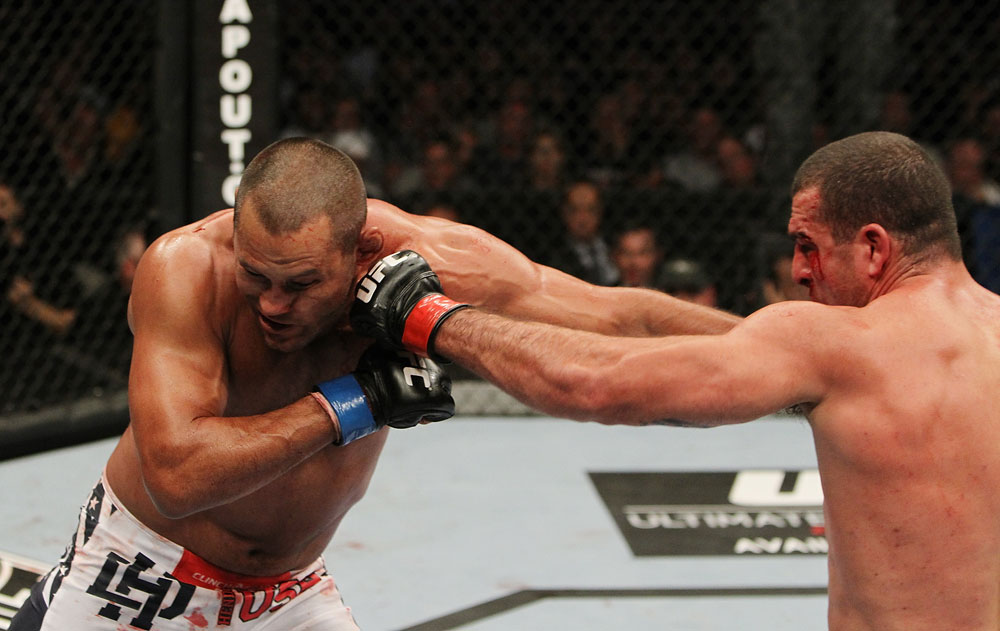 Also at light heavyweight, former PRIDE champion Dan "Hendo" Henderson will face former UFC champion "Suga" Rashad Evans.
Two exciting heavyweight bouts have been booked for Winnipeg: Hard-hitting heavyweights Shawn "The Savage" Jordan and Pat "HD" Barry will fight, as will 9-1 Stipe Miocic, who faces Soa "The Hulk" Palelei. Palelei rides an eight-fight win streak into his UFC return bout.
And finally -- for now -- Tyron "The Chosen One" Woodley will follow up his spectacular KO debut with a bout against former Strikeforce champion Jake Shields, who is returning to welterweight.