La primera pelea entre ellos en febrero pasado en Japón fue muy cerrada; algunos incluso vieron ganar a Edgar. Otros pensaron en un empate y después que Edgar le diera revanchas consecutivas a BJ Penn y a Gray Maynard, no había manera que el excampeón no recibiera la suya.
Más que el derecho a una revancha directa (que a Dana White parece no le gusta mucho hacerlo), Edgar se ganó la posibilidad de recuperar su corona de las 155 libras por el tremendo combate que dio ante Henderson y porque en la mente de muchos no hubo un claro ganador.
Aquella noche en que estos dos guerreros se enfrentaron se dio el regreso del UFC a Japón por primera vez desde el 2000 y no defraudó ni a los miles de espectadores presentes en el Saitama Súper Arena ni a los millones de fanáticos de las artes marciales mixtas alrededor del mundo.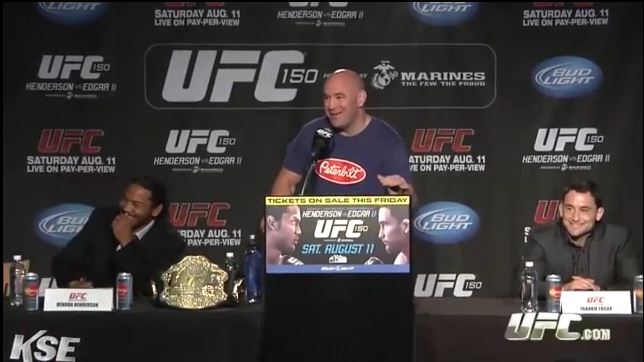 El campeón comenzó con ímpetu, agresión y conectó golpes con consistencia en el primer asalto. Sin embargo, todo cambió en la segunda mitad del segundo asalto cuando el retador desde la lona le conectó a Edgar una patada fulminante con el pie derecho, la cual hizo que el guerrero de Nueva Jersey buscara sobrevivir hasta el final del asalto y, al sonar la campana, Edgar sintió un alivio al saber que podía ir a recuperarse en su esquina.
Los siguientes 3 asaltos fueron de mucha acción. Edgar dio la impresión de llevar la iniciativa, tal vez hasta parecía que era quien más conectaba, pero la diferencia fue que Henderson golpeaba con más fuerza y sus golpes le hacían daño a su rival.
En la lona, Edgar ganó la batalla al derribar a Henderson en varias ocasiones, pero eso no fue suficiente y cuando llegó el final de la pelea los jueces le dieron el triunfo al retador por decisión unánime al retador. Las tarjetas de los encargados de impartir justicia entregaron su veredicto con puntuación de 49-46 (2 jueces) y 48-47.
Todo este análisis nos lleva a la revancha que tendrá lugar en el Pepsi Center en la ciudad de Denver, en Colorado.
Ahí veremos si Edgar puede resolver el crucigrama de su rival, la potencia de piernas y la fuerte defensa ante el derribo de Henderson y si, finalmente, puede evitar ser el hombre más pequeño dentro del octágono.
Incluso antes de su anterior pelea, a Edgar el UFC le ofreció pelear en la división anterior, la de las 145 libras, pensando que en ese peso no se sentiría tanto la diferencia entre él y sus contrarios.
Pero hay que reconocer Frankie Edgar no se hizo campeón sin ser testarudo, corajudo y muy valiente. Sus triunfos sobre BJ Penn y sus dos últimas peleas ante Gray Maynard son su mejor carta de presentación.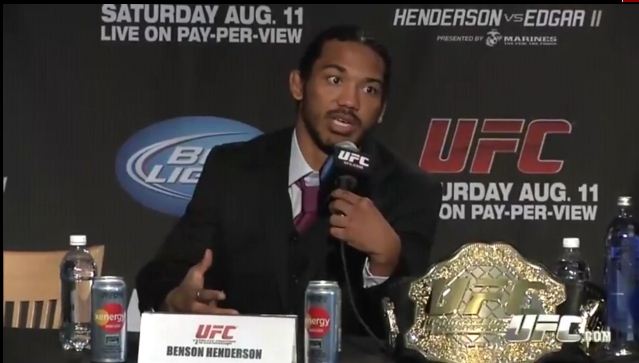 Es cierto que para pelear en las 155 libras, Edgar no tiene que cortar mucho peso y que cuando sube al octágono sus rivales son más grandes, más fuertes y más pesados. También es cierto que gracias a eso, Frankie lleva la ventaja en velocidad y en movilidad y estos dos atributos los ha usado muy bien para tener una marca en su carrera de 14 triunfos, 2 derrotas y 1 empate.
Esta revancha con Henderson puede ser su última oportunidad de demostrar que sí puede seguir en peso ligero y la diferencia en peso y tamaño no hacen la diferencia contra él.
Hay que recordar también que inmediatamente después de su derrota ante Hendo, Dana White le ofreció pelear por el título de las 145 libras ante el brasileño José Aldo, titular de esta división, pero Edgar lo rechazó.
Su objetivo es recuperar el título ligero del UFC.
Regresando a la pelea principal del UFC 150, Henderson parece tener todas las ventajas. Es el campeón, posee una defensa anti-derribo prácticamente impecable y su kickboxing es de lujo. De hecho, sus patadas son habituales en las imágenes con los mejores momentos del UFC.
Su excelente taekwondo and su muay-thai le dieron, primero el título ligero en el WEC y después que el UFC absorbió esa organización, en su primera oportunidad titular, Hendo no defraudó y le arrebató la corona a Edgar.
Además de las características físicas que ya hemos discutido y que establecen diferencias entre ambos, este combate enfrenta a un retador que trae un jiu-jitsu de primer nivel, bajo la tutela de la escuela de Renzo Gracie (casi nada…), muy buen muay-thai y un corazón del tamaño de la China.
Henderson seguramente va a usar las mismas herramientas que le dieron el triunfo en febrero pasado. Primero, ser sin dudas el peleador más fuerte y más grande dentro del octágono. También, confundir al retador con el golpeo, ya sea de manos o de pies, y, finalmente, seguir teniendo una tremenda defensa ante los intentos del retador de llevarlo a la lona para intentar implementar el "ground and pound".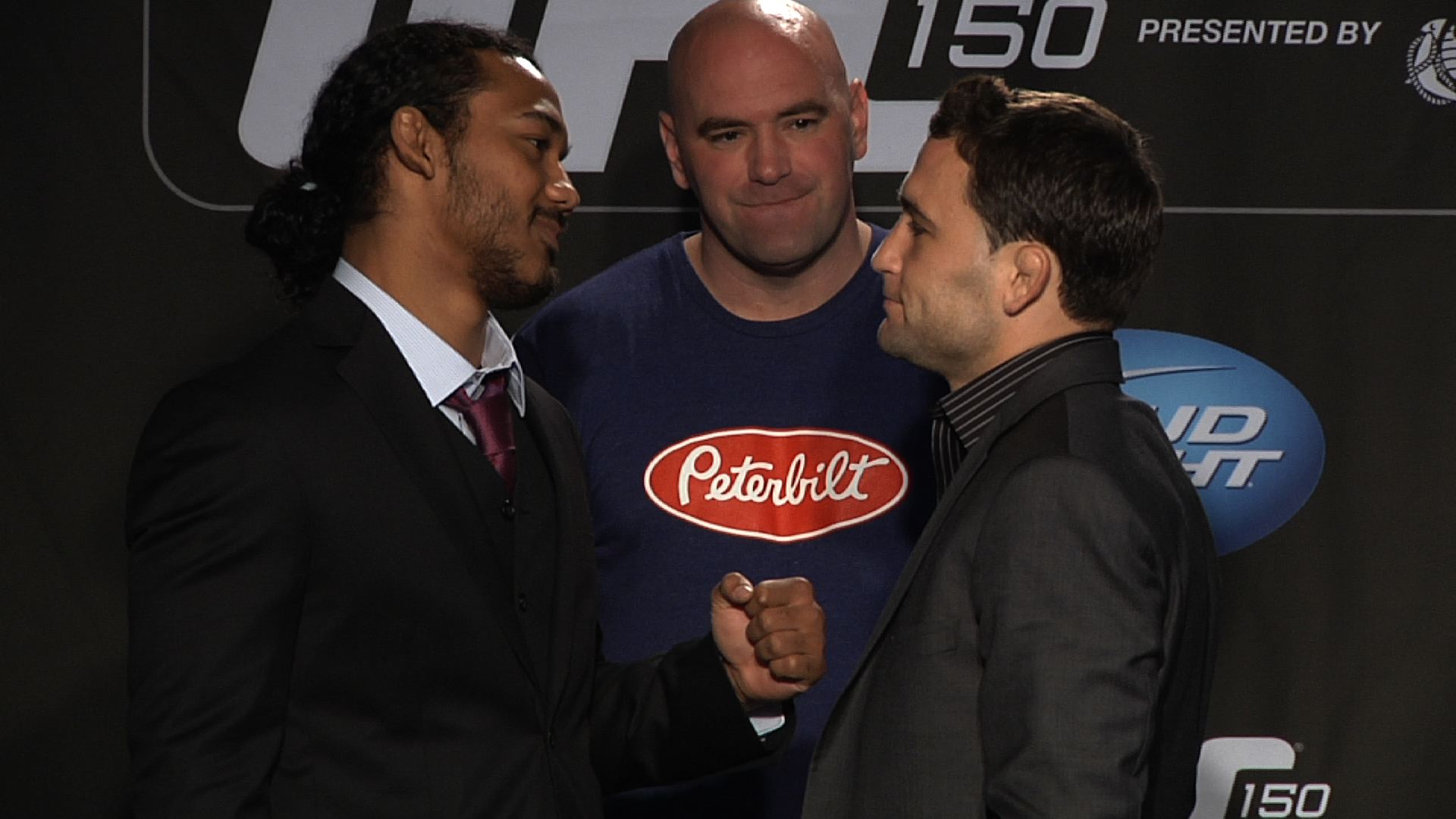 La manera más sencilla de ver este próximo combate entre ellos es pensar que se puede repetir lo que ya vivimos. Bien podemos pensar que Henderson es muy grande, muy potente y hasta mejor que Edgar. Pero es ahí donde el deporte, en general, y este de las artes marciales mixtas, en particular, es diferente a las telenovelas. Aquí no sabemos el final de antemano, ni tampoco las historias de cenicientas son reales y tienen un final feliz.
Aquí hay que subir al octágono, sentir la presión en vivo de miles de fanáticos gritando con toda la fuerza de sus pulmones y vencer al guerrero que tienes enfrente de ti.
La cita será el 11 de agosto en el UFC 150 en Denver y esta es la pelea que muchas veces no necesita de peleas preliminares para ser un gran evento.
Serán cinco asaltos, tal vez menos, de mucha acción, donde los dos mejores peleadores ligeros del mundo definirán de una vez y por todas quién es el mejor en este peso.
Los otros, Nick Díaz, Anthony Pettis, Gilbert Meléndez, tienen que esperar; al menos por ahora.
Me puedes seguir en tweeter en @vikingomartell