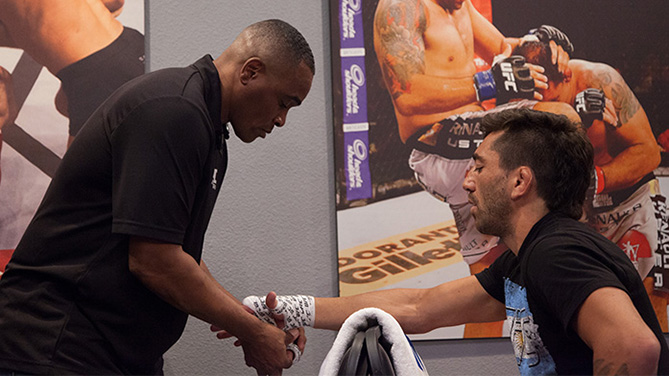 The episode begins with Guido and Marco going a some fact finding missions in preparation for their upcoming fight. Neither knows much about their opponent, so it makes sense. What doesn't make much sense, though, is the way they go about it. They actually ask each other! They should know that you can't trust a fighter's own opinion of themselves. If that were the case, 98% of fights would end in a double knockout.
> Watch: Meet Guido Cannetti | Meet Marco Beltran | Deleted scene
Next we head to the Red Rock casino where both teams get a night out of the house. Waiting for them is Mexican actress and model Claudia Alvarez. After a good time filled with food and wine, Claudia offers a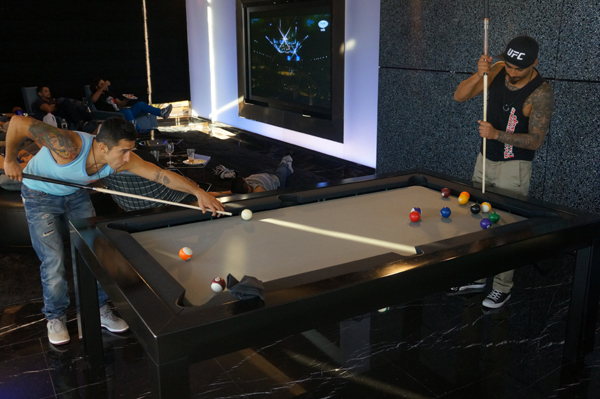 little wager. Each team will choose two members to compete in a game of 8-ball pool. Winners get an all-expense paid trip out on the strip and the losers are banished to the hot tub. It's a close, back and forth match, but Chito costs Team Latin America when he scratches going for the 8 ball.
> Check out: Photos from the night at Red Rock Casino
Back at the TUF house, we learn more about Argentinian Guido Cannetti. At 34 years old, Guido knows that this is one of his last chances to make it in MMA. He's sacrificed a lot for the sport, and even has left his son in Argentina so he could train with Team Jackson/Winkeljohn in Albuquerque. Never short on confidence, he feels that Cain Velasquez chose him to fight last because Cain knows that he's the toughest fighter on the team. Coach Werdum echoes this idea and says that Guido is on a "higher level" than the other fighters on the team. We'll see if he can live up to this praise because it's fight time!
ROUND ONE
Working from a southpaw stance, Guido opens up with some hard body kicks. Marco tries to keep his distance, but finds himself in the clinch. Guido hits a trip takedown, and easily moves to side mount. Marco recovers and returns to half guard, but fails all his sweep attempts. After Guido flattens him out for over a minute, Marco finally gets some separation and stands up. The two exchange strikes and Marco goes for a takedown of his own. Guido reverses, though, and finds himself back on top. He decides to stand up and kicks Marco to the leg. Then, the Argentinian makes a critical error. As Marco goes to stand up, Guido kicks at his head. Marco is still technically a downed opponent, however, so the ref calls time for the illegal blow. Guido insists that he hit the arms, Werdum calls Marco a faker and Cain Velasquez tells Werdum to mind his own business.
After a long delay, the referee deducts a point from Guido, Marco finally returns to his feet and the match restarts with 1:40 remaining. Guido scores another quick takedown, but Marco reverses position and takes his back. Marco sinks his hooks in and fishes for the rear naked choke, but can't finish. Guido survives the first round, but the point deduction has put him in a bind.
ROUND TWO
Both fighters come out hard to start the second round. Marco unleashed the first flurry and Guido answers back with a combo of his own. They fight for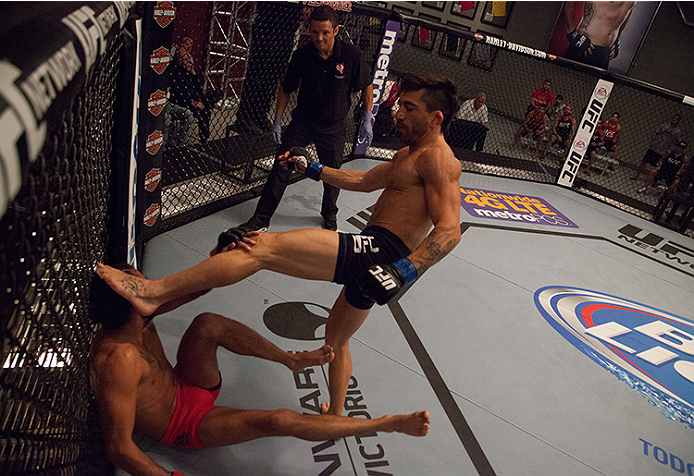 position against the fence and Guido belly to belly suplexes Marco back to the ground. Guido tries to get around Marco's guard, but his offense stymies. Marco holds on tight waiting for the referee to stand them up, and he gets his wish.
Guido continues to attack with the left leg body kick. He remains on the offensive and throws a couple hooks with bad intentions. Marco tries to bring the fight back to the mat, but can't finish. There's a scramble, and Marco connects with a knee flush to Guido's face. His best offensive attack of the fight, he's visibly fatigued and can't capitalize. Guido drags Marco down with less than a minute to go and unleashes everything he has. After throwing hammerfists like they were going out of style, the round ends. A dazed Marco can barely sit on the stool and a confident Guido prepares to hear his name called.
> Check out: Episode Seven Octagon Photos!
Guido does have his name called, just not as many times as he would like. The judges give the fight to Marco by split decision. Guido calls it a "robbery," Coach Werdum can't believe it and Cain Velasquez even calls it a bad decision. Dana White says Guido "threw the fight away" with his illegal kick, and doesn't have much sympathy for the situation.
We move to the fight announcement and it will be Team Mexico's Masio Fullen vs. Leonardo "Chimy" Morales. How does Guido recover from this loss? Can Team Werdum recover any momentum? What mayhem will Team Mexico cause on their night out? Find out this and more next week on The Ultimate Fighter!