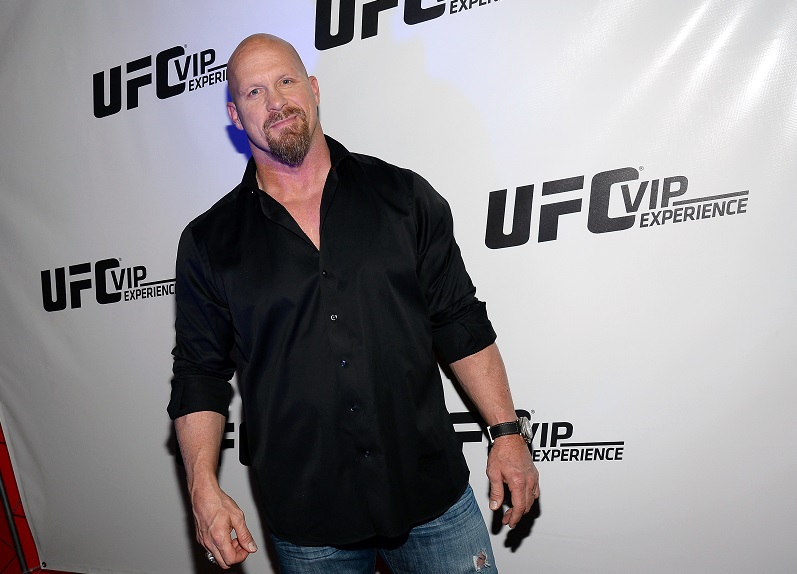 Stone Cold Steve Austin, one of the legends of professional wrestling,
appeared on the MMA Hour Monday afternoon
and spoke on a multitude of topics, including his love of mixed martial arts and UFC 175.
Austin is an avid MMA fan who orders every pay per view, and is excited for UFC 175 this weekend. When asked by host Ariel Helwani which he prefers between pro wrestling and MMA, Austin provided a surprising answer.
"Totally MMA," said the former 6-time WWE champ. "I can still watch as a fan, a complete fan. I know some strategies, I know some game plans that I would have maybe gone with if I was one of the fighters, or told my fighter to do. But I know the game of professional wrestling and I can see right through that. This keeps me a little bit more suspended. Don't get me wrong, I come from pro wrestling and I always will love it, but just as a fan, I get more out of watching MMA because I don't know everything."
> Check Out the UFC 175 Extend Preview
If there is a UFC Pay-Per-View on TV, Austin said he is buying it. Now with his friend and former UFC heavyweight champion
Brock Lesnar
retired, when it comes to his favorite UFC fighters, one of them will be competing this weekend in UFC middleweight champion
Chris Weidman
.
Austin is taking Weidman Saturday night because he's a bad ass member of the younger generation in MMA today.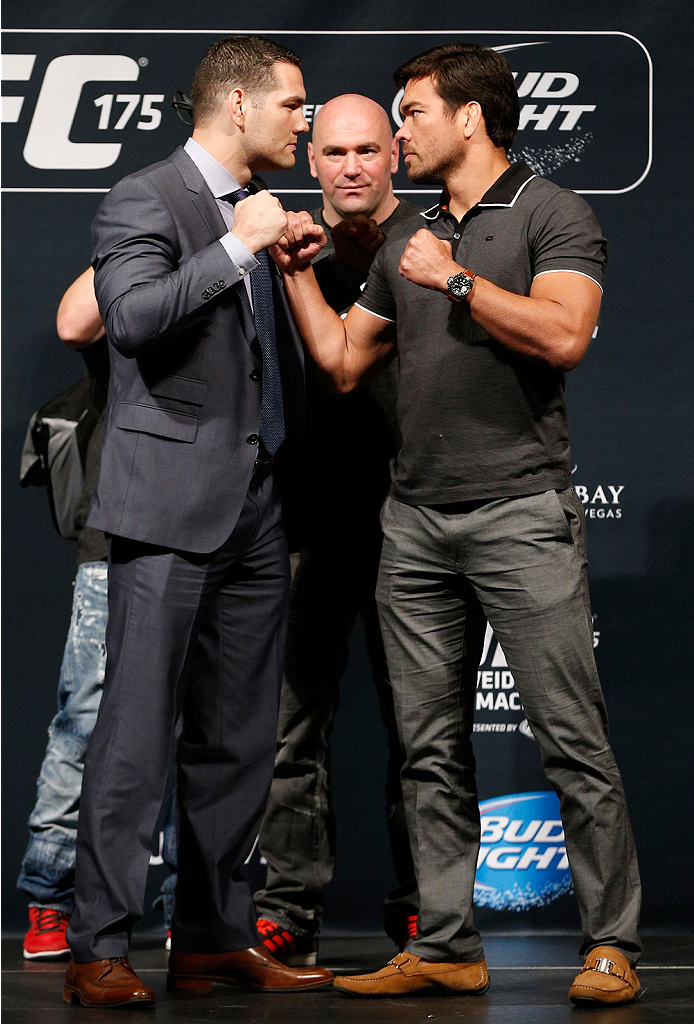 "I'll be cheering for Chris Weidman, but that will be a good fight with him and
Lyoto Machida
," he said. "He's a bad ass, he's well-rounded, he's a good kid and a good human being...It'll be a hell of a fight between him and Lyoto Machida because Machida has looked great at 185. He's coming in with a ton of experience, but I just think that it's Weidman's time now and he will prevail."
Weidman's athleticism and improving striking ability has Austin convinced that the New York native has what it takes to knock off the experienced Machida. Weidman is a tough kid and his youth will play to his favor against Machida, Austin said.
The conversation then moved toward Weidman's drawing power and whether the 30-year-old champ has already become a star or if he needs to make even more noise to ascend to the next level.
"He has the title, but will that transfer to Pay-Per-View buy rates," Austin wondered. "When Anderson was going to fight - I mean I buy everything anyway - but if Anderson was on the damn card I was going to buy it just purely because I like to watch him fight.
"Look at Brock Lesnar," Austin continued. "He came from a pro wrestling background, he wasn't the most skilled fighter but he has a run. He wins the belt. People want to see him fight. Again, he wasn't the most skilled guy there, but there was something about that box office part of it - he had the "it factor" that made people want to buy tickets. Whether they wanted to see someone who was 100 percent MMA kick his ass because he came from the world of pro wrestling, or whatever it was. He was almost like a natural heel. Hell, I thought Brock was cutting his best promos that he ever cut while he was in the UFC because he wasn't trying to be anything but what he is - a good old boy who can whip some ass. ... Weidman is a star in the making."
Austin also talked about three other fighters he considers to be stars on the current UFC roster:
Cain Velasquez
,
Jon Jones
and
Ronda Rousey
. Austin said he admires Cain's toughness and how dominant he's been, making him a must-see fighter every time he steps inside the Octagon.
Jones isn't Austin's favorite fighter, but he respects what the youngest champ in UFC history can do when he competes.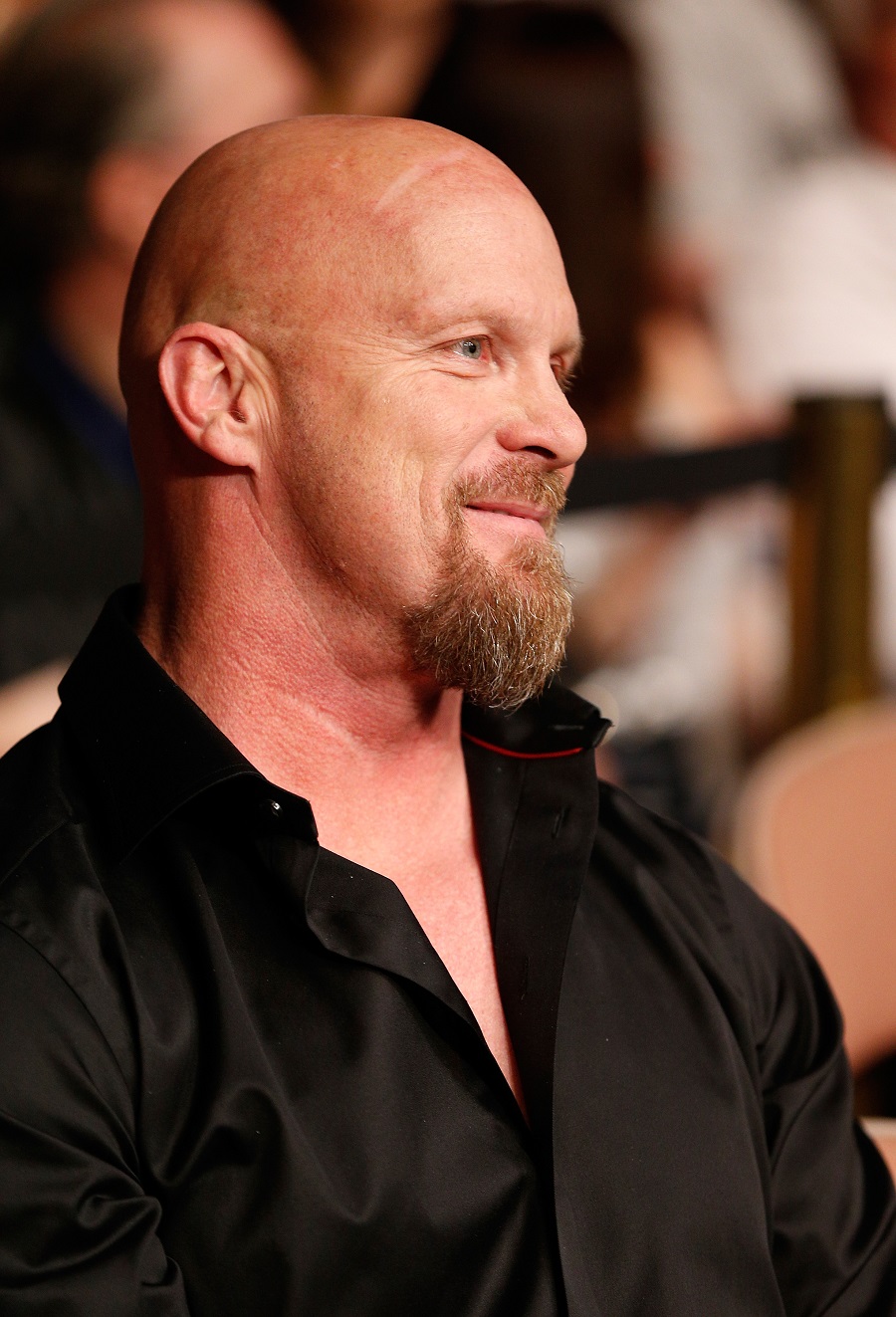 "(Alexander) Gustafsson really handed him his ass a couple months ago and took him into the deepest water that he's ever been in. That'll be a hell of a rematch," Austin said. "But Jones kind of gets on my nerves because I think he's living two lives... He annoys me in a good way. I would love to see him get his ass kicked because it's going to take a hell of a man to do that. But when I say things that irritate me about Jon Jones, I respect who and what he is in that Octagon. Make no mistake about that."
Austin is also excited to watch Rousey take on
Alexis Davis
for the UFC women's bantamweight title this weekend.
"Ronda Rousey is a big reason I'm buying the Pay-Per-View. I don't know a whole lot about Alexis Davis, and I don't know if she's athletic enough to beat Ronda Rousey," Austin said. "The thing about Ronda, When she walks to the ring she has that "BMF" walk. She sets the tone. When you walk to the ring, you're sending out a message to that crowd, to that person of what you're about to do. She has a mean streak that's three feet wide and a mile long. She's mean."