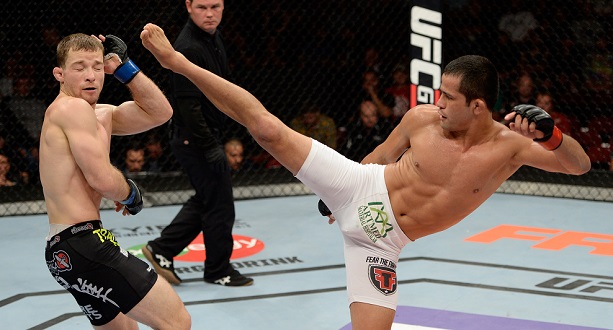 With his decision victory over Zach Makovsky at Fight Night Bangor last Saturday, Jussier Formiga has been voted into the top 5 of the UFC flyweight division.

The 29-year-old Brazilian is now ranked No. 4 in the division passing John Moraga and Ali Bagautinov, who fell to No. 6. Makovsky moved down to No. 10 and Brad Pickett moved up a spot to No. 9.

In the women's bantamweight division, Sara McMann jumped ahead of Alexis Davis into the No. 3 spot, just behind No. 1 Cat Zingano and No. 2 Miesha Tate.

> Read: Check Out The Complete Updated Rankings

Ross Pearson, fresh off his big KO win over Gray Maynard, was voted into the top 15, falling at No. 14. Maynard fell three spots to No. 15, while Rustam Khabilov moved up to No. 12, Jorge Masvidal hopped up to No. 13 and Joe Lauzon fell off the rankings completely.

In other movement, Josh Barnett moved ahead of Stipe Miocic into the No. 5 spot at heavyweight, and Stefan Struve jumped ahead on Minotauro Nogueira to No. 12. At welterweight, Jake Ellenberger moved ahead of Demian Maia to No. 7 overall, and Tarec Saffiedine jumped ahead of Dong Hyun Kim into the No. 9 slot.