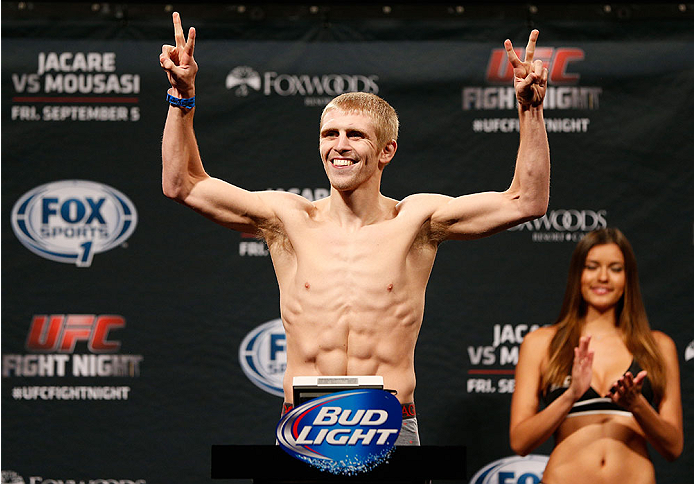 On a night where karate ace Stephen "Wonderboy" Thompson takes on former welterweight champion Johny Hendricks in the main event of UFC Fight Night on FOX Sports 1 this Saturday, another karate player will be looking to dazzle in the flyweight division.
Justin Scoggins faces the number 11-ranked Ray Borg on the FS1 prelims, and to hear Scoggins tell it, he is must-see television.
"I'm ready to start knocking people out," the Spartanburg, SC native said. "I've got knockout power in my feet, so you better believe I have knockout power in my hands."
Scoggins says he's looking to dispel the notion that flyweights don't finish people on the feet nearly as much as other divisions, but that's just for starters. He says 2016 will showcase a culmination of years of training.
"Ever since I've turned pro I've had a lot of opportunities and I've jumped at them all," he said. "I've had the pleasure to train at Jackson's MMA, American Top Team, and Tristar, so I've been hopping around for a long time because I believe to be successful you have to immerse yourself in different systems and absorb as much as you can. But, at the same time, it's just so much information to log in and it takes a long time for all of it to absorb and to put it all together, and that's where I am now. I'm back home and we opened an awesome new facility in Spartanburg and I've got my strength and conditioning, really good partners, all in one place, and everything is on track. I can finally just sit down and evaluate the weapons I have and put together everything I've learned over the years. Each fight that I've had has been an evolution, and each fight showed a different fighter in me, and now I can become the person that I've always known I am."
MORE ON FIGHT NIGHT LAS VEGAS 2016: Watch: Joe Silva previews Hendricks vs. Thompson | Free Fights: Hendricks vs. Carlos Condit, Wonderboy vs. Dan Stittgen | Read: Hendricks still motivated ahead of Thompson fight | Fighter bios: Hendricks, Wonderboy, Roy Nelson, Jared Rosholt | Complete fight card | Buy tickets to Fight Night Las Vegas

That person is a martial artist who has dedicated years to his craft. Known primarily as a striker, Scoggins leads many of the grappling statistics in the division, and he says he's not even a wrestler.

"I was world champion in amateur kickboxing man," he said. "These guys haven't even seen half of my arsenal. This year I'm going to get that title and I'm going to run through everybody to get it. I'm about to go on a tear. I've got my head on straight, my training is good and everything is lined up perfectly to go ahead and stake my claim and get the title. That's what I'm here for."

But first, he'll need to get through Borg, who is currently riding a three-fight win streak.

"I know a lot about him," Scoggins said. "I follow everybody I am going up against, especially the top guys in the division, their styles and their tendencies. Ray is a tough dude. He's got a really good top game, and a good overall grappling game. I feel he is one-dimensional and I will definitely exploit him for that."

In his last Octagon appearance, Scoggins showed some of those stand-up skills he talks about against Josh Sampo at UFC 187, taking a unanimous decision before taking time off to heal a minor injury that forced him out of his next scheduled bout.

Scoggins says the setback was a blessing in disguise.

"It kind of sucked, but I believe everything happens for a reason. As a fighter, when you don't have a fight coming up you get to focus on yourself and the things that help you to improve, both physically and mentally. But as soon as you book a fight you switch that focus to your opponent, watching fights and coming up with a game plan for the fight and then practicing the things that you need to do to beat the guy. It's easier to develop yourself as a martial artist when you're not training for a fight."

Scoggins believes he is the antidote to champion Demetrious Johnson's elusive style of fighting. He says wrestling and being able to control where the fight goes - and also keeping it there - is the way to beat many of the guys in the lightning-fast flyweight division.

"What I offer in this division is competition," he said. "The great thing about this division is Demetrious Johnson hasn't had any competition, and that's where I come in. To win the title you have to be a completely well-rounded martial artist and you have to put pressure on guys like 'Mighty Mouse' that they've never seen before. You have to be quick enough to react to these guys on the feet because there are some fast guys over here but, at the same time, you have to have good wrestling to take the fight and keep the fight where you want it. I guarantee you when I get the opportunity to go in there I'm going to force the guy to stand with me and I'm going to beat you up. I am going to do the same thing I do to Ray Borg to everyone else that steps in front of me."