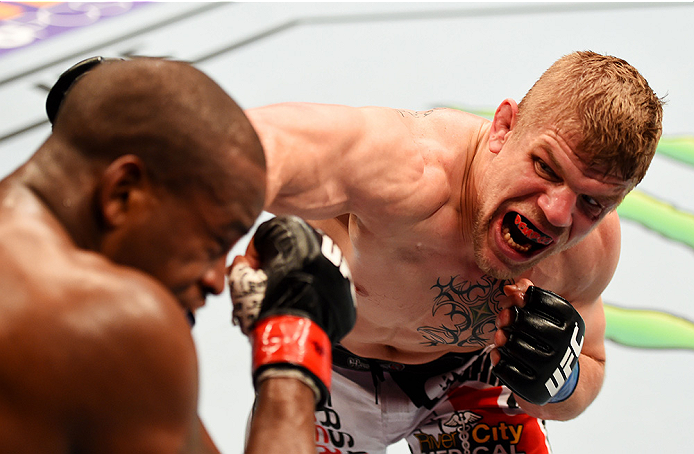 An established place on the UFC roster is something every fighter dreams of accomplishing and Chris Dempsey is no exception.
The Pennsylvania native has found mixed results since arriving to the big show back in 2014, finding victory in just one of his three outings inside the Octagon. And while a fighter's record often paints a fairly clear picture of where things stand, just throwing a quick glance at statistics doesn't tell the full story. The 28-year-old rolled the dice on a few occasions by taking short notice bouts in hopes of upping his stock with the UFC brass, which appeared to be poor decisions in the short term.
RELATED CONTENT: Chris Dempsey fighter bio | Matchup: Dempsey vs. Askham
Nevertheless, losses aside, the one thing Dempsey realized in full was that the best route for his future in the sport was a return to the weight class where the bulk of his success had initially been forged. He will return to middleweight for his upcoming scrap against Scott Askham this Saturday in London, and Dempsey is confident everything has finally aligned for him to give his best performance to date.
"Things have gone back and forth for me and I really had to take a hard look at what I was doing," Dempsey said. "My first fight in the UFC was on short notice and at 205 and that didn't work out too well. I stayed at middleweight for my second fight but I had a full camp and I walked out victorious. My third fight was another late replacement bout and I took another loss, so we took a hard look at things and decided 185 was where I needed to be.
"In going back and looking at things I realized I am 3-3 as a light heavyweight and 8-0 as a middleweight," he added. "That brings some added motivation because I'm going to keep that zero at the end of my record competing at 185 pounds."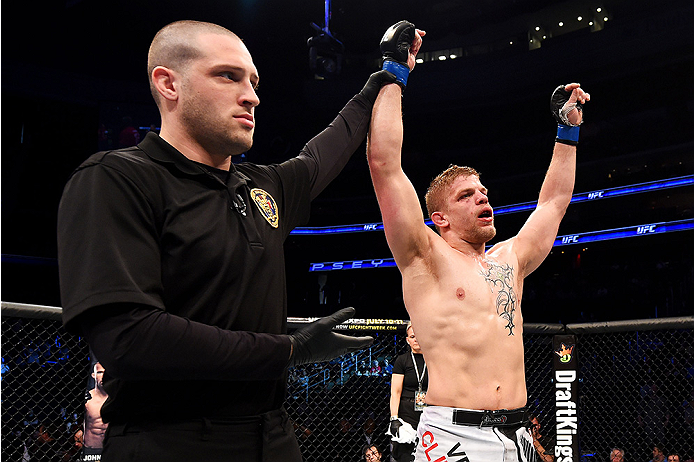 While Dempsey understands he's made a few wrong turns during his opening chapter with the UFC, those were mistakes he's corrected. For his upcoming tilt with Askham, the savvy grappler was able to get a full training camp and he believes the work he put in will shine through at the O2 Arena this weekend.
"I've had a full camp for this fight and I feel excellent," Dempsey said. "When you take short notice fights you lose a lot of things that could help you improve in the normal time it takes to get a camp in. All of a sudden you have a fight and you spend most of the time you have getting your medicals done and preparing for the travel ahead of you. That really impacts your physical state training-wise. but it also takes a toll on you mentally. I stay in the gym all year round. but you really need some time to focus on the opponent ahead of you.
"I definitely feel like I have something to prove. After taking some losses and a setback in my last fight I feel I have to come out there and re-establish myself. I'm fighting in the weight class I belong in and I want to get this win, then stack up a few more to get people talking. I want this year to be all about moving up the ranks, and that journey starts in London."
MORE ON FIGHT NIGHT LONDON: Join UFC FIGHT PASS | Reasons to watch Fight Night London | Fight Night London Embedded: Episode 1, Episode 2, Episode 3 | UFC Battle Lines: Part 1, Part 2, Part 3, Part 4 | UFC Breakdown: Fight Night London | How to watch Silva vs. Bisping | Read: Comeback? Anderson Silva never really left | Bisping finally gets career-long wish: Silva fight | Say it again - Silva's greatest soundbites, Bisping's greatest soundbytes | Super Spider - Silva's defining moments | Silva, Bisping trade barbs with fight nearing | Watch: Silva vs. Bisping - Joe Rogan preview | Rankings Report - London preview | Open Workout Highlights | Bisping - Warrior Code | Pundits weigh in on Silva-Bisping | Bisping - Fighting and Family | Big Nog on Silva's Best Fights | Big Nog on Silva's heart | Under the radar fights | Breese turns from UFC student to fighter
Getting back to the win column will undoubtedly be the most pressing issue for Dempsey on Saturday, but the pressure to find success hasn't clouded his perspective in the slightest. He sees fighting for the UFC as a dream realized and one that comes with the type of perks he never thought imaginable growing up in Pennsylvania.

Not only does his job allow him to travel the world, but getting to compete on a card like the one this Saturday in London puts him in close proximity to some of the fighters who have inspired him to put on the gloves in the first place. Anderson Silva - the man widely regarded as the greatest mixed martial artist of all-time - will compete a few hours after Dempsey does his thing and those experiences are what he plans to share with friends and family long after his days of competition have come to a close.

"Fighting on the same card as Anderson Silva is kind of crazy to me," Dempsey laughed. "It is one of those things where down the road when I'm 50 years old and my fighting career is over, I'm going to be able to share. I'm still fairly new to the UFC but I've already fought on the same cards as Lyoto Machida, Luke Rockhold and Conor McGregor. With this card and fighting on the same night as Anderson, that makes four former or current UFC champions and that's a cool little detail.

"I never imagined I'd ever travel to Europe, and now this will be my second time going for the UFC. That's pretty cool. I get to see the world and do what I love to do and that's a great thing. You have to find a balance between seeing the things you want to see and keeping your focus on the task at hand, but even that is a pretty cool problem to have. It's a dream come true."