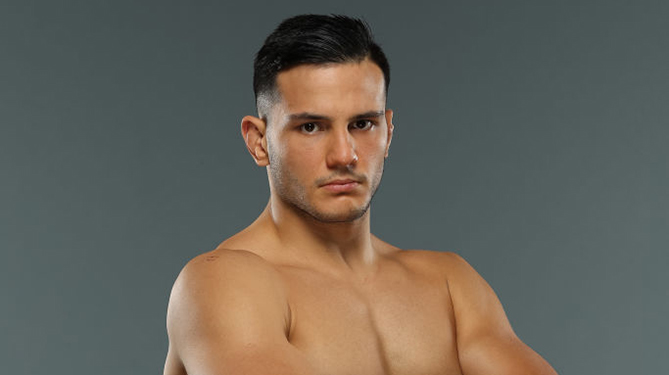 As a Brazilian of Italian descent, the potential was there for Luigi Vendramini to pack on the pounds in the aftermath of his September 7 knockout of Lucas Eurico. But there wouldn't be time for that, considering that the 22-year-old's life was about to change.
"I was relaxing a bit, but I was definitely eager as well to book another fight," he said when asked where he was at when he got the call to jump in on short notice to replace the injured
Belal Muhammad
against
Elizeu Zaleski dos Santos
in Sao Paulo this weekend. "I'm always trying to stay as active as possible and I got the call from my agent Jason House when I was at home. I may have shed a tear or two, and then I went to train."
Ah, youth. Add in a healthy dose of ambition, and it was no surprise that the lightweight prospect had no hesitation to jump up to 170 pounds to face off with the surging "Capoeira," who has won five in a row.
"I was pretty surprised to get the call," Vendramini laughs. "You always hope that your next fight will be in the UFC, but in the back of my mind I had thought that for my last couple fights. It's so unpredictable when, or even if, they will call, so I've always just done my best to stay ready."
At 8-0 with eight finishes, "The Italian Stallion" has done his part since turning pro in 2016, and he hasn't been shy about taking his show on the road to improve his craft. And though he obviously didn't have time to head to the States to work with Team Alpha Male this time around, he does get to stay and fight at home, and that's a positive.
"Brazil is my home," he said. "I love to travel and train, so I could definitely see myself hitting the road more in the future, but Brazil will always be my home."
That removes the "foreign invader versus the home country hero" angle from Saturday's bout, but with Zaleski dos Santos sporting three Fight of the Night bonuses in six Octagon bouts and Vendramini finishing all of his foes, there will be no shortage of fireworks in Sao Paulo. And as far as Vendramini is concerned, that's the ideal introduction for him.
"It really is," he said. "I pride myself on being an extremely aggressive fighter, so this is perfect. UFC fans are in for a real treat.
MORE SAO PAULO:


"He (Zaleski dos Santos) is a really tough guy," Vendramini adds. "He's got good kickboxing, and is fairly well-rounded. But I've fought guys with his style before; it's nothing I haven't seen before. I'm going to wear him out, then I'm going to finish him."

It's a bold stand to make, but as the saying goes, "fortune favors the bold," and after living a life most 22-year-olds haven't, he is now in position to have a life most 22-year-olds won't have.

"Making it to the UFC has been my dream for a decade," he said. "When your dream is that firm in your mind, it's not as difficult to sacrifice for it. I've missed out on a lot of opportunities in my personal life because I've been preparing myself for this dream, for sure, but it's always been fairly easy to do the right thing that will benefit my life the most in the long term."