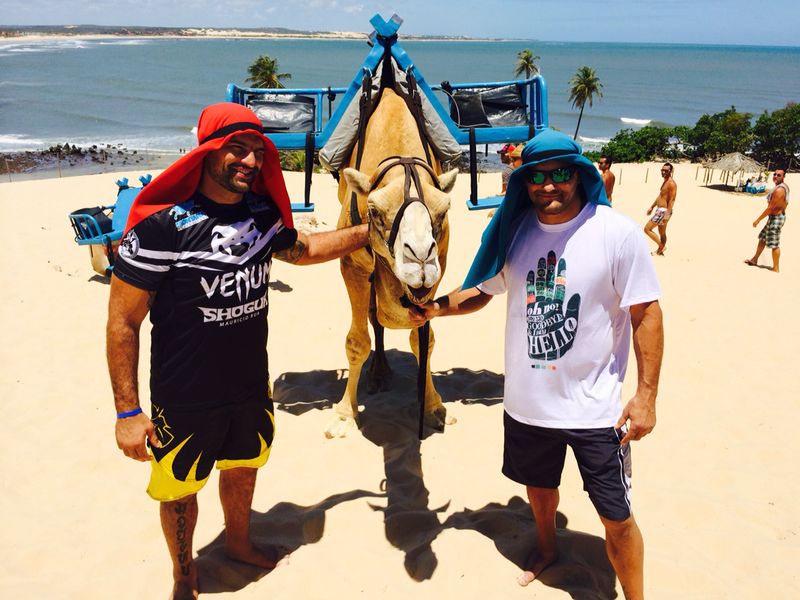 O Rio Grande do Norte se tornará o sétimo estado brasileiro a receber um evento do
Ultimate
Fighting Championship® no domingo, dia 23 de março, no Ginásio Nélio Dias, com o
UFC®
FIGHT NIGHT NO COMBATE: SHOGUN vs. HENDERSON 2. Ingressos para o segundo evento da organização no Brasil este ano estarão à venda a partir desta quarta-feira, dia 5, às 10h, em www.ticketsforfun.com.br. O início do card principal está previsto para as 20h, com as lutas preliminares começando às 16h30. Os portões estarão abertos para os fãs às 14h30.
Na luta principal da noite, o ex-campeão meio-pesado do UFC e do PRIDE
Mauricio Shogun
(22-8 em sua carreira no MMA) enfrenta o ex-campeão dos extintos PRIDE e Strikeforce
Dan Henderson
(29-11), em uma revanche aguardada desde novembro de 2011, quando os dois protagonizaram uma das batalhas mais memoráveis da história do UFC. Após cinco rounds de muita ação, Dan Henderson foi declarado vencedor de maneira unânime pelos jurados – uma decisão na época contestada por alguns. Agora, os veteranos terão a chance de eliminar as dúvidas.
"Estou muito feliz em enfrentar novamente o Dan Henderson, e mais ainda de poder voltar a lutar no Brasil, mais perto do público brasileiro, no país que eu amo", declarou Shogun, que só lutou em casa pelo UFC uma vez, no retorno do evento ao Brasil em agosto de 2011. "Eu sempre digo que meus fãs e meu país são minha maior motivação, e quando lutei no
UFC Rio
senti uma energia incrível. Sei que o público em Natal vai passar uma vibração enorme para todos os atletas. Além disso, o Dan Henderson é uma lenda e nossa primeira luta foi uma verdadeira guerra, considerada a luta do ano em 2011 por muita gente, então estou muito motivado para essa revanche e para um grande espetáculo", concluiu o ex-campeão.
"Eu penso que é justo lutar no Brasil considerando que a primeira luta entre a gente foi no meu país. Espero que essa seja novamente uma guerra. Shogun é um cara duro, então, sei que ele virá preparado para lutar cinco rounds caso seja necessário. Quero fazer outra grande luta como sempre tento fazer. Tenho certeza de que os fãs adorariam ver isso mais uma vez", comentou Henderson.
Na penúltima batalha do evento, o vencedor peso médio do
The Ultimate Fighter®
Brasil 1
Cezar Mutante
(8-2) enfrenta o americano
CB Dollaway
(14-6). Mutante pisou pela última vez no octógono no dia 9 de novembro, derrotando o ex-companheiro de The Ultimate Fighter
Daniel Sarafian
na mesma noite em que seu mentor
Vitor Belfort
nocauteou Dan Henderson. Já Dollaway, que vem de derrota para
Tim Boetsch
, volta a lutar em território brasileiro mais de um ano após derrotar Sarafian no evento principal do UFC São Paulo.
Também no card principal, o vencedor do The Ultimate Fighter Brasil 2
Leo Santos
(12-4) entra no octógono pela primeira vez desde junho do ano passado, quando derrotou
William Patolino
para conquistar seu contrato com a organização. Leo enfrenta o norte-irlandês
Norman Parke
(20-2), vencedor peso leve do TUF Smashes, a temporada internacional do programa que confrontou lutadores da Austrália e do Reino Unido em 2012. A batalha será válida pelos pesos leves.
Os potiguares
Gleison Tibau
(37-10),
Ronny Markes
(14-2) e
Jussier Formiga
(15-3) terão sua primeira chance de lutar "em casa" pelo UFC. Eles enfrentam o checheno
Mairbek Taisumov
(21-4), o participante do The Ultimate Fighter Brasil 2
Thiago "Marreta"
(8-2) e o americano
Scott Jorgensen
(14-7), respectivamente. O brasileiro
Fábio Maldonado
(20-6) busca emendar sua terceira vitória consecutiva, contra
Gian Villante
(11-4), parceiro de treinos do atual campeão dos pesos médios
Chris Weidman
. O vencedor peso pena do The Ultimate Fighter Brasil 1
Rony Jason
(14-4) volta ao octógono contra
Steven Siler
(23-11) buscando se recuperar de sua primeira derrota em três anos, sofrida em novembro do ano passado para
Jeremy Stephens
. Outro ex-TUF em ação é
Thiago "Bodão"
(9-3-1), que busca sua segunda vitória no UFC contra
Kenny Robertson
(12-2).
Ingressos para o UFC® FIGHT NIGHT NO COMBATE: SHOGUN vs. HENDERSON 2 podem ser comprados a partir desta quarta-feira, dia 05, às 10h, pelo site www.ticketsforfun.com.br, em todos os Pontos de Venda credenciados (clique aqui), na Central de Relacionamento Tickets for Fun, pelo telefone 4003-5588 e na Bilheteria Oficial do Evento, no Ginásio Nélio Dias, no dia do evento. Os bilhetes estarão disponíveis para os seguintes setores: Arquibancada A (R$ 240,00 / R$ 120,00 – meia-entrada); Arquibancada B (R$ 180,00 / R$ 90,00 – meia-entrada); Cadeira Premium (R$ 700,00 / R$ 350,00 – meia-entrada); Octógono Premium (R$ 950,00 / R$ 475,00 – meia-entrada); Portadores de Necessidades Especiais (R$ 90,00 – meia-entrada).
Card oficial* do evento:
Peso meio-pesado: Mauricio Shogun x Dan Henderson
Peso médio: Cezar Mutante x CB Dollaway
Peso leve: Leo Santos x Norman Parke
Peso meio-pesado:
Fabio Maldonado
x
Gian Villante
Peso pena: Rony Jason x Steven Siller
Peso leve: Gleison Tibau x Mairbek Taisumov
Peso médio: Ronny Markes vs Thiago Marreta
Peso mosca: Jussier Formiga x Scott Jorgensen
Peso meio-médio: Thiago Bodão x Kenny Robertson
* todas as lutas ao vivo; card sujeito a alterações
* mais lutas ainda a serem anunciadas
Para outras informações, visite br.ufc.com
Mais informações sobre a venda de ingressos
Compra de ingressos por CPF e Meia-Entrada:
O consumidor poderá adquirir até 4 (quatro) ingressos por CPF, ficando limitado à aquisição de 2 (dois) ingressos de meia-entrada por consumidor. Ou seja, no caso de aquisição de um ingresso de meia-entrada, o consumidor poderá adquirir ainda até 3 (três) ingressos inteiros; no caso de aquisição de dois ingressos de meia-entrada, o consumidor poderá adquirir ainda até 2 (dois) ingressos inteiros. A meia-entrada é um benefício pessoal e intransferível, portanto, no ato da compra deverá ser apresentado o documento que garanta o benefício para que o ingresso seja emitido nominalmente, anotando-se o nome do beneficiário no ingresso para acesso ao evento.
Quem tem direito a meia-entrada?
· Idosos (com idade igual ou superior a 60 anos): Lei Federal 10.741/2003.
· Estudantes e Jovens de até 29 (vinte e nove) anos pertencentes a famílias de baixa renda: Lei Federal nº 12.852, de 5 de agosto de 2013.
· Portadores de Necessidades Especiais;
Qual a classificação indicativa do evento?
Tendo em vista que o UFC é um evento esportivo, televisionado com diversas modalidades de lutas de competição, a entrada de menores de 16 anos será permitida se comprovadamente acompanhados dos pais ou responsáveis legais que são ascendentes ou colaterais até o quarto grau, desde que maior de 18 anos e portando documentos comprobatórios e o termo de responsabilidade de acompanhante disponível no site www.ticketsforfun.com.br, sendo que os responsáveis deverão permanecer no local do evento enquanto o menor estiver presente. Esta determinação, assim como a classificação etária, poderá a qualquer momento ser alterada pelo Juiz de Direito da Vara da Infância e Juventude da Comarca de Natal - RN.
Quais documentos serão aceitos para comprovar a meia-entrada?
Estudantes: Carteira de identificação estudantil, nos termos da legislação em vigor. Somente o boleto bancário sem documento com foto não será aceito como documentação hábil para comprovação da condição de estudante.
Idosos: Documento oficial com foto que comprove idade igual ou superior a 60 anos.
Pessoas portadoras de necessidades especiais: A pessoa que não apresentar deficiência aparente deverá se identificar com o cartão próprio da entidade que é associada, no qual deve conter seu nome, filiação, naturalidade, RG ou CPF, foto, data de expedição, prazo de validade e logotipo da instituição.
Entrega e retirada dos ingressos:
O fã do UFC poderá escolher por receber seu ingresso em sua casa - a taxa de entrega por compra, independente do número de ingressos adquiridos, será variável de acordo com os preços de Sedex praticados em cada praça – ou retirá-lo nos pontos da Tickets For Fun. No caso de ingressos em setores numerados, há ainda a opção de fazer a impressão de e-ticket em domicílio.
Se optar pela Retirada na Bilheteria e em pontos de retirada credenciados, o fã poderá retirar seus ingressos antecipadamente nos pontos de venda listados, nos respectivos horários de funcionamento, a partir do dia 14 de fevereiro ou na bilheteria do Ginásio Nélio Dias, entre os dias 15 e 23 de março, das 10 às 18 horas (no dia 15 de fevereiro até 2hs antes do início do evento).
É importante que seja apresentado o documento de identidade e o cartão de crédito utilizado na compra. Esses requisitos são estabelecidos para a própria segurança do fã do UFC e são indispensáveis para a entrega dos ingressos. Para os setores de octógono premium e cadeira premium, quando a opção escolhida for a impressão do e-ticket, o ingresso será enviado anexado ao e-mail de confirmação de compra e deverá ser impresso pelo próprio cliente. Cada ingresso possui um código de barras único. Cada código de barras permite somente uma entrada ao evento. Se mais de um ingresso for comprado, será necessário imprimir cada um deles separadamente.
Assentos marcados:
Os setores Octógono Premium e Cadeira Premium terão lugar marcado no UFC® FIGHT NIGHT NO COMBATE: SHOGUN x HENDERSON 2. Nos demais setores a escolha do assento será feita por ordem de chegada conforme consta na disposição do Ginásio Nélio Dias.