There have been several changes to the main event headed to Brazil, but the final result is a showdown between two of the heaviest hitters on the entire UFC roster. Thiago Santos will meet Eryk Anders in a light heavyweight matchup that should bring plenty of action to Sao Paulo on Saturday night. Santos is best known for his jaw-dropping power, which he's used to level eight of his past opponents inside the Octagon. Meanwhile, Anders is fresh off a stunning head kick knockout of his own in late August and now the former University of Alabama football player will step into his second UFC main event on just six days' notice. Anders is no stranger to these kinds of high-pressure situations and this should be a barnburner for the main event. Expect a high pace and both fighters gunning for the knockout in Brazil.
ALEX OLIVEIRA VS. CARLO PEDERSOLI
#UFCSaoPaulo is just a few days away. Make sure that you know which fighters are on the rise before the action starts:https://t.co/LB34Q89d04

— UFC News (@UFCNews) September 17, 2018
Coming off a win over former interim welterweight champion
Carlos Condit
in his last fight, Alex Oliveira will fight at home in Brazil for the fifth time in his UFC career when he faces Carlo Pedersoli this weekend. Oliveira has won three of his past four fights while earning two Performance of the Night bonuses, as well as a Fight of the Night bonus, so you know he's going to bring the action. Pedersoli picked up a win in his UFC debut back in May and now the 11-1 welterweight will take a decided step up in competition as he faces off with the No. 14 ranked fighter in the world at 170 pounds.
SAM ALVEY VS. ANTONIO ROGERIO NOGUEIRA
Reborn at light heavyweight, Sam Alvey will look to build on his past two wins as he faces Brazilian legend Antonio Rogerio Nogueira in his backyard of Brazil. Alvey is best known for his heavy hands, with which he's earned more than a few knockouts during his UFC career. Lately, Alvey has looked better than ever since moving up to 205 pounds, and now he'll look for a signature win over one of the most established fighters in the history of the division. Nogueira has fought anyone and everyone with a name at light heavyweight while competing in both PRIDE and the UFC. Now, after nearly two years away, Nogueira will return with hopes of getting back in the win column when he takes on Alvey in Brazil.
It wasn't all that long ago that Renan Barao was the class of the bantamweight division, but he's definitely fallen on harder times lately. Still, Barao taken on the best of the best at 135 pounds since first arriving in the WEC back in 2010, and to stave off a third loss in a row, Barao will have to go through Octagon rookie Andre Ewell, who comes to the UFC with an impressive resume, including an 8-1 record over his past nine fights. Ewell is nicknamed "Mr. Highlight," so it's safe to say that he'll look to live up to that reputation while attempting to pull off the upset against a former UFC champion in his debut.
RANDA MARKOS VS. MARINA RODRIGUEZ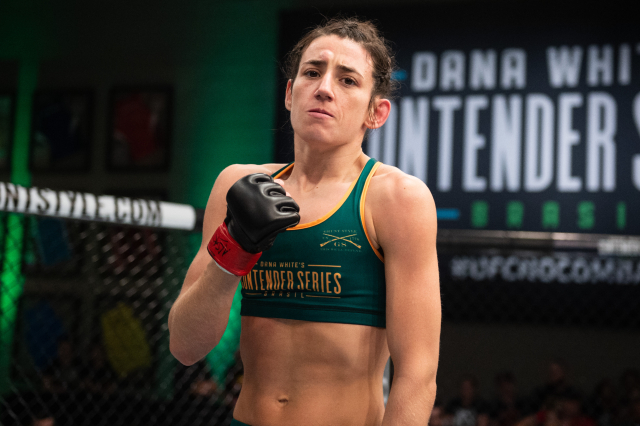 Top 15-ranked strawweight Randa Markos will welcome undefeated Brazilian prospect Marina Rodriguez to the UFC in a very intriguing matchup at 115 pounds. Markos has struggled with consistency while bouncing back and forth between wins and losses in all nine of her UFC fights. Now the Canadian-based strawweight will attempt to hand Rodriguez her first defeat after making an impressive showing on Dana White's Contender Series. Rodriguez earned a first-round TKO to get the UFC's attention and now she'll look to build on that when she meets Markos in her debut fight.
CHARLES OLIVEIRA VS. CHRISTOS GIAGOS
Charles Oliveira will look to build on his latest submission win as he welcomes Christos Giagos back to the Octagon in the Californian's first UFC bout since 2015. Oliveira has a well-known resume with wins against a slew of veterans, including Clay Guida, Jeremy Stephens and Nik Lentz. Now Oliveira will face a surging Giagos, who has gone 4-1 in his past five fights to earn his way back to the UFC.
FRANCISCO TRINALDO VS. EVAN DUNHAM
Evan Dunham will call it a career on Saturday night when he meets Francisco Trinaldo in a lightweight matchup on the
UFC Fight Night
preliminary card. Dunham has said he will retire following his fight this weekend after a UFC career that stretches back to 2009. Trinaldo will certainly attempt to give him a rude exit as the Brazilian fights at home while looking to stave off two losses in a row following a setback against
James Vick
in his last performance.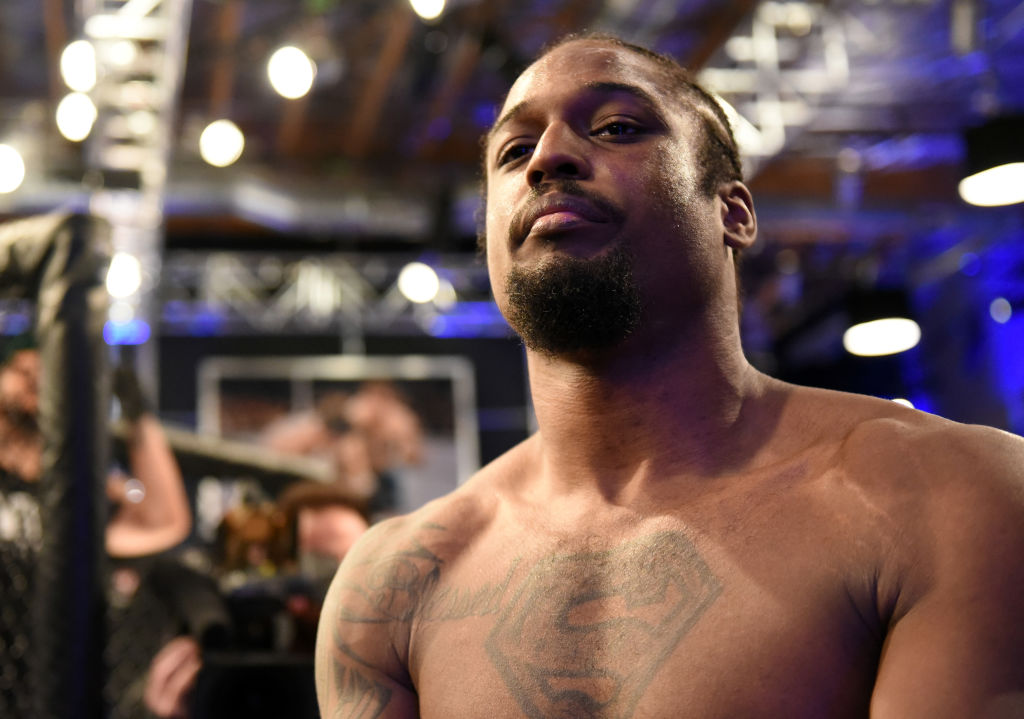 Luis Henrique will drop down from heavyweight to light heavyweight as he welcomes Dana White Tuesday Night Contender Series veteran Ryan Spann to the UFC. Henrique has gone 2-2 in his past four fights, but competing as an undersized heavyweight didn't do him any favors, so he's moving down to 205 pounds. As for Spann, he's won his last four fights in a row, including a 26-second submission in his most recent bout, to earn his way to the UFC.
AUGUSTO SAKAI VS. CHASE SHERMAN
Another Dana White Contender Series veteran will make his UFC debut on Saturday, as Augusto Sakai looks to build on two knockout wins in a row when he faces Chase Sherman in a heavyweight contest. Sakai has finished nine of his 11 wins by knockout, so don't blink when he starts swinging, and Sherman will give him everything he can handle as the veteran fighter looks to get back on track after suffering back-to-back losses.
RELATED: On the Rise - Sao Paulo Edition
SERGIO MORAES VS. BEN SAUNDERS
A pair of veteran welterweights will clash when Sergio Moraes takes on Ben Saunders on the early preliminary card. Moraes has gone 3-1 in his past four fights while picking up wins over the likes of Tim Means and Zak Ottow as he looks to build on an already impressive UFC resume. Saunders will do everything possible to stop him, as the veteran fighter will attempt to earn yet another highlight reel finish just like his last bout, where he earned a Performance of the Night bonus for a first-round TKO over Jake Ellenberger.
GILLIAN ROBERTSON VS. MAYRA BUENO SILVA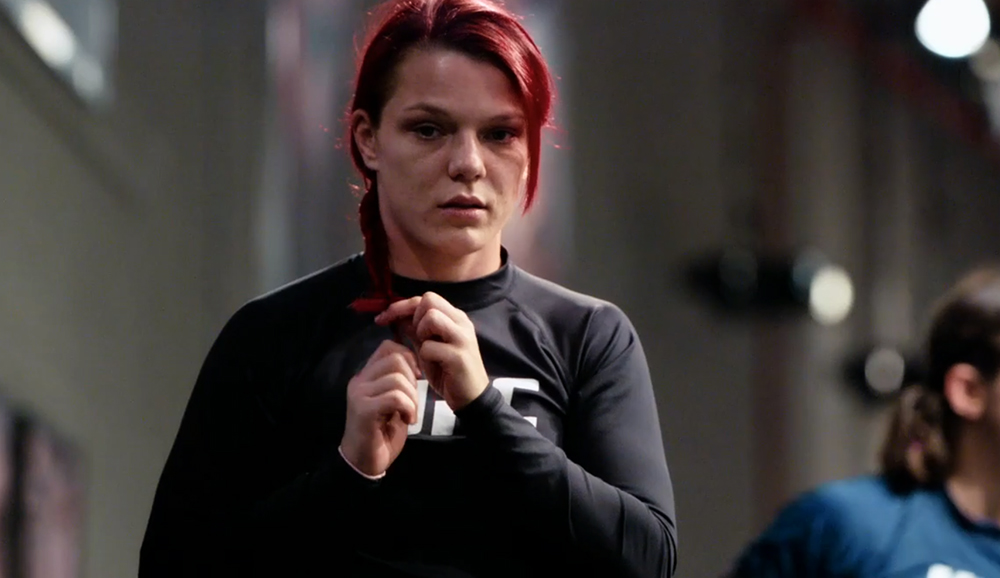 Former Ultimate Fighter competitor Gillian Robertson has looked unstoppable since debuting in the UFC, picking up two submission wins in her first two fights. Now Robertson will take on undefeated newcomer Mayra Bueno Silva, who earned her way into the Octagon with a first-round submission victory on Dana White's Contender Series recently.
THALES LEITES VS. HECTOR LOMBARD
Former title contender Thales Leites will also call it a career on Saturday night as he plans to retire after his fight against the always-dangerous Hector Lombard. Leites has taken on a laundry list of top fighters in the middleweight division, but after 15 years, he's decided to hang up his gloves after one last battle in the Octagon. Meanwhile, Lombard will look to show off what he's learned after teaming up with the All Stars team in Sweden, which is the same gym responsible for top-ranked light heavyweight contender Alexander Gustafsson.
ELIZEU ZALESKI DOS SANTOS VS. LUIGI VENDRAMINI
With five wins in a row, including a spectacular spinning wheel kick knockout in his last fight, Elizeu Zaleski dos Santos will attempt to keep his streak alive when he faces late notice replacement Luigi Vendramini, who accepted this fight after Belal Muhammad suffered an injury. Vendramini, who calls both Italy and Brazil home, is also no stranger to training with Team Alpha Male in Sacramento, so he's definitely had the right kind of team around him to get ready for this fight. Vendramini will look to make an immediate impact in his debut while facing a top 15-ranked fighter.
LIVINHA SOUZA VS. ALEX CHAMBERS
Former Invicta FC champion Livinha Souza will make her UFC debut against Ultimate Fighter veteran Alex Chambers this weekend. Souza is 11-1 in her career, including a win over Octagon veteran DeAnna Bennett. She'll attempt to build on her past two wins in a row when she takes on Chambers, who will try to pull off the upset while looking to bounce back from two straight defeats.