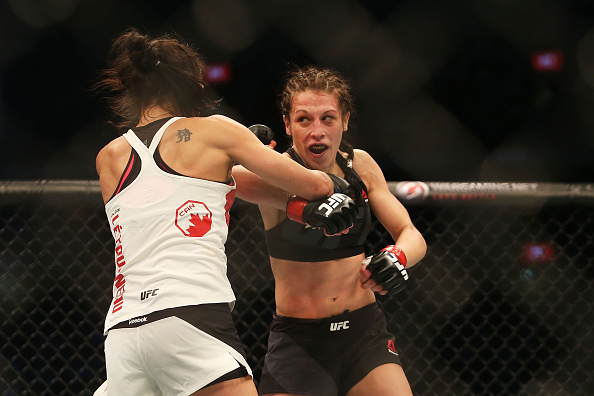 There were some solid back and forth striking battles in the second, Letourneau holding her own with Jedrzejczyk and having particular success catching the Poland native's kicks and countering over the top. By the end of the round, Jedrzejczyk was getting busier, but it appeared to be a strategy born out of frustration, as she wasn't able to tag her challenger with any consistency.
Jedrzejczyk's steady delivery of leg kicks began paying off in the third, forcing Letourneau to move out of the pocket and slow her offense down. And as Letourneau slowed down, Jedrzejczyk began to speed up and impose her will, wrapping up her best round of the fight.
Letourneau surged back a bit in the fourth frame, but while she was busy, there was no heat on her fastball, allowing Jedrzejczyk to walk through the blows, outwork her, and even jar the challenger in the final 20 seconds of the round.
By the fifth round, the effects of Jedrzejczyk's attack were evident in the form of a welt under Letourneau's eye and an equally battered left leg, and while the game challenger wasn't going to get stopped by the champion, there was no question who the winner was when the final horn sounded.
With the win, the 28-year-old Jedrzejczyk improves to 11-0; the 32-year-old Letourneau falls to 8-4.