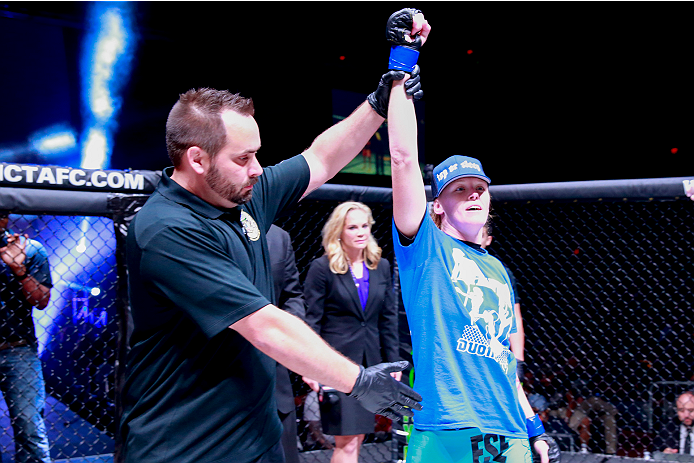 On July 9 of this year, "Triple Threat" Tonya Evinger won two titles.
Officially, the Missouri native was crowned the Invicta FC bantamweight champion by scoring a fourth-round TKO over Irene Aldana. Unofficially, the nine-year MMA pro earned the "Y'all Must've Forgot" award with flying colors as the tough-as-nails veteran pummeled her younger and heavily-hyped adversary for nearly 20 straight minutes.
"I've been in this game for 11 years and I wrestled for 15 years before that," Evinger said. "I've been a pro athlete my whole life. I lived at the Olympic training center when I wrestled. I'm talking top competition. These girls are just trying to learn it now. It took me 11 years to learn all this stuff and I learned like all these old school fighters with a coach who was a boxer or a wrestler or a guy who was from down the street who was a thug and thought he was going to train you to be a fighter. We learned by traveling and hitting up different gyms and we learned as the sport grew. These fighters coming up, they're the hybrid I guess, but they're missing all the points that it takes to get to the skill level I'm at. Just like my last fight, she's 5-1 and she's fighting me? That's crazy! [Pannie Kianzad], she's 8-0, but those are girls overseas. The real circuits are here in the U.S. Goodness gracious, she's got to draw me as her first fight to fight an American? I definitely like to put a whooping on these girls. These girls are just missing all the basics. They're missing all those hard gritty years of stuff that I've put in."
Basically, "y'all must've forgot" how darn good Triple Threat actually is. Fans and fighters, matchmakers and media alike had their eyes opened to what was staring at them right in the face: Evinger is on a seven-fight win streak, including five finishes, and she is not messing around one bit. It may have taken a one-sided drubbing in a title fight in the co-main event of Invicta FC 13 to get everyone on the same page as to how dangerous she is, but people are paying attention now, which is good, because Evinger has something to say.

Don't miss Invicta 14 on Saturday night – Sign up for FIGHT PASS now


"My point in there is to hurt somebody to the point that they never want to fight me again," Evinger said. "I think I did that. I thought it was going to be like it was. I don't think these girls understand my level of wrestling compared to their wrestling classes they take (laughs). I think once I get my hands on these girls they underestimate me strength wise, ability wise, all around. I knew it was going to go the way it did. I didn't expect her to last so long, but I also expected the ref to stop it before then. It is what it is. She did take some punishment though."

If Aldana didn't have that "grit" Evinger is speaking of, then Triple Threat did her best to beat it into her opponent. Improving her overall record to 15-6 with four consecutive wins in Invicta FC, Evinger nearly nabbed her seventh submission stoppage with a variety of armbar attempts in the first round, but did eventually get her sixth KO victory with relentless pressure, takedowns and ground-and-pound. It was Evinger's trademark wrestling, which she honed at Missouri Valley College and on the U.S. Senior Freestyle Wrestling Team that truly stole the show.

"People say 'wrestlers are so cocky' and we are," Evinger said. "Our head has to be there because in our sport it's me versus another human; it's my abilities versus another person's ability. There ain't no ball, there ain't no basket. I can't shoot a basketball into a hoop, but I sure as hell can punch somebody in the face and wrestle. I can go hard until it's over. It's just a mentality of being a wrestler and feeling the grind. I go to wrestling practice in these MMA gyms and it's nothing compared to what I did in high school. When I was training in college, I put my time in on the mats and it's just not comparable to the hour-long practice you're having at the gym. It's just not comparable to when you're going against people who that's all they do and you're grinding for three to four hours straight."

Up next, Evinger she tangles with the undefeated Pannie Kianzad in a five-round non-title fight after the challenger failed to make weight on Friday. Making her Invicta FC debut in July, the Iranian-Swede known as "Sexy Scramble" improved her pro record to 9-0 with a unanimous decision win over Australia's Jessica-Rose Clark. The 23-year-old has an extensive amateur boxing background, earned three striking stoppages as an MMA pro and, simply put, the internet has been abuzz about Kianzad. Specifically, Sexy Scramble's signature move the "Butt Bomb," which Evinger doesn't think much of.

"Talk about the 'Butt Bomb' and crap - that ain't a real move," Evinger said. "I'm so tired of hearing that. First of all, she's not going to be sitting on my chest. I'm going to be beating her face in. I'm not going to play around. They had the screens playing in the back [at Invicta FC 13], so we could watch all the fights. Everybody in my corner, they were just talking that neither of these girls [Kianzad and Clark] really wants to fight. No one is really grinding the other out. No one is really doing anything. A little wrestling there, a little punch here or there. I don't fight like that. I come to put you down. That's where I don't think she's on the same level as me; I think she just wants to get her win. Yeah, she's 8-0 and she's coming over here to get some attention and win a fight and be the best. It's just crazy thinking."

In preparation for Kianzad, Evinger has been sharpening her skills at a litany of gyms in the Houston area. Whether it's hitting mitts with boxing coach Eric Pena at Gracie Barra Champions or across town hitting the mat with former Iranian Olympic wrestler turned coach Babak Nourzad at Gracie Barra Westchase, Evinger goes to where she thinks the right talent is for her. Nowadays, it's Houston, but she has put in the work starting with Nick Diaz, Urijah Faber's Team Alpha Male for five years, Dan Henderson's Team Quest for a couple years and, even for a time, UFC Hall of Famer Ken Shamrock.

"I try to get in where I can and I think that's what made me such a good, actually well-rounded fighter," Evinger said. "My technique isn't good in any one specific place (laughs). My boxing doesn't look like a boxer, my wrestling doesn't look like a wrestler, my jiu-jitsu doesn't look like a jiu-jitsu player, but it works for me. That's what is great about MMA. I train as hard as I fight. When you see me out there fighting, trying to knock somebody's mouthpiece out, that's how I train at the gym. There haven't been too many gyms that I have been to where people don't get offended or pissed off at that. It's nice to be at a gym where they understand. I truly appreciate everyone who has put in their time and done what they did for me."

This Saturday night at Invicta FC 14 in Kansas City on UFC FIGHT PASS, Evinger takes on Kianzad. "I think they put a great card together and I'm happy they're back in Kansas City and I'm fighting in front of a crowd that favors me and I don't plan on losing in front of my family and friends," said Evinger who aims to keep all eyes on her by beating her opponent physically with her finisher's mentality.

"I want you to never want to fight me again," Evinger said. "I used to train younger fighters and they would say, 'I don't want to hurt her.' And I'm like, 'What do you mean, you don't want to hurt her?' You're in a fistfight! If she's on top of you, she wouldn't care if she's beating your face in. And soon as the fight is over, her and her corner are going to celebrate and talk crap online and they're going to raise her hand. That's something I don't want to happen. I'm in there to completely stop that from happening. I'm in there pissed that I even have to train for this. It's definitely a different mentality when I get in there."