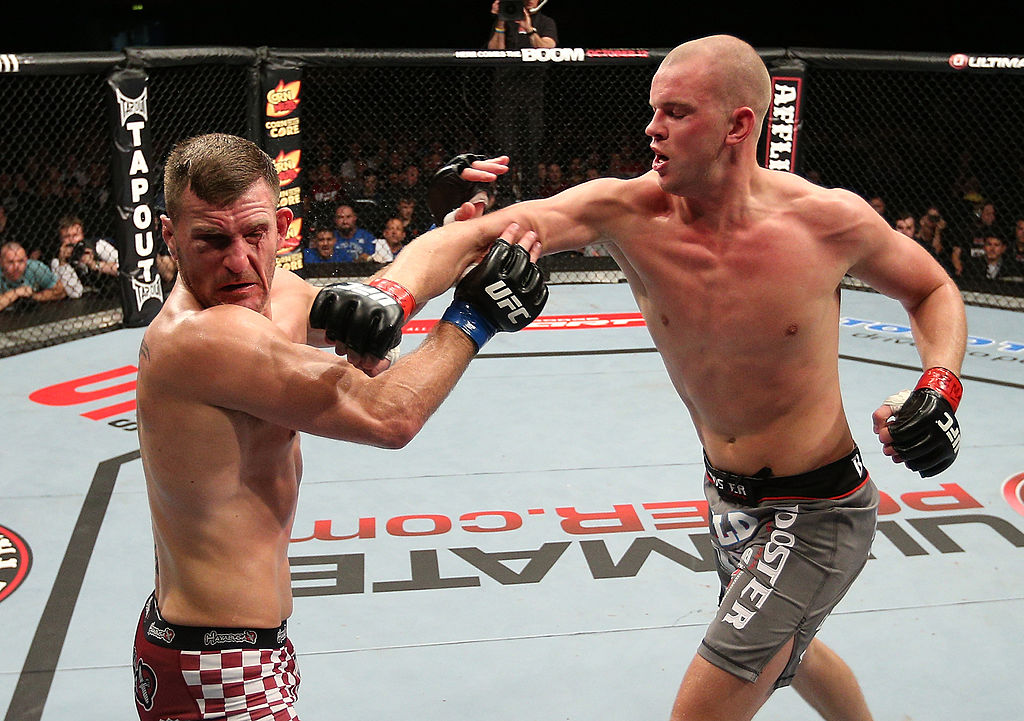 Almost nine years and 18 fights into his UFC career, Stefan Struve is finally starting to show just how dangerous he can be inside the Octagon.
The 29-year-old Dutch standout returns to action Saturday, headlining at home in the Netherlands opposite
Alexander Volkov
in the midst of a tidy two-fight winning streak that has positioned him as a dark horse contender in the heavyweight ranks. His back-to-back stoppage victories over Antonio "Bigfoot" Silva and
Daniel Omielanczuk
not only put his name back in title talks, but they also affirmed to Struve that he made the right decision to continue chasing his dreams when the opportunity to walk away presented itself several years earlier.
With the never-ending crush of events and flood of stories this sport produces, it's easy to forget that there was a time when the talented "Skyscraper" was forced to put his career on hold. Diagnosed with a bicuspid aortic valve (BAV), Struve went more than a year without fighting as doctors worked to find the right medication to treat his condition and allow him to return to competition.
"I keep saying this to people because people easily forget – I fought my entire career with a heart defect and I've got a pretty decent record and I've got some pretty big name wins in there," said Struve, who remains the only man to stop current heavyweight champ Stipe Miocic. "My heart is at its best now – the best it has ever been – but a big part of my career, I was fighting with 30-40 percent missing output in my heart and doing well."
Even when he was cleared to return, hurdles remained.
He passed out in the dressing room prior to his comeback bout against
Matt Mitrione
at UFC 175. Five months later, he entered the Octagon again, but was quickly dispatched by his countryman
Alistair Overeem
. Physically, Struve was ready to compete, but mentally, he wasn't there.
"My head wasn't where it should be for fighting," said Struve, reflecting on the December 2014 contest in Phoenix. "It was more feeling out my body in there, being tentative and going back to what happened a couple months before that with the Mitrione fight. You're thinking about things you shouldn't be thinking about when you're fighting, simple as that."
He rebounded with a win the following summer, venturing to Rio de Janeiro, Brazil to defeat Antonio Rodrigo Nogueira in what would be the final fight of the Brazilian legend's illustrious career, but followed it up with a hesitant showing in a loss to
Jared Rosholt
three months later in Australia.
RELATED CONTENT: UFC Breakdown - Volkov vs Struve | Reneau shifts attention to Bernardo | On the Rise: Rotterdam Edition | Green still on 'cloud nine'
He was healthy, but he wasn't fighting up to his abilities, and with three losses in his last four bouts, Struve entered his first fight of 2016 believing another setback could have resulted in a conversation about his future plans with the UFC brass.
"In my opinion, I was fighting for one of my last chances in the UFC," he said of his meeting with Silva last spring inside the same arena where he will face Volkov on Saturday. "If I would have lost that fight, there was a good possibility that the UFC could have come to me and said, 'Are you sure you want to keep doing this, because it hasn't really been working for you?'"
Adjustments in training camp ensured the conversation with the UFC brass never happened, as Struve listened to his coaches' call for greater aggression and finished the Brazilian veteran in just 16 seconds, thrilling his compatriots in attendance and collecting a Performance of the Night bonus for his efforts.


"I showed that I still belong here," said Struve of his performance during his previous trip to Rotterdam.

A year after feeling like his back was against the wall, he returns to the Ahoy Rotterdam on an impressive two-fight winning streak, stationed at No. 8 in the heavyweight rankings, and as the final man to make the walk to the Octagon on Saturday night.

"It's another great opportunity," he said of the chance to main event this weekend's fight card. "It's another reason I'm happy I decided to make a comeback when things weren't looking good for me. I love Holland, I love the people there, they love me and it's going to be a great fight. It's another huge step in my career."

A career filled with entertaining fights that was almost cut short.

A career that was almost abandoned.

A career where the best may be yet to come.

"I definitely feel I'm the best that I've ever been," said Struve. "I was doing good with the skill that I had mostly because I always came to fight, no matter who it was against. Guys were physically much stronger, but I fought very hard, had a really good mindset and guys would try to put me away and I would come back and put them away.

"I always come to perform and give the fans their money's worth and I'm going to put on an impressive performance in Rotterdam and that's going to put me right where I belong.

"I believe that when I'm firing at 100 percent, physically and mentally, I'm one of the best heavyweights in the world," he added. "My best years are still coming."