Título Peso Médio do UFC
ANDERSON SILVA vs. VITOR BELFORT

Co-Main Event
FORREST GRIFFIN vs. RICH FRANKLIN
Sábado, 5 de fevereiro, 2011

Ao vivo do Mandalay Bay Events Center – Ingressos à venda
no sábado, dia 11 de dezembro (às 10:00 horário de Las Vegas)
Las Vegas, Nevada (EUA) - Na noite antes de um dos maiores eventos esportivos do mundo, Las Vegas será palco de algumas das maiores estrelas do MMA, quando o UFC faz uma trinca de lutas daquelas de cair o queixo no sábado, 5 de fevereiro, deixando claro que o esporte mais casca-grossa no mundo é praticado sem capacetes e acolchoamentos. Na luta principal do UFC 126: SILVA vs BELFORT, que é um oferecimento de Bud Light no Mandalay Bay Events Center em Las Vegas, Nevada, o título dos médios do UFC® estará em jogo quando o melhor atleta pound-for-pound do mundo, Anderson 'The Spider' Silva busca estender seu reinado contra o fenômeno Vitor Belfort, que está tentando se tornar o terceiro homem a ser campeão do UFC em duas classes de peso.
Também no card principal no UFC 126, um confronto de ex-campeões mundiais entre Forrest Griffin e Rich 'Ace' Franklin - em uma luta que certamente terá grandes implicações ao título da categoria até 93kg; e por falar nos meio pesados, duas das mais empolgantes estrelas em ascensão irão colidir quando Jon 'Bones' Jones enfrenta Ryan 'Darth' Bader.
"Os fãs do UFC esperam grandes coisas de nós a cada ano para o nosso show do fim de semana do Super Bowl, e este ano pode ser maior que nunca", disse o presidente do UFC Dana White. "Anderson Silva vs Vitor Belfort é uma luta dos sonhos dos fãs. É uma luta que as pessoas esperam por anos. Não pisque porque esses dois caras têm dinamite em suas mãos e podem terminar a noite com rapidez e de forma muito emocionante. Além disso, mal posso esperar para ver o Forrest Griffin e Rich Franklin, eles são dois ex-campeões conhecidos por históricos embates E então nós temos a luta envolvendo duas estrelas, Ryan Bader vs Jon Jones . Esses caras são o futuro do nosso esporte e possuem talento ilimitado. É impossível escolher um vencedor aqui".
Os ingressos para o UFC 126 têm o preço de 750 dólares, 500 dólares, 350 dólares, 225 dólares, 125 dólares e 75 dólares, não incluindo encargos de serviço aplicáveis, e começarão a ser vendidos no sábado, 11 de dezembro, às 10 horas (horário de Las Vegas) em todas as lojas da Ticketmaster em Las Vegas (selecione Smith's Food & Drug Centers e Ritmo Latino). As vendas de ingressos essão limitados a oito (8) por pessoa. Comprando pelo telefone com um cartão de crédito, ligue Ticketmaster (800) 745-3000. Os ingressos também estão disponíveis para compra em www.mandalaybay.com ou www.ticketmaster.com.
Membros do UFC® Fight Club™ terão a oportunidade de comprar ingressos para este evento na quinta-feira, dia 9 de dezembro a partir das 10:00 (horário de Las Vegas) via UFCFightClub.com. Uma pré-venda especial de ingressos pela internet estará disponível para os assinantes do boletim de notícias do UFC na sexta-feira, dia 10 dezembro a partir das 10:00 (horário de Las Vegas). Para acessar esta pré-venda, os usuários devem se registrar no boletim de notícias do UFC através do UFC.com.
UFC 126 estará disponível ao vivo em Pay-Per-View pelos canais On Demand, DirecTV, Dish Network, TVN, BellTV, Shaw Communications, SaskTel e Viewer's Choice no Canadá por um preço sugerido de 44,99 dólares americanos/49,99 dólares canadenses para transmissões em definição padrão ou alta definição (quando disponível). O UFC 126 também estará disponível em Pay-Per-View em espanhol nos Estados Unidos.
Indiscutivelmente o lutador mais talentoso e dominante da história do UFC, Anderson Silva (lutando por Curitiba, Brasil / 27-4) tem o cartel de 13 vitórias consecutivas do octógono, incluindo sete defesas de título dos médios (outro recorde). Com vitórias sobre Rich Franklin (duas vezes), Chris Leben, Nate Marquardt, Thales Leites, e Forrest Griffin, o estilo dinâmico de Anderson confundiu os adversários no UFC por mais de quatro anos. Vindo de uma finalização sobre Chael Sonnen em agosto, Anderson agora se prepara para talvez seu maior desafio contra o compatriota Vitor Belfort.
"Esta é uma luta a qual busquei por algum tempo", disse Anderson. "Vitor é um striker muito talentoso e um forte concorrente. Eu estou treinando muito duro e eu sei que a luta pode ir qualquer lugar, mas espero uma guerra de pé. Também quero dizer que estou muito animado por lutar em Las Vegas novamente. Eu tenho um monte de fãs em Las Vegas e já tem um tempo que não luto lá. Os fãs essão sempre muito entusiasmados em Las Vegas e eu me alimento dessa energia".
Um veterano dos primórdios do UFC, Vitor Belfort (lutando por Las Vegas, Nevada / 19-8), cativou os fãs de luta com a sua velocidade e poder de nocaute nas mãos. Entretanto havia mais no jogo de Belfort do que as vitórias por nocaute sobre Tank Abbott e Wanderlei Silva, e o faixa preta de Jiu-Jitsu exibiu suas habilidades em pé e no chão em batalhas memoráveis ao redor do planeta. Em 2004, ele parou Randy Couture para ganhar o título dos meio-pesados do UFC, e após alguns anos afastado do octógono, ele retornou em 2009 com um nocaute técnico no primeiro round sobre Rich Franklin. Agora 'O Fenônemo' espera fazer história no UFC contra um dos melhores do esporte.
"Estou de volta!", Disse Belfort. "Voltar para minha casa, para o lugar onde eu construí o meu legado. O sentimento não poderia ser melhor. Eu estou no lugar certo e é o momento certo para meus familiares e fãs me verem ganhar esse título do UFC novamente. Você está dentro de uma grande luta".
Vencedor da primeira temporada do The Ultimate Fighter e um ex-campeão dos meio-pesados, Forrest Griffin (lutando por Las Vegas, Nevada / 17-6) instantaneamente se tornou uma das figuras mais populares no esporte quando ganhou uma guerra de três rounds contra Stephan Bonnar no final da temporada do The Ultimate Fighter, em 2005. Desde então, Griffin continuou a mostrar porque ele está na lista dos preferidos de todos os fãs, com vitórias emocionantes sobre Mauricio 'Shogun' Rua, Quinton 'Rampage' Jackson e Tito Ortiz - faturando o cinturão até 93kg neste período. Em sua luta mais recente, no UFC 106 em novembro de 2009, Griffin bateu, após três rounds, Ortiz em seu tão esperado reencontro, e ele sabe que uma vitória sobre o Franklin vai posicioná-lo cada vez mais perto da chance de recuperar um cinturão que já foi seu.
Um verdadeiro pioneiro do UFC, Rich Franklin (lutando por Cincinnati, Ohio. / 28-5, 1 NC) iniciou sua carreira no octógono em 2003 no UFC 42. Dois anos depois, ele sagrou-se campeão mundial ao derrotar Evan Tanner no UFC 53. Depois de duas defesas de título bem sucedidas, 'Ace' foi destronado pelo atual campeão Anderson Silva, mas ele não se intimidou com a derrota,
marcando grandes vitórias sobre Jason MacDonald, Yushin Okami, Travis Lutter, Matt Hamill e Wanderlei Silva. Em junho de 2010, Franklin enfrentou o membro do Hall da Fama do UFC Chuck Liddell, e apesar de ter sofrido uma fratura no braço devido a um chute do 'The Iceman', Franklin emplacou um nocaute devastador no primeiro round. No dia 5 de fevereiro, Franklin, mais uma vez topa contra um superstar do UFC em Forrest Griffin.
Um atleta talentoso cuja ética de trabalho corresponde a sua capacidade natural, Jon Jones (lutando por Endicott, NY 11-1) entrou no mundo do MMA como uma tempestade, logo que pisou no octógono pela primeira vez em 2008, ele ainda não perdeu o ritmo. Um striker dinâmico com um estilo pouco ortodoxo, Jones atropelou lutadores como Brandon Vera, Vladimir Matyushenko, e Stephan Bonnar, e ele espera fazer a mesma coisa com Ryan Bader em fevereiro.
Invicto em 13 lutas profissionais, Ryan Bader (lutando por Tempe, Arizona / 13-0) viveu todas as expectativas colocadas sobre seus ombros depois de ter vencido a oitava temporada do The Ultimate Fighter, em 2008. Dono de vitórias sobre Eric Schafer, Keith Jardine, e, mais recentemente, Antônio Rogério 'Minotouro' Nogueira, desde sua passagem pelo TUF, o ex-campeão All-American pela Universidade Estadual do Arizona está ansioso por sua vez de brilhar contra o Jon Jones no UFC 126.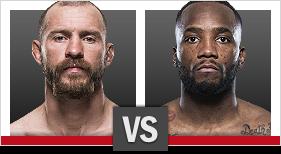 Saturday, June 23