On the morning of UFC 213 on July 8,
Amanda Nunes
made the difficult choice to withdraw from her fight later that evening with
Valentina Shevchenko
.
After months of preparation, physical and financial expenditures and media rounds promoting the highly anticipated contest, the UFC women's bantamweight champion opted against stepping into the Octagon at less than 100 percent against her talented rival.
The critical reactions came quickly.
They wondered if she was really too sick to fight or whether she had come down with the type of sudden illness kids manufacture on the morning of a big test they feel ill prepared to take, even though Nunes was losing a great deal by putting her health first and opting against stepping into the Octagon.
They said she was scared, a criticism that never makes sense when talking about people who made the choice to earn their living fist fighting other people inside a cage. And it seemed even more off base given that Nunes already held a victory over Shevchenko and was coming off consecutive first-round stoppage wins over the division's two most iconic names,
Miesha Tate
and
Ronda Rousey
.
Through it all, the Brazilian champion took the high road, focused on getting healthy, getting the fight rescheduled and getting a chance to prove her critics wrong once she and Shevchenko finally found themselves standing opposite one another in the Octagon for a second time.
Pre-order UFC 215 now | Get tickets to UFC 215 in Edmonton
"I'm not going to step in the cage (at half strength) – I like to step in the cage 100 percent," said Nunes just a couple days prior to defending her title against her confident and critical rival at UFC 215 at Rogers Place in Edmonton. "The things that I have to think about and focus on are training and stepping in the cage 100 percent.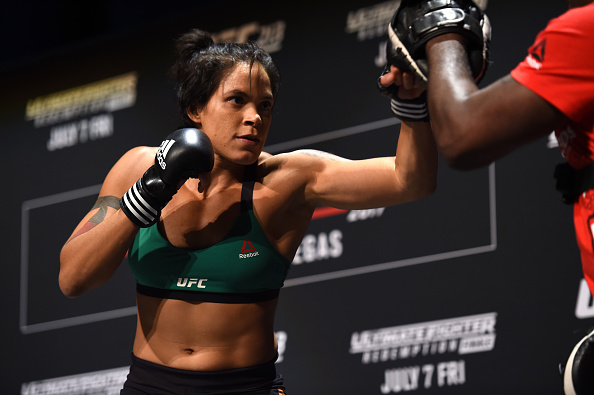 "I only think about that – I don't think about what anybody is going to say because nobody is inside the house with me. Nobody is with me 24 hours. Nobody knows what is going on with my body. Nobody knows those things and if you cared about (what other people think), you're not going to be able to live very well.
Nunes is in a curious position heading into Saturday's co-main event – she's the reigning, defending, undisputed women's bantamweight champion, yet she still feels like both an underdog and an underappreciated talent.
After dominating early and holding on down the stretch to defeat Shevchenko at UFC 196 in March of 2016, "The Lioness" roared into UFC 200 and snatched the title from Miesha Tate, connecting with thunderous punches that bloodied the champion's face before forcing her to tap to a rear naked choke.
Five months later, she welcomed Rousey back to the Octagon and turned her triumphant return into a traumatic event.
The first clean shot that landed made it clear that Nunes wasn't about to relinquish her title on that chilly December evening. The collection of precise follow-ups that crashed home after it and brought the bout to a close 48 seconds after it began made it clear she planned on keeping the belt long term.
The bout with Shevchenko at UFC 213 was supposed to be the moment that erased any doubts about her dominance; the night she dispatched the unquestioned No. 1 contender and left no doubt that she was the ruler of the women's bantamweight ranks.


Now healthy and feeling better than she had before, Nunes finally gets the chance to cement her position atop the division.

"Valentina is the No. 1 contender and I want to fight her," offered Nunes. "This is the fight that I want and she wants as well and this fight has to happen because nobody in the division, in the Top 5, is qualified to fight me yet. Valentina is the only one.

"I want to make a statement in this division," she added. "Whoever steps in front of me, I'm going to get through. This win against Valentina is going to be very important for me because the fans expect something like that from me and I have to keep proving to myself, keep showing myself I'm ready for every battle and for every obstacle that life shows me, and Valentina is a good one to get over."

Over the last couple years, Nunes has found her rhythm inside the Octagon, rattling off five straight victories and becoming just the second woman to successfully defend the women's bantamweight title.

Like most competitors, her journey to the top of the division has featured peaks and valleys – euphoric highs and painful lows – but the 29-year-old champion has always believed it has all been for a purpose, that it was all been leading to something bigger.

Now she knows the obstacles that were put in her way were there to prepare her to deal with the fallout from UFC 213 and give her the mental toughness to match the ferocious abilities she carries with her into the Octagon.

"In my career, I always have pressure on my back because my whole career since my second fight in the UFC, I've fought top opponents," said Nunes. "I fought a good Muay Thai fighter, I fought a good wrestler, and all those girls were preparing me to get focused and stronger because I always fight high-level girls in the UFC.

"My two last fights are the two ones that put my confidence in my skills at a high level – the fights against Miesha and Ronda – and my focus was so good for those two fights because I had been preparing my whole life to become a mentally strong champion.

"Nothing will break me; nobody will break me. I'm ready to get through this fight and move to the next."