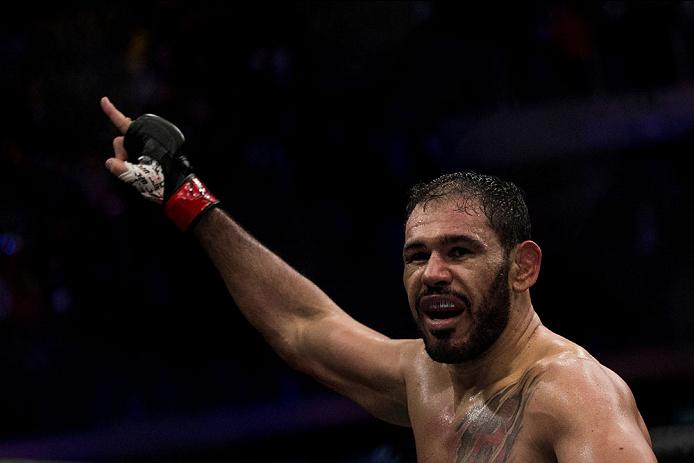 There is only one figure in mixed martial arts who remains undefeated and that is Father Time. Try as they might, no fighter is able to escape his clutches and fend off his attacks, and while he catches up to everyone at different points, he eventually catches up with everyone.
Antonio Rogerio Nogueira
can see the unbeaten specter standing on the horizon, studying him, but the venerable Brazilian believes that showdown is still a couple more years away.
"I think maybe one or two more years," Nogueira said when asked how much longer he hopes to compete in advance of his return to the Octagon this weekend in Sao Paulo.
Given everything he's gone through to arrive at this point, just a few days away from stepping into the Octagon opposite
Sam Alvey
, you can understand why the man known as "Little Nog" is not quite ready to walk away just yet.
By the time he makes the walk on Saturday evening, 96 weeks will have passed since Nogueira last set foot inside the UFC cage. That bout also took place at Ginasio do Ibirapuera in Sao Paulo and came against
Ryan Bader
, with the former PRIDE standout landing on the business end of a third-round stoppage in the headline attraction.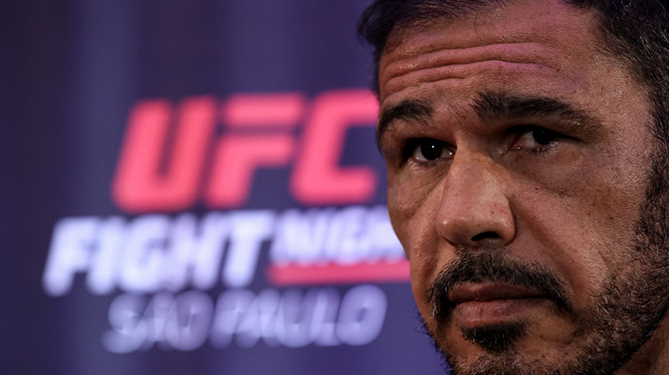 It was his second loss to the former Ultimate Fighter winner and his third in four appearances, a span that stretched back greater than two years. At the time, the bumps, bruises and accumulation of injuries that kept him out of action for anywhere from six to 12 months at a time were frustrating and difficult to deal with, but they would pale in comparison to what would follow.
A neck injury forced Nogueira out of a matchup with
Ilir Latifi
seven months after the loss to Bader and just as he was preparing to start camp for his December return, the veteran light heavyweight was flagged for a potential USADA violation that not only scuttled his scheduled bout with
Jared Cannonier
, but forced him to the sidelines indefinitely.
In April of this year, though, Nogueira was one of three Brazilian athletes determined to have ingested tainted supplements and after accepting a retroactive six-month suspension, the path was clear for the 42-year-old to finally return to action.
"It was a very difficult time, those two years outside the Octagon," said Nogueira, whose wife gave birth to the couple's third child just a few months ago. "In that time, I didn't stop training, but I didn't train with the same motivation because I didn't have a fight coming up.
"Now, we have a chance to come back here in Brazil in front of my friends, my family, my students, so this is a very good opportunity for me to come back and show how motivated I am."
Smiling at Nogueira from across the cage will be Alvey, a 44-fight veteran 10 years his junior who has lived at the opposite end of the spectrum from the returning Brazilian when it comes to activity over the last several years.
The 32-year-old Team Quest representative's entire UFC career has transpired in the time since Nogueira shared the cage with Anthony "Rumble" Johnson in July 2014 – a total of 15 bouts that have produced a 10-5 record, including back-to-back victories since transitioning to the light heavyweight division at the start of the year.
MORE SAO PAULO:

Though Alvey has youth on his side, no concerns about ring rust to contend with and is entering off a pair of recent quality performances, Nogueira is confident that he will be successful in his return to the cage this weekend.

"I think I'm going to win. I know I'm going to win. I have good feelings for this fight," he said. "He's a good fighter and he'll come with fast hands, but I have good experience when I fight against someone with a boxing style."

After everything he's been through and with Father Time inching closer every day, the former PRIDE star and universally respected veteran admitted that a victory on Saturday night in Sao Paulo would be the most satisfying triumph of his illustrious career.

"It's not easy to fight and at 42 years old, it's not easy to train like before, so I think this victory will maybe be the biggest victory for me," he said. "This victory is going to mean big things for me."