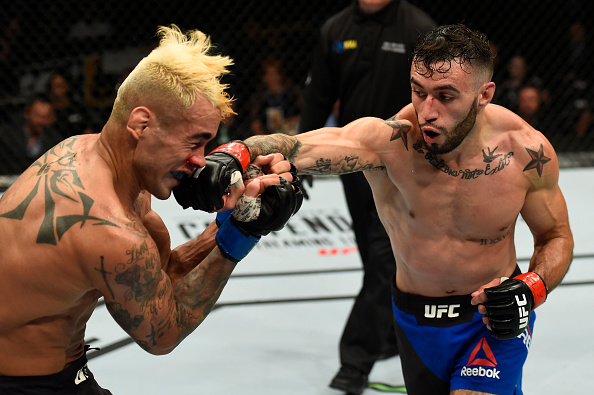 After three Octagon wins in his native New York, Monroe featherweight Shane Burgos is ready to take his show on the road to Boston, site of his UFC 220 main card bout against Calvin Kattar.
"I'm a big Game of Thrones fan, so I already defended my territory – I fought in New York three times – so now it's time for me to conquer some other land and go to Boston and take over."
Burgos, King of House Hurricane, is unbothered by the idea of being the New Yorker in Red Sox country, just like he hasn't been rattled in the slightest in his transition from the regional scene to the UFC in late 2016 or his elevation to this weekend's Pay-Per-View main card.
"I can handle it all," he said. "I was put here for a reason and I think I have a purpose in life and that this is what I was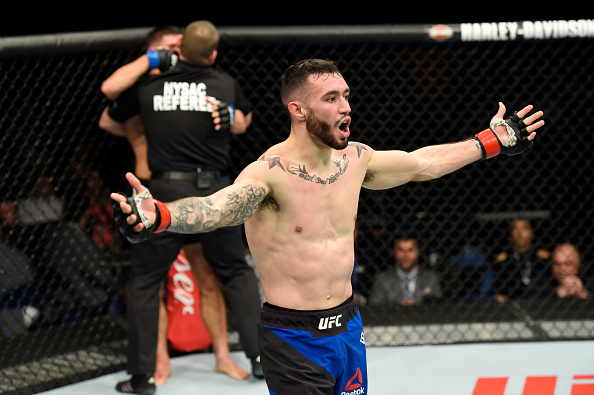 meant to do. I was born to do this. From my UFC debut on two weeks' notice, I never felt so comfortable and so confident in my life. The stars were aligned and I knew I was supposed to be there and I know I'm supposed to be here still. I know that the matchmakers think highly of this matchup because they put us right before two title fights. So I'm gonna go out there and do what I do best, and that's win."
In ten walks as a pro, Burgos has left victorious all ten times, but if you watch him fight, he's not precious about that "0" in his loss column, and his three Octagon victories over Tiago Trator, Charles Rosa and Godofredo Pepey act as proof. That doesn't mean he's not competitive.
"Today," he said during this interview on Jan. 10. "I got taken down, so I consider that a loss. That kind of bothered me a little bit. But I'm fighting the same way every single time. I don't let the record put any pressure on me. I just have to stay true to myself, and fighting the way I've been fighting has worked, so if it ain't broke, don't fix it. I'm gonna keep doing what I've been doing."
The only question is, will Burgos' aggressive and enthusiastic style eventually cost him, especially with a seasoned and more patient foe like Kattar?
"Not at all," he said. "It is fun for me. The last one I had a lot of fun in because the guy (Pepey) was talking a little smack
It is fun for me. The last one I had a lot of fun in because the guy (Pepey) was talking a little smack at the weigh-ins so I really liked beating him up
at the weigh-ins so I really liked beating him up. Me and Calvin don't have any beef or anything like that, so it's strictly business and it's gonna be like when I fought Charles Rosa, with me going forward the whole time and stalking him and him trying to use distance and keep me at bay, and I'm gonna prove him wrong."
The April 2017 bout with Rosa won that pair Fight of the Night honors and saw the 26-year-old Burgos pick up his first stoppage as a member of the UFC roster. It also established him as the latest member of the Tiger Schulmann Fight Team to make his mark in the Octagon, and that's a pivotal moment for an east coast squad many underestimated for years.
"A hundred percent," Burgos said when asked if his team got more snide remarks than most at events thanks to their television commercials and ability to franchise itself. "Not so much when I got involved about ten years ago, because that's when we made the push to Tiger Schulmann's Mixed Martial Arts, as opposed to karate. But a bunch of my teammates have funny stories of people coming into the gym and trying to pick fights. Lyman Good definitely has some funny stories about that. And we get a lot of respect nowadays, but there was a time when we were considered a McDojo because of the commercials and because we were the only ones that had money to really make a franchise. But I think we definitely proved ourselves. We've got Jimmie Rivera, Julio Arce, myself, and the list goes on. We have so many people in the UFC and guys on the regional circuit making huge waves, so I think we earned our respect."
So has Shane Burgos, so much so that he may even be the New Yorker who gets some cheers in Boston this weekend. But whether he gets cheered or booed, Burgos doesn't care as long as he leaves with his hand raised.
"It (fighting on the main card) gets me a little more excited, but at the end of the day, a fight's a fight and if 10 million people are watching or just the people in the gym are watching, it doesn't really matter," he said. "I want to win at all costs and as soon as the cage door locks, I'm not gonna think about the lights or the pressure. All I'm gonna think about is getting the job done and finishing the fight."