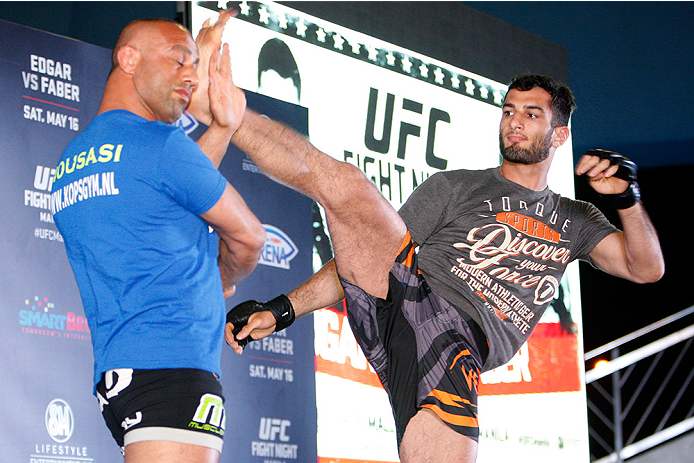 Gegard Mousasi may be nearly six thousand miles from his home in Leiden, but when he steps into the Octagon at Saitama Super Arena on Saturday to face Uriah Hall, it's as close to a home game as any non-Japanese fighter is going to get.

"I always enjoy fighting in Japan," Mousasi, a veteran of 14 bouts in the Land of the Rising Sun, said. "I've had good memories and great experiences there, and it's where my career took off. So I'm more than ready. I know I'm going to put on a good show and get the win."

What the always-modest Netherlands product fails to point out is that those good memories may have something to do with the fact that in those 14 fights, he won 13 of them, with the only loss coming in 2006 against Akihiro Gono. Even Saturday's headliner, Josh Barnett, who competed 16 times in Japan, managed less wins, going 12-4.

And it's almost fitting that he's had so much success there, because Mousasi's style – in and out of the Octagon – is perfect for the Japanese crowd he will perform in front of for the first time since 2011.

"They don't boo as fast, and they know what's happening on the ground," he said. "They have more respect for the fighters. I feel like Japanese fans are the best fans."

For Mousasi, still only 30 years old despite a level of experience that dwarves that of his peers, fighting in front of fans who appreciate the skill and technique of the sport without screaming "elbow" from the stands is in line with his approach to his day job. You won't hear Mousasi trash talking, pushing opponents at press conferences or getting into heated social media battles. It's not the way he's built, yet he believes most of his peers are just like him.

"We all put the same work and effort in it, so I think every fighter respects the other fighters," he said. "Sometimes you have the trash talking, and that's where the fights get bigger and get more hype to it, but I think every fighter has respect for each other. We know what we have to do to get there and we know how it feels. I'm friends with Jacare (Souza), I became friends with Mark Munoz even before I fought him. It's a sport. It's nothing more than that."

That's why when he gets ready to throw hands with rising star Hall, there won't be any mean mugging or forehead-to-forehead skirmishes at the weigh-in, as there's plenty of mutual respect involved.

"He's a good guy," Mousasi said of Hall. "I think I could get along with him also. We have to fight each other and afterwards it's okay again."

Afterwards, one of two things will happen – Hall will have scored the upset, shaking up the middleweight top ten in the process, or it will be the number six-ranked Mousasi picking up his third straight victory and hoping that it will be enough to get him into the title race at 185 pounds.

"It's definitely going to get me closer (to a title shot), and after that, everyone is booked," Mousasi said of the consequences that come with a win. "I'm not looking past Uriah, but let's say if I win, and Michael Bisping or Vitor Belfort come up with a win, I could fight one of those guys and maybe move into the top four of contenders. Things change a lot very fast, so I just need to win this one and definitely win the next one against a more well known name, and I can be right up there."

Owner of a 4-2 record thus far in the UFC, with three of those victories coming at middleweight, Mousasi's losses at 185 to Lyoto Machida and Souza haven't helped his cause, but his quiet demeanor hasn't done him any favors either. I ask him if he believes his desire to keep it classy has ever hurt him in his career.

"I think the results speak for themselves, and that's always been my goal, that as long as I keep winning, I will get my shot," he said. "At least that's the way I always felt about that. Of course, some guys with trash talking get title shots, and I've seen a lot of guys get title shots who have not even deserved them. Sometimes it's where you're from, how you present yourself, and it's just not sport, it's also entertainment, so there are a lot of factors that come in when someone gets a title shot. It's more of a popularity contest sometimes than who deserves it more or who is rightfully the number one guy. Of course those are the fights everyone wants to see, so I can't blame anyone for making those fights."

He's right. If he keeps winning, there will come a time when he can't be ignored, whether he calls out the champion or number one contender or not. In that sense, he will have done it all his way, and there's nothing more satisfying than that. And when it comes to his performances in the Octagon, he wants Saturday to be the start of a run where he is leaving no doubts as to his standing among his 185-pound peers.

"Emotion doesn't help you a lot in a fight, but I think I need a little bit more spark," Mousasi said. "I'm fresher going into this fight, and I think I will be more intense and more aggressive than I was in my last fight. The last fight, I was cruising to the victory, and I don't want that. I want to go for the finish. Also, I'm fighting in Japan, so I want to put on a show and show that I'm a contender."