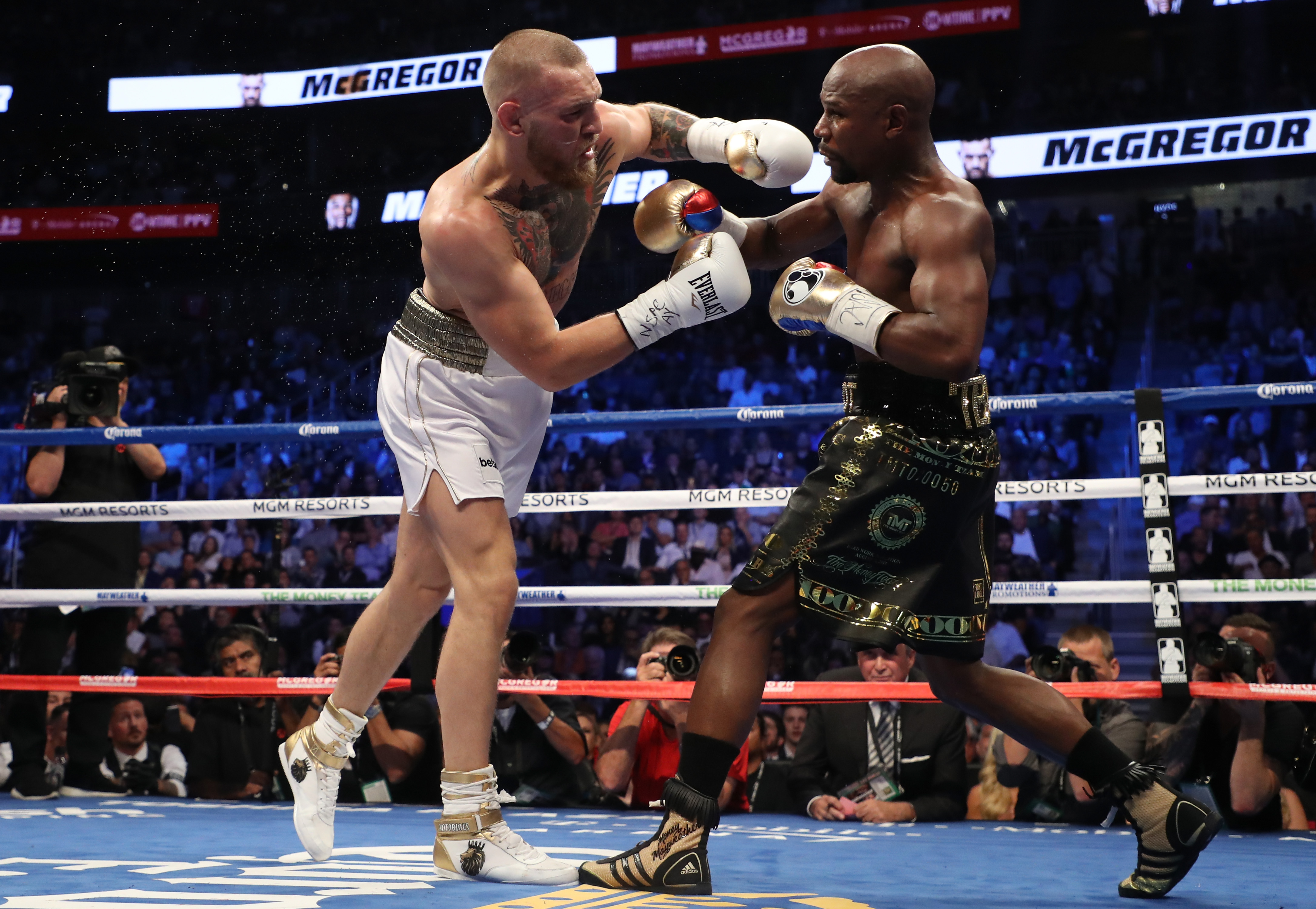 Future hall of famer Floyd Mayweather got his 50th win at T-Mobile Arena in Las Vegas Saturday night, but in his final prizefight, he got a fight from UFC lightweight champion
Conor McGregor
, who gave quite the account of himself in his first professional boxing match before getting stopped in the tenth round.
"He's a lot better than I thought he was," the 40-year-old Mayweather said. "He used different angles and he was a tough competitor, but I was the better man tonight."
"I thought I took the early rounds pretty handy," McGregor said. "He had to change his style and fair play to him, he did. He adjusted. He's composed. He's not that fast, he's not that powerful, but boy is he composed in there. I've got to give him nothing but respect."
Both earned that respect in the culmination of a long buildup that captivated fans around the globe, yet did what few bouts of this nature do, and that's live up to the hype.
"I think we gave the fans what they wanted to see," Mayweather said. "I told them I owed them for the (Manny) Pacquiao fight. I must come straight ahead and give the fans a show, and I think that's what I gave them."
McGregor put Mayweather on the ropes immediately and fired off punches with both hands. None did much damage, but he did land on his foe, showing that he was ready to fight. Midway through the round, McGregor put his hands behind his back and dared Mayweather to hit him, but the five division champion was largely inactive as he tried to figure his foe out. McGregor scored with a hard left uppercut in the final minute that got Mayweather's attention, wrapping up a solid round for the boxing newcomer.
Going right back on the attack to start round two, McGregor had some more success with Mayweather against the ropes but drew a warning from referee Robert Byrd for a couple hammerfists to the back of the head. As the round progressed, McGregor proved to be the faster puncher in exchanges and when the two would tie up, the Irishman did his best to rough Mayweather up.
McGregor largely controlled the third round with his jab, but his repeated return to hammerfists when in close was becoming a concern and something Byrd was watching closely.
Mayweather got more offensive-minded in the fourth, choosing to stand in the pocket and fire at the Irishman, who didn't back down under pressure, even though this could have been the first round to go to the Las Vegan.
McGregor was the busier fighter through much of round five, making Mayweather look amateurish at times until a late surge from "Money" capped off by a push after the bell.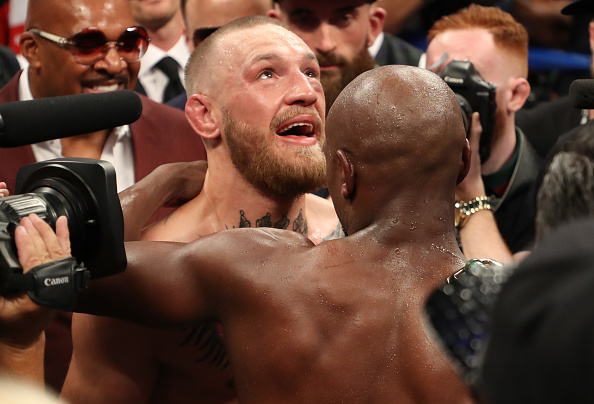 Mayweather let his hands go in the sixth, forcing McGregor backwards for the first time in the fight. McGregor regrouped quickly and began digging to the body as the crowd chanted his name, and if it wasn't clear already, this was a fight.

In the seventh and eighth, McGregor's punches were losing their steam as Mayweather's potshots began landing with more and more frequency.

A big opportunity for McGregor was lost early in round nine, as a body shot that rocked Mayweather was called a low blow by Byrd. And while Mayweather let McGregor fire off shots for a spell, it was only to open up the tiring Dubliner for several heavy blows that put McGregor in serious trouble.

One round later, Mayweather closed the show, with several hard right hands rocking McGregor and sending him into the ropes. "The Notorious" one didn't go down, but Byrd ultimately had seen enough, halting the fight at 1:05 of the tenth stanza.

"Our game plan was to take our time, go to him, let him shoot all his heavy shots early and then take him out at the end, down the stretch," said Mayweather, who led by scores of 89-81, 89-82, 87-83 at the time of the stoppage.

"I had a bit of fun over on this side," McGregor said of his move from Octagon to ring. "I thought it was close, though, and I thought it was a little early on the stoppage. I get like that when I'm tired. I get a little wobbly and floaty, but get me in the corner and I'll recover and come back. There's a lot on the line here. He should have let me keep going, but fair play to him."

And don't worry UFC fans, McGregor says that he shall return.

"I've been here before," he said. "I've been strangled on live TV and came back."

With the win, Mayweather improves to 50-0; McGregor falls to 0-1