Kevin Lee warned the elite of the lightweight division that he was coming. They didn't listen. Now, "The Motown Phenom" is one win on Oct. 7 away from being crowned the interim UFC lightweight champion, and they're going to have to deal with him.

"A lot of these dudes at the top have been watching me for a long time," said Lee, who faces Tony Ferguson for the interim belt in the main event of UFC 216 at T-Mobile Arena in Las Vegas. "Tony's been a fan of mine for a long time, and he should have caught me when I was young. And I say the same thing about (current 155-pound champion) Conor (McGregor) because Conor keeps letting me get this experience."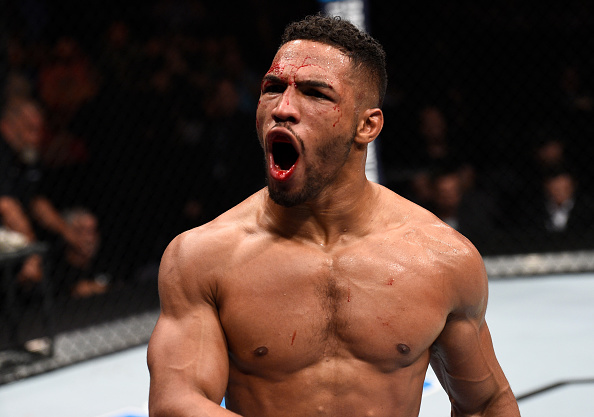 When Lee says "young," let's just assume he means less experienced because, at 24, he is no old, grizzled veteran yet. He is a veteran, though, with nearly as many UFC fights (11) as Ferguson (13), and enough varied situations to prepare him for the biggest night of his career.
"Each fight is more experience, and that's what creates a championship level fighter," he said. "It's not just can you punch, can you kick? Because there are so many guys in the world that can do those things. It's can you do them when it matters, when the lights are on, when all the pressure's on? I'm getting experience in there. That's a dangerous combination when you can combine youth, athleticism, speed, technique, and then you put experience on top of that."
It's why, after winning five straight and capping that streak off with a main event submission of
Michael Chiesa
in June, Lee was the perfect choice to compete for the interim belt against Ferguson this fall. And while some fans questioned the pick, Lee wasn't surprised.
"I think I was the obvious choice," he said. "Khabib (Nurmagomedov) just didn't want to fight. You can't force a man to fight and he didn't want to fight, so I'm more than happy to. And Tony knew too. When he walked up on me at International Fight Week, he knew we were gonna fight, whether it was for a belt, on a prelim or in my backyard. It's just better now that it's for a little bit of change and a little bit of gold."
The two have started verbally sparring already, adding some heat to an already intriguing battle, but both men have a healthy amount of respect for each other, and if Lee can put his finger on one thing he admires about Ferguson is that when the going gets tough, "El Cucuy" is not going anywhere.


"One of the things that gets me up about the Tony fight and makes me so excited about it is that Tony just doesn't break mentally," Lee said. "He's a lot like Chiesa in the same way. Even after I choked him unconscious, the man was still wanting to fight. He was still in the fight and he still wanted to win. I like a guy like that because if I can break him, ain't nobody gonna stop me then."

The prospect of going in and fighting someone who can drag you into deep waters would intimidate most. Yet Lee is embracing the reality that a war may break out on Oct. 7, and as such, it's clear that he may be the only 24-year-old out there who isn't getting taken in by the bright lights and distractions of his adopted hometown of Las Vegas.

"Every time I get in one of these training camps, I say, 'I can't wait until it's over; I'm not fighting again for another year,'" he laughs. "But right after it's over, I take a week or two off and I get that itch. I want another challenge, I need to get back in there and I need to do it. This is where I feel most alive.

"Tony's gonna try to kill me," Lee concludes. "He's gonna try to cut me up and hurt me, and maybe I've got a problem (Laughs), but that gets me up and that makes me feel more alive than the idea going out to a club and getting drunk every night."