Pre-order UFC 216 digitally and watch on your device
Although it's the interim title on the line in Saturday's UFC 216 main event,
Kevin Lee
firmly believes that his showdown with
Tony Ferguson
is a battle for lightweight supremacy between the two top talents in the 155-pound ranks.
"This is the real championship-level fight," said the 25-year-old contender, who sees similarities between this weekend's main event and the middleweight superfight between Gennady Golovkin and Canelo Alvarez that stood as the counter to the biggest fight of the summer, UFC lightweight champion
Conor McGregor
's foray into the boxing ring opposite Floyd Mayweather Jr. in August.
"Sure, Mayweather-McGregor made a lot of money, it was cool, but I said it when Canelo was fighting GGG – that was getting back to real championship s*** for boxing and this fight is that for MMA," offered Lee, who pushed his winning streak to five with a first-round submission win over
Michael Chiesa
in June.


Plenty of people are bound to disagree with Lee's assessment, as McGregor remains stationed atop the division and it will take toppling "The Notorious" one inside the cage to knock him from that perch for that to change in the eyes of many.

That being said, the surging contender from Michigan does make a compelling argument for raising the status of his clash with Ferguson above a fight involving the currently inactive undisputed champion from Ireland.
RELATED: Kevin Lee's Best Fights | UFC 216 Watch List | Best Fights This October
"You ain't seen him fight everybody," he said of McGregor, who won the lightweight title in his first and, thus far, only appearance in the division at UFC 205 last November in New York City. "Tony has fought everybody. Tony has beaten a who's who of the lightweight division. I've beaten guys that people don't really know about because they only have a certain number of fights.
"We both have double digit fights in this division. Everybody has always known that lightweight has been the toughest division since the UFC started it, so I think true fans are really excited about the fight. This is the real fight to make. This is going to show who the best fighter in the world is."
While the sound clips and stories of bad blood and disrespect between this weekend's main event combatants have been coming hot and heavy since the bout was first announced, a closer listen to what Lee has been saying in the weeks leading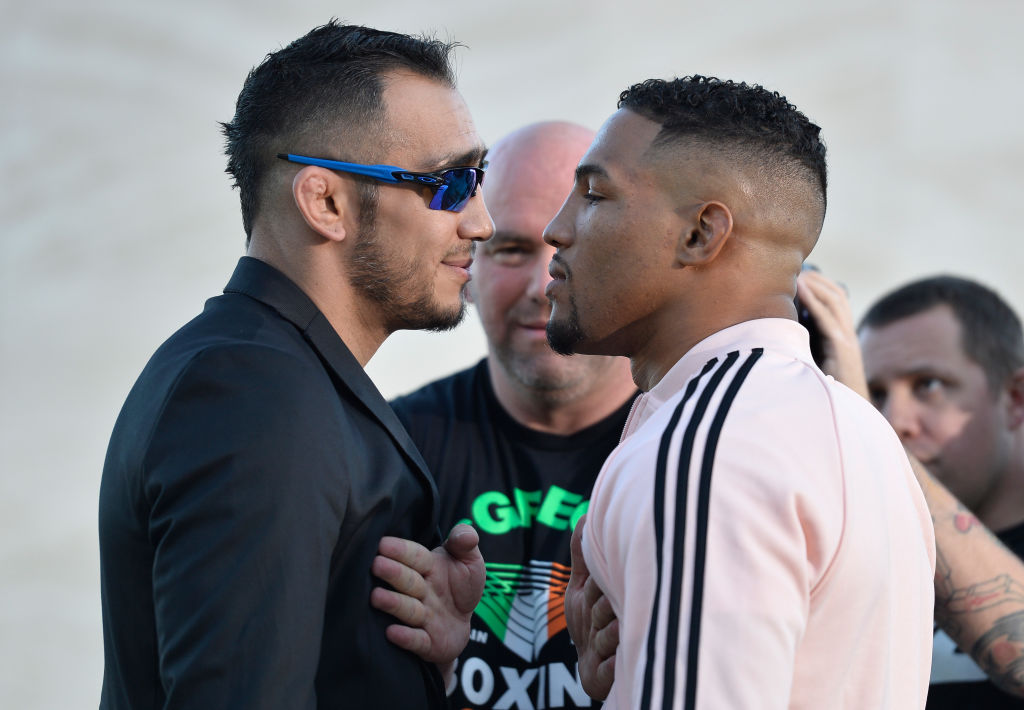 up to the clash paints a different picture.
Although he's been quick to go back-and-forth with the loquacious Ferguson whenever the opportunity has present itself, the man known as "The Motown Phenom" actually holds his upcoming opponent in high regard and welcomes the opportunity to test himself in the cage against someone as tough and tested as the former
Ultimate
Fighter winner.
"The man is tough. If you look at his skill, he's a lot like Mike Chiesa to me, except a better version. It all comes down to the mental aspects, and in him, you see it in a couple of his fights: he gets his ass whooped in the first round or he takes a lot of shots, heavy shots, but somehow he keeps winning these fights and he keeps breaking guys.
"It's exciting for me to get up against somebody like that who has broken so many people," he continued. "It's one thing when you see somebody like
Edson Barboza
– he can knock you out and he can do a lot of things technically, but there is an easy way to solve technical problems. It's harder to solve those guys that can break guys like this. This is what's going to show people that I'm really a championship level fighter."


That's the other thing that seems to get lost in translation with Lee and is one of several things he actually has in common with McGregor, including the fact that their first UFC championship opportunities came in interim title bouts.

People see the swagger, hear the chatter and build their opinions about the confident, unfiltered standout that has gone from intriguing prospect to being in the thick of the title chase in the span of a year.

They question his level of competition and suggest he's being handed opportunities that have not been earned in the cage, arguing that his ability to promote a fight on the microphone and the polarizing effect he has on fans has hastened his ascent up the divisional ladder.

But like McGregor, Lee has simply made the most of the opportunities that have been presented to him and he thirsts for the opportunity to show that he's every bit as good as he says he is inside the Octagon.

"I've been approaching my last four or five fights like they're all world title fights, so this one is no different for me," he said of Saturday's championship clash with Ferguson. "There's a little bit of that anxiousness, but anxiousness is a good thing when you know how to use it.

"I've put so much work into it and he's such a different problem to solve that I'm like, 'Let's do this!' but that's a good thing. That's what we live for.

"I get up for fights like this," he added. "I like the challenge of this. I'm not like these other dudes that want the easy money or the easy work or they want money fights; I want to earn it."