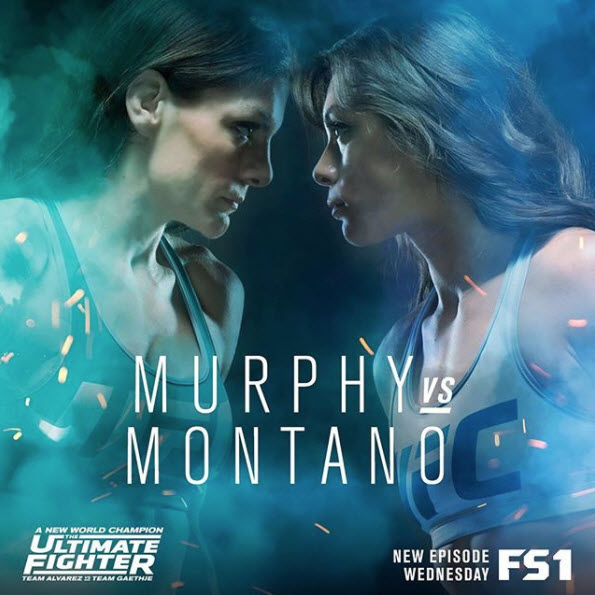 Mom was going to save the day for Nicco Montano.
Long before the 28-year-old earned a spot in
The Ultimate Fighter
26 flyweight tournament, Montano was a high school student with no thoughts of becoming a fighter, despite having a father who spent most of his life in the boxing business before passing away in 2006.
"I was a quiet kid who liked drama and liked to do play performances in high school," laughed Montano, who suddenly got thrust into drama of a different sort when a friend got into it with another group of girls.
"She somehow or another made an offensive gesture or said something offensive to this group of girls, and I was hanging out with her that day, so all of a sudden it's their group against our group, and they're like, 'Meet us in the parking lot.'"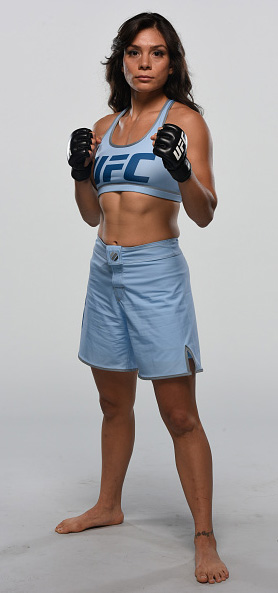 It's a tale as old as time, three o'clock after school and it's time to throw down. Montano wasn't into it at all.
"Everybody knew that my dad was a boxer and that I knew how to hit pads, so they go, 'You're a fighter,'" she said. "I was like, 'No, I'm not. I never sparred in my life, I don't want to do it.'"
Montano was convinced that her mother was going to hear this and either keep her home from school the next day or inform the principal of the impending afterschool showdown. She told mom the whole story, and was relieved when she heard the words, "Here's what you do."
>"She sat me down, stood behind me and grabbed a brush and braided my hair," Montano recalls. "Then she got me some clothes. 'Here, you can wear these, they can get torn up.'"
Montano couldn't believe it.
"Wait, you're telling me to fight?"
"Yeah, you can't just let them talk to you like this."
The future mixed martial artist went to school with her cornrows and raggedy clothes and prepared to fight. Then the teachers showed up along with the rest of the student body, and the brawl fizzled out.
RELATED: Get to know TUF cast: Montana Stewart | TUF Week 3 Recap | Get to know TUF Cast: Lauren Murphy
"My heart was racing, it was pretty ridiculous," Montano laughs, and her reluctance to fight remained unchanged for several years.
"I never even wanted to fight," she said. "It wasn't anything that was ever interesting to me, to get punched in the face or punching anybody else in the face. And even as soon as I started (fighting professionally), I said it's a hobby because it's never going to take me fully into a career where I'm financially stable. But now I'm here."
She sure is, a 3-2 pro who can call herself a UFC world champion if she can put four wins together in the TUF 26 tournament. It's been a wild ride for the New Mexico resident, who was iffy about continuing in the sport when tryouts for the reality show were announced.
"I was thinking of going back to school and putting fighting on the backburner as a part-time hobby," she said. "Going into the tryouts, I was like, 'Sure, why not? Let's try it out and if I make it, then I guess I'll keep going on.' I didn't really fully believe in myself and my capabilities."
Plenty of people did though, including her team at Fit NHB in Albuquerque, the squad that is home to UFC welterweight
Tim Means
and that launched the careers of
Carlos Condit
and
Ray Borg
. Head coach Tom Vaughn, not one for beating around the bush or having his charges go into fights half-prepared, was understanding of where Montano was at, but he also wanted to make it clear that he felt she had the potential to succeed at the elite level of the sport.
NEXT WEEK! @Ealvarezfight chooses @LaurenMurphyMMA to fight next vs. @NRMontano! Who will win? https://t.co/uQMDeotFPY

— The Ultimate Fighter (@UltimateFighter) September 14, 2017
"Tom definitely has that look about him where it's like, 'Okay, you can't be messing around with this guy's time,'" she laughed. "So for a while, I wondered whether I should tell him, but when I did, he was totally understanding, which was a stress reliever for me. He said, 'Just know that I think you have the talent to make it and you have the drive; if you choose to do this, I have no doubt that you will get to where you want to go in this sport.'

"A lot of the time, people would believe in me more than I would believe in myself, and that was the extra push that I needed at times."

Montano made it through the tryout, and when it was over, she was told that those who made it to the TUF house wouldn't be competing for a UFC contract. They would be competing for a UFC title.

"Oh my goodness, I should probably get serious," she said of her initial reaction to the news. "If I make it into the house, we'll all be fighting for the belt. So you're here to win it. Otherwise, what are you doing here?"

The reluctant warrior is now four wins away from a championship. And for the record, Nicco Montano is all-in on this whole fighting thing.

"Oh yeah, I'm in it," she said. "I'm more than capable of hanging with the best at this point."