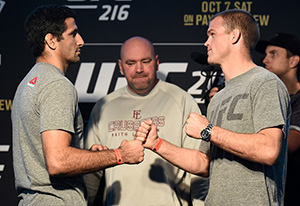 Evan Dunham has returned. Not that he ever really left, but if anyone went to track him down through the usual social media outlets, they would have come up empty.

"I don't have time for all that stuff," he laughs. "With social media, I post to my gym's Instagram account, and I'm on there a little bit here and there, but I value my time in a different way so I try not to be on it too much."

At 35, maybe Dunham has reached the point in his life where family and training leave little time for a barrage of tweets or IG posts. Or more accurately, it was something that the Oregon native was never too interested in.

"I didn't see a difference," he said. "People just want to see a fight. You show up and you fight well, that's what people want to see. They don't care about your tweets."

So while he's not a tweeter, Dunham certainly shows up and fights, and after more than eight years on the UFC roster, he is showing prime form heading into his UFC 216 bout against Beneil Dariush, as he brings a four-fight winning streak to T-Mobile Arena. And if he makes it five on Saturday, don't expect him to change his approach to the game in the slightest.

"Nowadays, you have to be that person who has a second persona and you talk your way into a title shot, but that's just not me," he said. "I can try to do that, but it would be fake and wouldn't come across right. I think the best thing to do is put your real foot forward and let people appreciate you for who you really are. I think after I put Dariush away, I should be in a good position."

The main card matchup pits two true pros against each other in a meeting that could very well steal Fight of the Night honors even if it hasn't gotten the mainstream attention it deserves. That's just fine with Dunham, who has already earned FOTN bonuses for his bouts against Sean Sherk, Nik Lentz, TJ Grant and Rick Glenn. All tough guys, and the type Dunham likes to test himself again. Dariush falls into that category as well.
RELATED: Demetrious Johnson reflects on favorite title defenses ahead of hsitoric bid | John Gooden & Dan Hardy breakdown Ferguson vs. Lee

"I asked for Dariush because I honestly believe he's one of the toughest in the division," he said. "I think he's very underrated and very talented, and a win over him is going to confirm to myself that I need to push hard to try to get to where I know I can be."

That place is at the top of the lightweight division, and Dunham knows that the time is now to make that run. A five-fight winning streak would give him a nice case for a shot at the belt, and if he gets it, it will have been well earned.

"I think our division makes no sense at all but still is tough," he laughs. "I'm gonna be one of those guys that when I get my title shot, you'll look back and say, 'All right, this guy methodically worked his way through the rankings, like it should be.'"

That's as old school as it gets, and Dunham wears that veteran badge proudly. It's allowed him to weather the ups and downs of the sport, and he's glad he fought through those doubts and bad times to get to where he's at today.

"My biggest fear in life is looking back and saying, 'What if?'" he said. "There was a time not too long ago where I was a little burnt from both ends. I wasn't gonna retire, but I took some time to take some mental inventory. It didn't take long before I got bored and needed to do something. And the only thing that's fun for me is training. So I got back in training with the intent not to really jump so hard into anything. But I love training and I do all this work, and I would hate to leave something on the table. I'm not gonna be one of those guys who fights past when they should, but right now, I feel like I'm in a great spot."