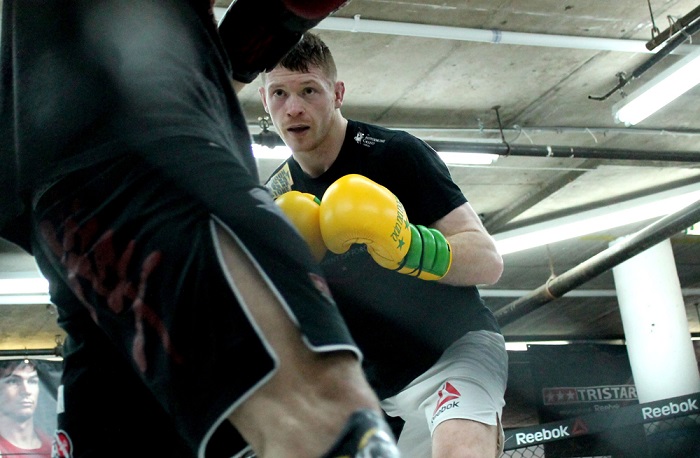 The last time Joe Duffy was set to compete close to home, a punch during the last sparring session for his UFC Dublin headliner against
Dustin Poirier
ended those plans with a concussion that forced "Irish Joe" to pull out of the fight at the last minute.
Fast forward almost two years and, this time, the last gym obstacle before his appearance at
UFC Fight Night:
Manuwa vs. Anderson in London on March 18 has been passed with flying colors. Just having gone three hard five-minute rounds against fresh opponents in each stanza under the watchful eye of Firas Zahabi, Duffy is enjoying a massage in the back of Montreal's Tristar Gym to cap off the hard part of training camp.
What better time to reflect on the journey he's been on inside the Octagon so far.
Duffy made his UFC debut in March of 2015 after a run in smaller promotions that included stoppage wins against
Norman Parke
and UFC lightweight champion
Conor McGregor
. One knockout and one submission win inside the Octagon later, it seemed as though the – at that time – last man to beat McGregor was straight on course to a money fight against his old rival. So when the UFC booked "Irish Joe" against Dustin Poirier as it had done with McGregor just a year earlier, his route seemed clear.
That's where things started to get wild, though. First, the fight fell through just days before show time. Seventy days later, thirty of which he was not allowed to have any contact in training, Duffy dropped a hard-fought decision to Poirier at UFC 195 in Las Vegas. Now, coming off a 25-second submission win over
Mitch Clarke
this past July, Duffy says he is confident he will start a streak once again on Saturday.
"Obviously, I would've been happier if I had gotten the win against Poirier, (if I had) done the complete run without hiccups, but in the long run, I definitely feel like it's going to be a lesson that was beneficial. I can't complain – most of the fights have gone as good as I could've hoped and this one will be no different."
In this one, Duffy will be up against Sweden's Reza Madadi. As fate had it, fellow UFC lightweight and wrestling standout
Rustam Khabilov
visited Tristar Gym towards the end of camp, which came in handy in preparing for a strong grappler like Madadi.
"Obviously, it's good to train with high-level guys and what better guy than someone like Rustam. So, when he's here – hopefully it'll be on a full-time basis – I want to get some work in with an elite-level guy."
Despite elite-level training partners, Duffy is not looking past Madadi, with whom he is set to close out UFC London's preliminary card.
"I'm only looking as far as the fight. Obviously, I know I've got my hands full. Reza, he's never been stopped, he always gives everyone a hard fight, he upset
Michael Johnson
. So, pretty much, my life stops on March 18 and after that, everything else continues. He's very tough. He can beat anyone on his night."
Duffy, though, vows to take the night of March 18 from Madadi. After losing to Poirier and spending eight months on the sidelines following his last win, the Donegal native isn't looking for a restart, but is simply confident in his ability to constantly learn and continue to be successful based on the combative foundation he started building at five years old when he took up Taekwondo classes.
It's a mentality that he has always been relishing, but with one of the sharpest minds of the sport now in his corner, Duffy has taken the intellectual side of the game to a new level.
"Firas (Zahabi) is one of the smartest people I know," Duffy said of Tristar gym's head coach, who has led the likes of
Georges St-Pierre
and
Rory MacDonald
, among others, to astonishing success inside the Octagon.
"He said to me (that) we should be addicted to learning. And when he said it to me it really stuck in my head because that's the aspect of training that I like. When I'm learning, that's what gives me the buzz."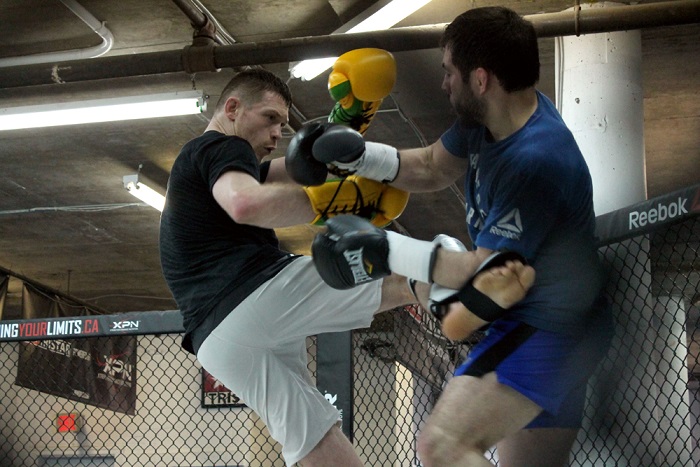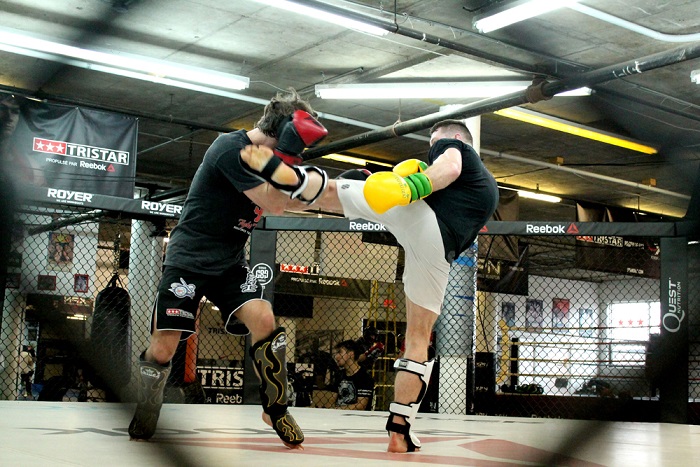 With more than eight months having passed since the Clarke win, Duffy has had plenty of time to take to the learning aspect rather than rushing from one training camp into another while having to focus on weight, strategy and conditioning.

"When it's a while between fights, it's easier to get excited. You're not dieting the whole time, so you don't feel you're already a bit beat up and fed up from dieting. That feeling when you're excited about fighting, I think that helps. It's better than feeling the opposite way where you feel like you need a rest."

Not needing to rest, Duffy put in work day in and day out, on and off the mats. One of the outside aspects for Duffy, who is now living in a condo a mere ten-minute walk from Tristar Gym, is learning French.

"I'm picking it up slowly, it's a work in progress. (I can do) Very little conversation. It's very basic, I don't know at what kind of level you could put it at. I've done a nine-year-old book that my mother sent me in French and I could complete all that, so I don't know," he laughed.

And while learning the province of Quebec's lingua franca might not seem related to fighting in any way, it might come in handy one day when Zahabi will be able to shout out his in-fight instructions in French to make the information exclusive to one person inside the cage.

"At some point", Duffy laughed. "We're definitely nowhere near there yet but yeah, why not I suppose, that makes sense."

It seems like Duffy's white-belt mentality of a lifelong learner will be paying off one way or another, and he plans to put its effectiveness on full display against Reza Madadi on Saturday night inside London's O2 Arena.

"Ever since my Cage Warriors days I always felt like (my) fights were entertaining," he said. "I'm always looking for finishes."