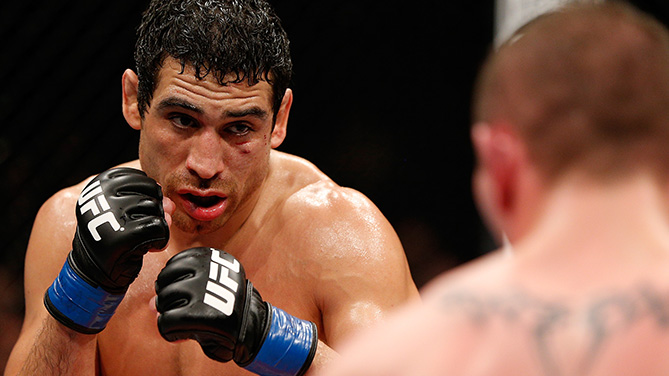 Having lost three straight while registering just a single victory in his last five appearances, it would be understandable if veteran lightweight Danny Castillo was feeling stressed and under pressure heading into action this weekend in Orlando, but that's not the case.
Rewarded with a new contract following his most recent appearance, the long-time Team Alpha Male member has enjoyed preparing for Saturday's preliminary card showdown with Nik Lentz and plans on instantly showing why keeping him around was the right decision.
BREAKDOWN: See how the stats shape up for Castillo vs. Lentz
"I know that fighters don't lose three fights and get a new contract – they just don't do that – but I was fortunate enough to be offered a new contract after I lost my last fight," explains Castillo, a holdover from the WEC days who has fought 21 times under the Zuffa banner. "That was a huge relief for me because I don't know where I would be if I didn't have my job. I love my job and it's more than a job to me.
"This camp has been a lot of fun for me for a lot of reasons. We had a lot of guys fighting at the same time, so I was grinding with some of the best guys in the gym," says the California native, who is the last of five fighters from Sacramento based Team Alpha Male to step into the Octagon over the last six weeks. "We all had fights around the same time, so we were all peaking at the same time, trying to win fights in the gym and that's a recipe for success."
While victories have been hard to come by, Castillo's belief in himself and drive to improve has not waned, for good reason.
Over the course of his career, "Last Call" has shared the cage with a collection of some of the top fighters in the 155-pound ranks and he's always been game. In the last three years, he's faced a trio of fighters ranked in the Top 10 and though he ultimately came away on the wrong side of the results in all three contests, the bouts were all closer than a simple tick in the loss column indicates.
When he fought Michael Johnson, Castillo dropped "The Menace" in the first before the No. 6-ranked lightweight returned the favor and earned the finish early in the second. Against Edson Barboza, the 36-year-old veteran had the Brazilian all but finished in the first, yet fell by decision when two judges refused to award him a 10-8 round for his dominant opening five minutes. And opposite Tony Ferguson, who just finished Barboza last Friday to run his winning streak to seven, Castillo dropped a split decision in a fight that came down to "top control vs. activity" in the eyes of the judges.
More on Fight Night Orlando: Fight card | Samman right at home after battling grief | AKA helps Edwards fight right mix for success | Usman's golden dream | Watch: Road to the Octagon – Dos Anjos vs. Cerrone | Watch: Road to the Octagon – Dos Santos vs. Overeem | Watch: Road to the Octagon – Johnson vs. Diaz
"Sometimes I look back on my career and it's not the career that I dreamed of, but it's not a career that I'm ashamed of by any means," Castillo, who has always been levelheaded and candid when it comes to assessing his efforts inside the cage, explains. "When you look back, you may not think I'm the best fighter, but when it's all said and done, I want people to say, 'That guy worked as hard as he can, he fought in the deepest weight class 22 times in the best organization in the world and he hung in there.'
"I'm still pushing, I'm still getting better. I'm not slowing down or anything like that. The sport has changed, but I change with the sport. I take care of my body, I haven't had any terrible injuries to date and the things I do every day to prolong my career are all focused towards that bigger picture and that's to make that climb and hopefully fight for a belt one day and be a champ."
"I'm still pushing, I'm still getting better. I'm not slowing down or anything like that. The sport has changed, but I change with the sport." --Danny Castillo
The first step in that journey comes this weekend in his showdown with Lentz, a bout that stands as another testament to the tough road the 17-9 lightweight has travelled during the course of his MMA career.

"Nik Lentz might be one of my lesser opponents, but that says a lot about who I've fought because Nik Lentz is a tough dude," laughs Castillo. "He's a 15-fight (UFC) veteran and he's been fighting some of the best in three different weight classes, so my version of "an easy fight" is a tough, gritty dude in Nik Lentz who is going to be in your face for 15 minutes and doesn't get finished."

And despite the string of tough results that carry him into this weekend's contest opposite "The Carny," Castillo has been around this sport long enough to know that one strong performance can alter the way a fighter is perceived and he plans on changing the way people are talking about him on Sunday morning with how he performs on Saturday night.

"You throw Nik Lentz at me and I'm going to rise to the occasion," Castillo, who plans on spending a few days in Orlando and visiting Disney World with his family after his fight, says. "You're only as good as your last fight and I haven't won a fight in a year in a half, so you can understand where I'm at for some of my motivation. I know that once I win this fight, people are going to start to take notice and recognize that I'm truly one of the best lightweights in the world.

"I've put some of the best guys in the lightweight division on their ass – guys like Edson Barboza, Michael Johnson – and I know I have the ability to drop people with my right hand. I know I have power and good striking, so I'm going to go out there, work some footwork, dance around him, be the faster fighter and have some fun out there.

"I've fought some of the best guys in the world and I'm still here, so I want to go out there and make it entertaining for the fans and I think this fight with Nik Lentz is the perfect opportunity to do that."