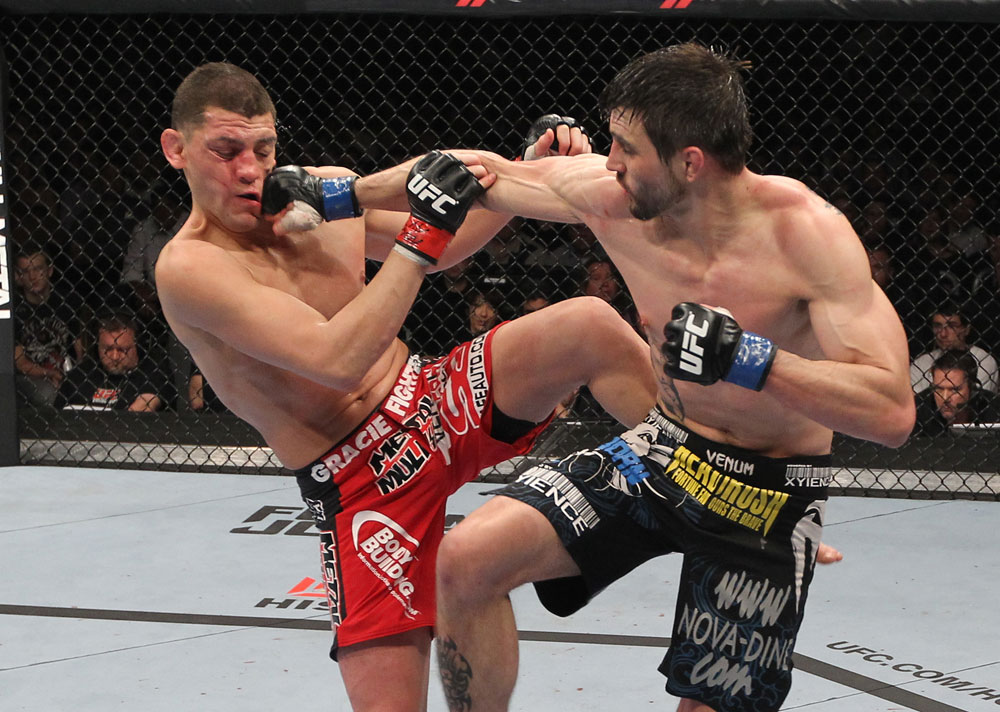 In a sport where being well-rounded is a prerequisite for sustained success,
Carlos Condit
can do it all. He can knock you out, tap you out, get you out of there in a minute, or scrap with you for 25 minutes. On November 17 in Montreal, Quebec, Canada, the interim
UFC
welterweight champion known as "The Natural Born Killer" will need all of those attributes fired up and ready to go when he attempts to unify the crown against longtime champion
Georges St-Pierre
. Does he have the right stuff to do it? The defining moments listed below should answer that question.
Hiromitsu Miura – August 3, 2008 – WEC 35
Result – Condit TKO 4
When I spoke to Condit before what turned out to be the third and final defense of his WEC welterweight title, he was prophetic in his thoughts on challenger Hiromitsu Miura.
"All the Japanese guys that I've ever faced have been really tough and they have that 'never say die' type of warrior spirit," he said. "You can beat 'em up and they just keep coming. He's definitely not an exception to that rule."
And Miura wasn't, as he kept coming and coming after Condit for three plus rounds until the champion put an end to proceedings in the fourth round. It was a grueling, yet satisfying, win for the Albuquerque native, who would see his division get eliminated from the WEC ranks, thus opening the door for a long-awaited trip to the UFC.
Martin Kampmann – April 1, 2009 – UFC Fight Night
Result – Kampmann W3 (Split)
For Condit's UFC debut, he didn't get any favors when he was matched with highly-regarded Martin Kampmann, and "The Hitman" didn't just test the former WEC boss, he handed him his first loss in nearly three years in the process, almost submitting Condit with a guillotine choke late in the first round before going on to take a hard-fought split decision victory. Several submission attempts by Kampmann proved to be the difference in the fight, but Condit certainly showed enough of his own skill set to make fans eager to see what he would do next in the Octagon.
Jake Ellenberger – September 16, 2009 - UFC Fight Night
Result – W3 (split)
Five months after Condit's loss to Kampmann, you had to say that while beating Jake Ellenberger wasn't a must win for his career, it was a must win in terms of keeping relevant in the UFC's stacked welterweight division, where losing one fight is bad, but two is REAL bad. But after the first round, it looked like Condit was heading down that road as he was dropped twice and then caught in a guillotine choke in the opening five minutes. But over the next ten, Condit proved that he had more lives than a cat, as he clawed his way back into the fight, eventually winning a close split decision. Finally, he had his first UFC win.
Rory MacDonald – June 12, 2010 – UFC 115
Result – Condit TKO3
Slow starts were becoming a habit for Condit in the UFC, which put him in some precarious positions, but also made for compelling viewing for fight fans. His slow start against Canadian phenom MacDonald put him in a deep hole on the judges' scorecards heading into the third and final round, but Condit then turned it on, stopping MacDonald with seven seconds left to earn the win and his first UFC Fight of the Night award.
Dan Hardy – October 16, 2010 – UFC 120
Result – Condit KO1
After three close calls, Condit decided to flip the script as he traveled to England to face hometown hero Dan Hardy, and in a trade of left hooks early, "The Natural Born Killer" was a split second faster than "The Outlaw," and it was game over for Hardy at 4:27 of the opening stanza. Add a Knockout of the Night award to Condit's ledger for that one, and the buzz got even louder for him to make his move into the title picture.
Dong Hyun Kim – July 2, 2011 – UFC 132
Result – Condit KO1
Unbeaten as a pro, South Korea's Dong Hyun Kim was coming off wins over
TJ Grant
,
Amir Sadollah
, and
Nate Diaz
heading into his UFC 132 bout with Condit, and many believed that the "Stun Gun" had the strength and style to give the New Mexico product problems. Condit made sure we would never find any of that out, as he took less than three minutes to deliver a spectacular flying knee knockout that padded his bank account with another KO of the Night bonus and sent him headlong into the title picture.
Nick Diaz – February 4, 2012 – UFC 143
Result – Condit W5 (Unanimous)
After the Kim fight, Condit was slated to fight
BJ Penn
, then Georges St-Pierre, then
Josh Koscheck
, then finally, Nick Diaz. Crazy, right? But through it all, Condit kept his cool, avoided any pre-fight nonsense with Diaz, and fought a disciplined five round bout that may not have been Armageddon in short pants, but that showed what Condit had in his tool box and what he could do when the pressure was on. When it was over, he took a five round decision win, earned the interim 170-pound title, and set up November's date with GSP. And with the talent of both men, it should be one for the ages.