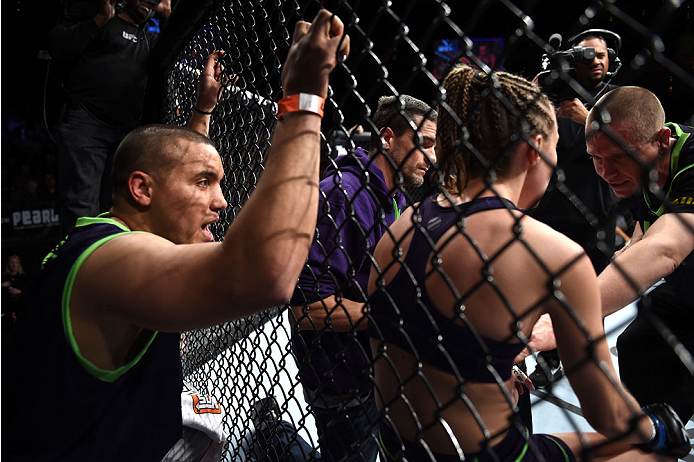 As soon as Pat Barry met Rose Namajunas, before they even began dating, he knew the strawweight contender wasn't like everyone else.
"Ever since the day we met, I specifically remember telling her that, 'You are special and you have a talent,'" he said. "'And if this is really what you want to do, we'll do whatever it takes to make sure it can happen because you have what it takes.'" There are a lot of people who work really hard and a lot of people who train hard and dedicate themselves, but they're missing that little bit extra, and Rose has that little bit extra. She's special."
On Saturday night, Namajunas gets her second opportunity to make history when she faces
Joanna Jedrzejczyk
in the first of three championship fights that will close the UFC 217 card at Madison Square Garden.
The first time, in December 2014, Carla Esparza submitted Namajunas in the third round. Four wins later, the 25-year-old Milwaukee native hasn't just earned a second crack at 115 pounds, but she's a different fighter and person than she was nearly three years ago.
"Since the first title fight Rose had, she has matured as a woman and we've matured as a team," said Barry, the UFC veteran, fiancé and coach who will be in Namajunas' corner this weekend. "We've gotten better. It was really one of the best learning experiences that we've had as a unit."
In April, Namajunas crashed her way into the title fight against Jedrzejczyk with a second-round submission of
Michelle Waterson
that was set up by a thudding head kick seconds earlier. In that sequence, it showed the danger Namajunas presents for the champion, and while Jedrzejczyk has declared that she respects her challenger, she has also gone on the offensive, ready to battle it out verbally before it's time to throw hands.


"It's turned into a big part of Joanna's game," said Barry. "The mind games, the mental intimidation, some people would call it the Mike Tyson factor, where her opponents are afraid of her before the fight even starts.

"Joanna has evolved as a fighter, whereas when she first came out, she was this non-stop, forward pressuring, violent type of fighter," he continues. "And as her career has gone on, she's gotten better at playing the game to where she doesn't have to be as aggressive. It seems like she's replaced her fighting persona with a lot of the mental games. She's found out that if she can get under your skin and mentally have you shook, either before the fight or during the fight, that works really well to her advantage."

But will it work on "Thug" Rose?

"We know it's coming, but one of the things that we've been keeping in mind and repeating a lot is that it's really hard to get rattled or caught off guard by something you know is coming."

If anyone knows the effect – or in this case the non-effect – of such pre-fight gamesmanship, it's Barry, a 12-fight UFC vet who once described receiving one of his leg kicks akin to stepping on a land mine. But the popular New Orleans heavyweight was never one for playing the trash talk game. The way he saw it, it was a waste of time. And that opinion hasn't changed.

"I've never been in a street fight," he said. "I've never been in a fight outside of competition. I've never been one for that. I love the game and I played the game of fighting very well. I never was a bully, I was always the one sticking up for people getting picked on. And when I first started my career, that's what I was gonna be. I was gonna be a vigilante that went around and got rid of all these bad guys out there in the world.

"So it's silliness," Barry continues. "We're not actually fighting outside. We're not going to go in the street and fight to the death. This is an event that we're both prepping for and that we both need each other for. Some people need that negativity or that bully mentality in order to get themselves ready for the fight. But I always thought that's not being true to yourself. You can't tell me you hate me if you don't know me. And whenever you take that route, that's how a lot of bad s**t in the world happens."

He does leave a warning for Jedrzejczyk, though.

"One of things Rose is not a fan of are bullies."