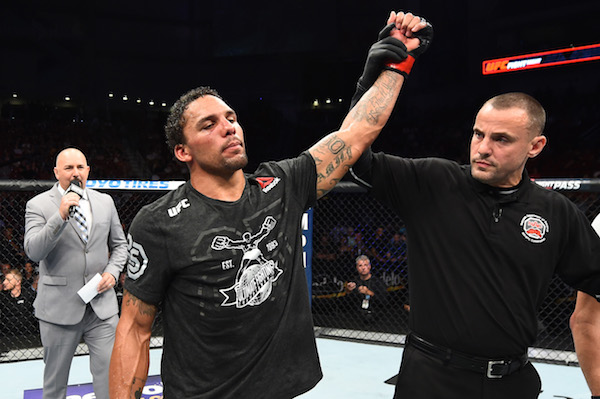 When
Jimi Manuwa
was forced out of this Saturday's UFC Sao Paulo card due to injury, one of the usual suspects threw his name into the hat to step in and face
Thiago Santos
on less than a week's notice.
The only thing is, this usual suspect – Eryk Anders – is always ready to put his money where his mouth is. And though that may surprise some, it's no shocker to the Alabama middleweight.
"I'll be completely honest, I love this sport, I love fighting, I love everything about it," he said. "They don't make too many like me anymore. I think the days of fighting anybody, anywhere at any time, are gone, and guys are trying to pad their record and then get paid and do all that other stuff."
Scared money don't make money

— Eryk Anders (@erykanders) September 17, 2018
Anders is not that "pad the record" guy. Since getting a short-notice call to face veteran
Rafael Natal
, he's been ready to jump in and face seemingly anyone on the roster. He's 3-1 with two knockouts and a Performance of the Night bonus, with his only loss a controversial split decision to
Lyoto Machida
in February. And those are just the fights that happened, as he's been willing to go even more frequently if needed.
"Every time someone falls out and they're in that middleweight-light heavyweight category, I always try to throw my name in the hat," Anders said. "I think this (the Santos fight) is the UFC finally taking me seriously and giving me the opportunity to step in on short notice. I don't mind flying anywhere or going to a super hostile environment or facing a very dangerous opponent. The odds are stacked against me, but that's kind of the way I like it sometimes."
View this post on Instagram
One correction, as I've seen Anders offer to step in for heavyweight fights as well. He laughs, reminding me that heavyweight contender
Aleksei Oleinik
clocked in at 235 pounds for his recent win over
Mark Hunt
.
"I saw that he weighs 235, so I don't think it's outside the realm of possibility for me to fight at heavyweight as well," said Anders, who will be making a 20-pound jump from middleweight to light heavyweight against Santos. It's the first bout at 205 pounds for "Marreta" as well, but that doesn't dilute the danger the Brazilian power hitter brings to the Octagon. Anders knows it, but that didn't deter him in the slightest from taking the fight.
"I couldn't turn it down," he said. "I like Thiago, I like the matchup, I like everything about the fight. I'm just coming off the fight two-three weeks ago, I just got back from training out in Vegas and Dallas, so I'm very confident in my ability, my skill set, my cardio and everything that goes into a fight."
"It's fuel to my fire."@ErykAnders returns to Brazil looking to redeem his first caeer loss at #UFCSP. pic.twitter.com/arrWEg7Ya1

— UFC (@ufc) September 19, 2018
Oh yeah, Anders wasn't just sitting around waiting for a fight. On August 25, he knocked out Tim Williams in the third round, rebounding nicely from the first loss of his career to Machida. Now he's off to Sao Paulo, and the way he sees it, there's no better way to spend his weekend.
"I'm just looking to go out and have a good time, and it's fun to go out there," Anders said. "Win, lose or draw, it's fun to go out there and test yourself against another human being that does the same thing that you do and see who gets their hand raised at the end. It's nothing more than competition to me. There is a little pain involved, and it doesn't feel good when you get kicked in the head or punched in the face (Laughs), but that's part of the game."