The world looks upon
Francis Ngannou
in awe. His superhero muscles and freight train speed and power has combined to create a level of hype in the heavyweight division maybe never seen before.
But Ngannou speaks about his skills and his 5-0 UFC record (four knockouts and one submission) as just a matter of fact. The hype is "The Predator's" reality and he remains unfazed by the attention, expectations or pressure.
Walking the halls of the UFC Performance Institute in Las Vegas the past seven months, Ngannou has made his home in the desert after years spent developing his craft in France. He grew up in Cameroon, Africa with very little and now he's on the verge of everything he's ever dreamed of if he can beat Alistair Overeem at UFC 218 Saturday night: a heavyweight title shot.
"I'm here to take all – to take everything. When I go to fight, when I go to punch, I believe what I'm doing. The goal is to win," Ngannou said. "I have one goal and I have to do anything for my goal. I'm gonna become world champion."
Who ya got at #UFC218: @AlistairOvereem or @Francis_Ngannou?

LIVE & EXCLUSIVE on Pay-Per-View: https://t.co/m7Nv6YoyAp pic.twitter.com/4WvMBIoo6v

— UFC (@ufc) December 1, 2017
Ngannou is unlike any fighter on the roster. His confidence is unmatched because he approaches the game as if he has nothing to lose. His destructive power has been evident throughout his siege on the heavyweight division. He has the hardest recorded punch on planet earth and he's only been training mixed martial arts for four years.
There doesn't seem to be a limit to his potential as he now takes on the biggest challenge of his career in Overeem – a decorated multiple-promotion champion who boasts one of the most staggering resumes in all of combat sports.
Ngannou respects Overeem, but he fears no one. He's self-confident.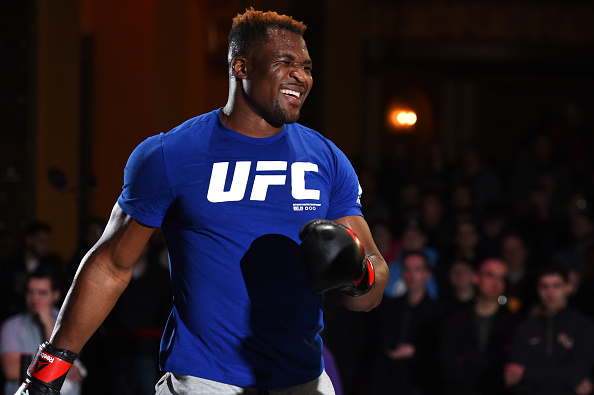 "Some fighters, they don't believe in themselves and they need the biggest gym, with some famous gym, and some famous coach. Because they need someone to tell them they're ready and that they're going to win the fight. I don't need that. I'm going to win the fight. In my mind, I'm going to win," Ngannou said.
"I heard that Alistair said he would knock me out for the second round," he continued. "But it was just funny because I said, 'To reach the second round you need to pass the first round. And that's where I'm going to get you.'"
The winner between Ngannou and Overeem seems the likely next challenger to champion Stipe Miocic's heavyweight title. Ngannou has visualized the finish and if he's able to deliver the hype is set to reach a new galaxy.
"Even if you're blind you should know that Ngannou is a tough opponent," he said. "We're going to see how the fight goes and I'm sure I'll connect and he'll go down. Knockout, man – knockout first round."
Matt Parrino is a digital producer and writer for UFC.com. Follow him on Twitter at @MattParrino