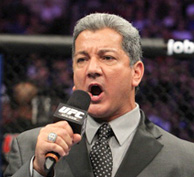 Bruce Buffer
The Announcer
Bruce Buffer has been the "Official Voice of The Octagon™" for the Ultimate Fighting Championship® since 1996 and with many other mixed martial arts events worldwide and is recognized internationally as "The Voice of Mixed Martial Arts". He is also on SPIKE TV's hit series UFC® Unleashed™, and UFC® Wired™ and UFC® Fight Night™ which is televised live throughout the year.
Bruce Buffer is classified as a true entrepreneur, announcer, entertainer and motivational speaker who keeps the viewing attentive and excited about products and events he represents. He is also well known for introducing international events with his famous phrase" "IT'S TIME!"
Mike Goldberg
Commentator
Mike Goldberg is one of the most diversified talents in the broadcast business. Goldberg has served as the play by play announcer for the Ultimate Fighting Championship® since December, 1997. His first UFC® broadcast was Ultimate Japan on December 21, 1997. By the end of this year, Mike Goldberg will call his 100th live UFC®. In addition to calling the live events, Goldberg is the host of UFC® Unleashed™ on Spike TV.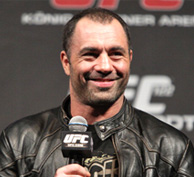 Joe Rogan
Commentator
Joe Rogan was the host of the hugely successful reality show, "Fear Factor," for six seasons for NBC. Prior to "Fear Factor", Rogan played Joe Garrelli, the resident electrician on the hit NBC comedy series "NewsRadio".
Since 2002, Rogan has provided color commentary for the UFC® on Pay Per View and Spike Television as well as hosting UFC® Wired™. Rogan's passion for MMA began with martial arts practice at the age of 13. Within two years, the Boston native earned a black belt and soon became the Massachusetts full contact Tae Kwon Do champion four consecutive years. By the age of 19, Rogan won the US Open Tae Kwon Do Championship, and the lightweight champion went on to beat both the middle and heavyweight title-holders to obtain the Grand Championship.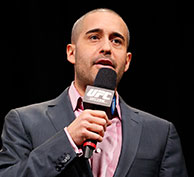 John Anik
Commentator
Jon Anik is widely considered one of the most knowledgeable minds in mixed martial arts today. As a commentator on various UFC broadcasts and host of UFC ULTIMATE INSIDER on FOX Sports 1, Anik's distinctive approach to calling a fight makes him one of the most recognizable voices to UFC fans. Since joining the UFC in 2011, Anik also serves as host of UFC weigh-ins, and pre and post-fight shows on FOX Sports 1 and FOX Sports 2.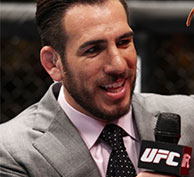 Kenny Florian
Commentator
Kenny Florian's career as a successful mixed martial artist, having fought some of the biggest legends of the UFC, gives the UFC broadcast team a unique perspective both inside and outside the Octagon. Florian retired from active competition with a record of 16-6, facing some of the biggest names of the sport and fighting for UFC championships on multiple occasions. He has the distinction of being the only UFC athlete to compete in four separate divisions (featherweight, lightweight, welterweight, and middleweight) and was the runner-up in the inaugural season of the highly acclaimed series The Ultimate Fighter.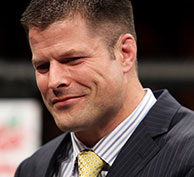 Brian Stann
Commentator
"All American" Brian Stann's experience both inside and outside the Octagon makes him one of the most distinctive voices on the UFC broadcast team. Known as a UFC middleweight contender with a 12-6 record and a light heavyweight champion with WEC, Stann's service to his country in the United States Marine Corps and a Silver Star recipient makes him a unique voice rarely seen in mixed martial arts. Immediately realizing his considerable talents as an analyst, FOX Sports has utilized Stann on various college football broadcasts often relying on his first-hand experience as a standout linebacker at the United States Naval Academy.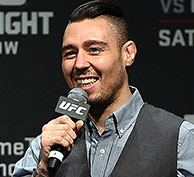 Dan Hardy
Commentator
Dan "The Outlaw" Hardy, the extremely popular and charismatic UFC welterweight title contender, serves as a commentator on the UFC broadcast team based in Europe. Known for his smash-mouth attitude and a quick wit, Hardy brings the same intensity to the microphone as he does in the Octagon. Since joining the broadcast team, Hardy has be widely praised for his work due to his unique blend of knowing what it takes to win a fight and the preparation required to excel at the highest level. Hardy has the distinction as the first British fighter to ever challenge for a UFC title, losing in a memorably courageous performance to Georges St-Pierre at UFC 111 in March 2010.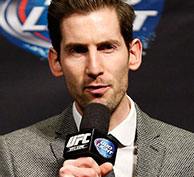 John Gooden
Commentator
Joining the UFC in 2014, John Gooden lends a fresh and unique perspective to UFC international events. As a top-level athlete in national and regional competitions in swimming, judo, karate, squash, tennis, boxing, soccer, and mixed martial arts, Gooden made his UFC debut on March 8, 2014 in London at UFC FIGHT NIGHT: GUSTAFSSON vs. MANUWA. Since calling his first UFC event, Gooden has gone on to announce many more fights with broadcast partner and UFC welterweight athlete Dan "The Outlaw" Hardy.